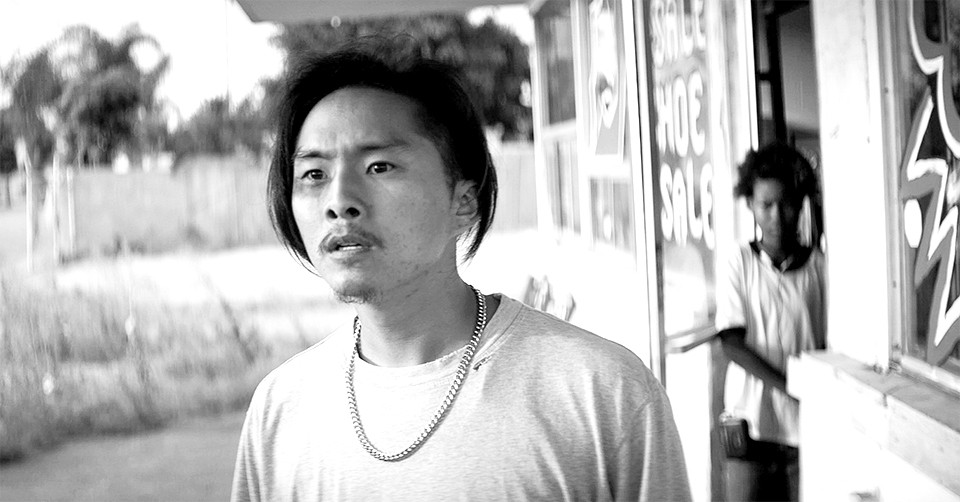 Before anyone gets carried away with the idea that the arrival of Justin Chon's Gook on the heels of Detroit constitutes "riot consciousness" in movie theaters this summer, let's take a close look at writer-director-actor Chon's ostensibly topical indie drama. Rather than painting a panoramic view of the 1992 Rodney King riots in Los Angeles, the provocatively titled Gook zooms in to a specific moment and place and a relatively small group of people — centering on two Korean-American brothers who own a makeshift-looking shoe store in the Los Angeles community of Paramount, just east of Compton, on the day the disturbances begin.
The fact that we're actually getting to know anything at all about wiry, tightly wound Eli (played by filmmaker Chon) and his easily distracted brother Daniel (writer-comedian David So) shows that this pic is coming from a different angle than most multiplex-style Los Angeles crime stories. As opposed to the generic "Grocery Store Man" or "Korean Gang Member" from other films, the two men possess distinct personalities.
Eli is the very model of a hustling small businessman, constantly sweating the details and nailing down loose ends, the kind of guy who buys sneakers off the back of a truck because they're cheap and he's not rich. Chubby, volatile Daniel, on the other hand, worries more about his wannabe hip-hop career and is a sucker for the flirty young Black women who come into the store. In fact, the main thing the brothers have in common is that they both routinely take random beatings from the cholos and Black gangsters they run into. That's a given in their lives.
Kamilla (Simone Baker), the fulcrum of the story, is an African-American teenager who lives nearby and harbors dreams of her own. She'd rather hang out with Eli and Daniel, pulling stock and waiting on customers, than go to school. Unlike the stereotypically surly Mr. Kim (Sang Chon), who runs the liquor-and-grocery market across the street, the brothers have never accused her of shoplifting. Instead, they rely on Kamilla to help out at the shoe store, even when the first reports of large-scale disturbance come in from a few blocks away. Suddenly text messages flash across the city: "Free Shit South Central," meaning the looting is on. Columns of smoke rise in the air and the police disappear. Eli, Daniel, and Kamilla don't have much time to decide whether the shoe shop, a forlorn box that looks like it was built to be burned down, is worth defending with their lives.
Gook is no urban combat adventure. Chon, veteran of numerous TV shows and movies with titles like Ktown Cowboys and Seoul Searching, is clearly trying to steer clear of gangbanger and ethnic-youth-romance clichés. His version of hardscrabble Korean-American life adopts a strategy of dialing it down and keeping it personal, while fire and chaos rage just off-screen. Kamilla, Eli, and Daniel obviously enjoy being with each other, and nobody — neither combative Mr. Kim nor Kamilla's hot-tempered street-fighter brother Keith (Curtiss Cook Jr.) — is going to make them change their minds.
Ante Cheng's black-and-white cinematography lends a documentary note to the drama. Roger Suen's original music score underlines the tension. All three leading roles are carefully drawn to show how ordinary well-intentioned people trying to make a living cope with violence, not just during emergencies but every day. Gook is a bite-sized film with giant implications.
Gook Written and directed by Justin Chon. With Chon and David So. Opens Friday.