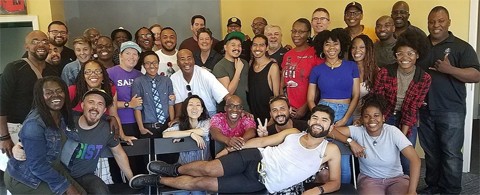 Oakland's first LGBTQ Community Center is scheduled to open on Sept. 7 on Lakeshore Avenue. The opening of the center comes just days before the Oakland LGBTQ Pride Parade & Festival on Sunday, Sept. 10, in Uptown.
Co-founders Jeff Myers and Joe Hawkins said they decided to open the center because "the most underserved community in Oakland is the LGBTQ community, and we believe they deserved more." Hawkins, executive director of the center, was the initial organizer and a founding member of Oakland Pride. Myers, the center's board president, worked as a volunteer coordinator with Oakland Pride as well.
The opening of the center comes at a time when bigotry has intensified in California and throughout the nation. A recent report released by the California Department of Justice found an increase of 11.2 percent in hate crimes between 2015 and 2016. Hate crimes in the state are most commonly directed at people of color, with members of the LGBTQ community being the target of the second highest number of hate crimes.
Myers and Hawkins are currently funding the center at 3207 Lakeshore Ave. out of their own pockets, but are starting to attract major donors and a number of organizations, including the AIDS Healthcare Foundation.
Oakland Councilmember Rebecca Kaplan noted that the new center is "created primarily by African American LGBT people and open to all, will provide space for events, meetings, organizations, businesses and more."
The center also provides a wide range of services including, mental health and substance abuse counseling, transgender advocacy services, and workplace workshops that will aid community members to recognize and report discrimination in the workplace.
To donate, learn more, or contact the Oakland LGBTQ community center please visit
www.oaklandlgbtqcenter.org.