Stories you shouldn't miss:
1. Major League Baseball has warned Oakland and Alameda County officials that it will help the Oakland A's move to San Francisco to play games at AT&T Park next year unless the city and county give the A's a favorable lease deal at the Coliseum, the Chron reports, citing anonymous sources. The city and county want the A's to effectively pay higher rent to help offset the debt costs at the Coliseum, but the threats by Major League Baseball could force a deal that further benefits the A's.
[jump]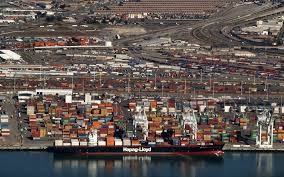 2. Oakland finally broke ground late last week on the $500 million project at the former Oakland Army Base. The project, which is designed to help make the Port of Oakland more competitive, is expected to generate 1,500 construction jobs and 1,800 permanent jobs at the former base.
3. Forest and water officials fear that heavy winter rains could cause massive mud- and debris slides in the area burned by the massive Rim Fire earlier this year, the LA Times$ reports. Mud and debris-slides could wash out roads and foul the drinking water supplies for the City of San Francisco and other communities that depend on the Tuolumne River watershed.
4. State regulators acknowledged that they did not investigate the troubled background of the woman who owned and operated the Castro Valley care home that erupted in chaos last week, the Chron reports. The owner, Herminigilda "Hilda" Manuel, had previously been fined $800,000 for mistreating elderly residents in her care, including strapping seniors in their beds for no reason.
5. And obesity in young girls is linked to the early onset of puberty, the Chron reports, citing an ongoing major study involving patients at Kaiser Oakland, San Francisco, and San Rafael.