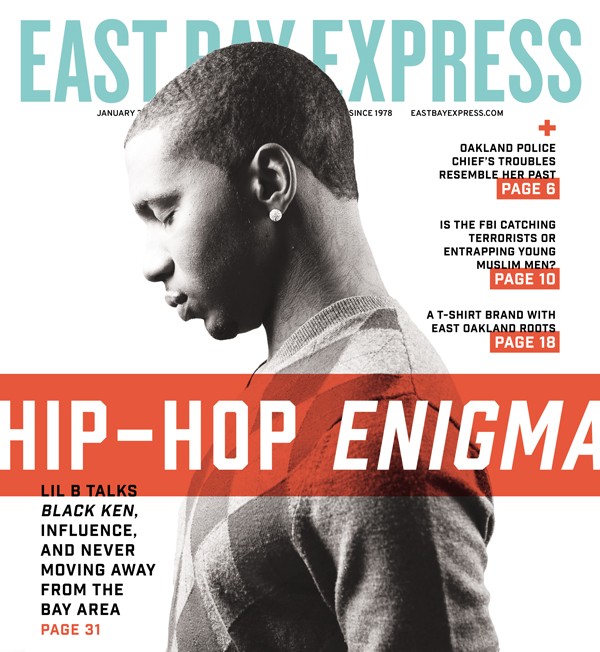 "Terror or Entrapment?," Feature, 1/3
Hold Off
Hey, Express. This issue is concerning, but hold off on FBI exposés until they're done ridding the country of the blight in D.C. What's wrong with your editorial board?
Donald Cooper via Facebook
It's Entrapment
The sad truth is that the FBI creates more U.S. terrorists than ISIS does. They can't catch the real ones, so they find mentally unstable young men and entrap them.
Ernest Montague
"Kirkpatrick's Troubles Resemble Those of Her Past," News, 1/3
Demand the Best
Dang. I was really wanting her to succeed. Hell, I want anyone rational to succeed if it actually helps our community! So absurd that, across the country, police departments look like this and worse. Why can't we demand the best from our law enforcement?
Sarahjane Bernhisel via Facebook
Boring
I suspect there will never be a chief for whom the Express will write words of praise.
Ed Gerber
Oakland Can't Get It Right
This was all known before she took the job, yet here she is! Oakland just refuses to get it right. OPD is riddled with corruption, but the so-called good cops won't stand up against it. Why would they risk those sweet salaries and pensions for the good of the community?
Vincent Blafard
"Davis in Desperate Gambler Mode," The Oakland Zone, 1/2
Bring on the (Black) Panthers
This franchise is doomed under Mark Davis. At the end of the day, his dad gifted him a football franchise but never prepared him to be successful. He knows nothing about football, but of more concern is that he knows nothing about the business of football. He can hire people like General Manager Reggie McKenzie for the backroom organizational duties and head coaches like Jack Del Rio or Jon Gruden to run the team on the field. What he can't do is to stumble through the complex business world of modern NFL ownership finances.
At the end of the day, compared to the rest of the NFL owners, Davis is poor. His only income of note is from the Raiders. That puts him in a desperate cash-flow position when he has to compete with other well capitalized franchises. His actions are clearly those of a man who is both over his head and desperate. His actions of the last three years indicate his desperation.
Despite what he said, he never, ever made a sincere effort to make something work in Oakland: no plan of action, no budget, no drawings, no nothing. He spent all of his time whoring around America looking for the best and biggest handout available. Thanks to his partner in crime, greedy Dallas Cowboys owner Jerry Jones, he fooled other league owners with a phantom plan in Vegas, a city that cannot possibly support the team without a massive influx of visitors. He cannot bring a losing team to town and ever expect to get off the ground.
After giving Del Rio a new contract this year, Davis undercut Del Rio's authority by bringing in Marshawn Lynch and giving him a do-anything-you-want card. The team never disciplined Lynch even one time after several on-the-field and sideline antics that should have been addressed. Lynch's existence is nothing but Davis throwing a bone to the Oakland fans until he can sneak out of town like the rat that he is.
The fact that he never made a public statement after he fired Del Rio is typical. Davis is low budget, low intelligence, and low class. When compared to the modern corporate world of billion-dollar NFL franchises, Davis is the last remnant of the corner grocery store owner from the '70s. The people of Oakland should be glad to get rid of this clown and I can only wonder why they would continue to send him money.
The best-case scenario is that Steph Curry and a Black ownership group buy the Carolina Panthers after their lease expires in 2018. They can then move to Oakland and become the Oakland (Black) Panthers. Power to the people!
Gary Patton