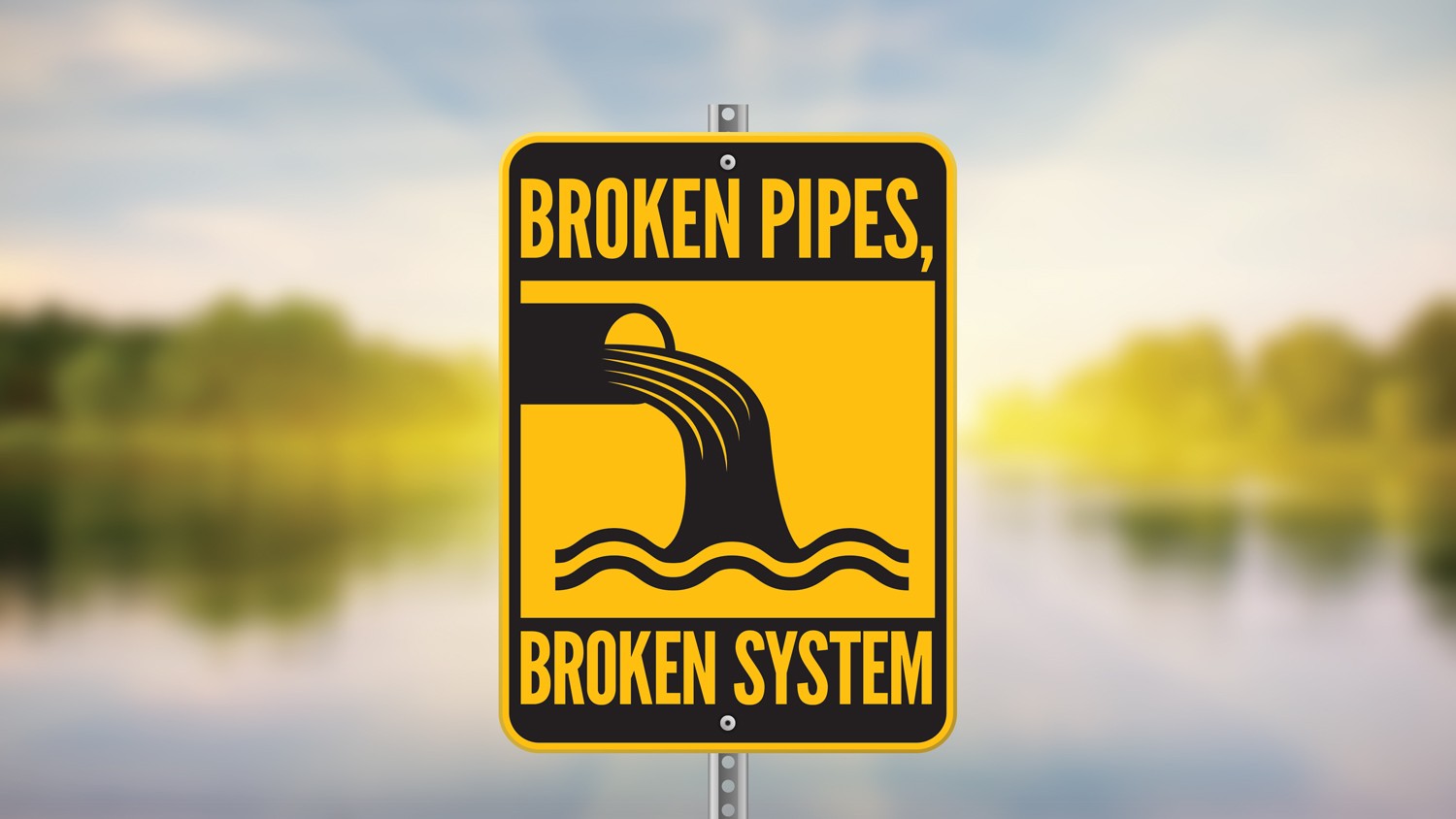 In mid-November, Terry Tobey stood in the pouring rain, staring solemnly at a ravine spouting a stream of sewage water as it cascaded down a hill and onto her Oakland property. During storms, the city's broken sewer pipes overflow and the problem gets worse, she said.
"It's bad. It's really bad," she said, starting to cry. "My whole property is like a septic pit. It's been years and years and years of sewage draining here."
Tobey, a 60-year-old Oakland native who grew up on the small ranch in the hills in the city's Oakmore neighborhood where she now lives, inherited the property in the early 2000s from her parents when they died. Over the past decade, she has been fighting a one-woman battle against the city to save her home and protect her pets. One of her horses and one of her dogs experienced skin lesions and incontinence after sewage wastewater and toxic chemicals flowed onto her property last year.
Tobey's problems are also indicative of those that have plagued the city of Oakland's sewer system for years. In 2014, Oakland officials agreed to a settlement and specific requirements for rehabbing more than 900 miles of aging sewer lines after the city — along with five other municipalities and East Bay MUD — were sued by two environmental organizations and the U.S. Environmental Protection Agency.
Under the settlement, also called a "consent decree," Oakland was required to implement a $300 million action plan over 22 years to systematically repair its leaky sewer pipes, which regularly have caused overflows of raw sewage and chemicals into San Francisco Bay.
Along with alerting the public when there's a large spill or a situation that could affect someone's home or business, the city of Oakland is required under the consent decree to report sewage overflows and its progress in meeting the action plan to regulatory agencies and the parties in the lawsuit.
But thousands of pages of public documents and emails reviewed by the Express, along with interviews with city sewer department staff, regulatory agencies, and local residents, reveal that the Oakland Department of Public Works has failed to report hundreds of thousands of gallons of sewage overflows, and city supervisors have sometimes submitted documents to regulators that contain false information. The city also failed to properly alert residents and the required agencies in a timely manner after spills occurred. As a result, dangerous bacteria and toxic chemicals have flooded into streets, onto properties, and into storm drains — or directly into regional bodies of water like Lake Temescal, where people fish and swim — without public knowledge. In fact, there is evidence that the repeated closures of Lake Temescal in recent years were caused, at least in part, by nearby spills from city of Oakland sewer pipes.
In addition, over the past two years, top-level officials in public works and in city government have repeatedly been made aware of the ongoing problems by staffers and by residents like Tobey who experienced the issues firsthand. The Express has also learned that state regulators are investigating the city's sewage maintenance system for possible legal violations. And it turns out that sewage from the home of Oakland City Councilmember Annie Campbell Washington, whose property is located directly above that of Tobey, flows into one of the city's broken pipes.
Records and interviews also show that the city has continued to use a private contractor to repair sewer lines, despite the fact the contractor, Andes Construction, has a record of shoddy work that must later be fixed by city staffers, according to Oakland workers. In fact, last month, the city hired Andes to finally fix the broken sewer lines above Tobey's home, but the contractor failed to do the work properly, according to a city whistleblower.
Nonetheless, city officials maintain that Oakland is in compliance with the federal consent decree and federal and state environmental laws.
In fact, for years, city officials told Tobey that she was wrong about the sewage that she could see and smell in her yard — even as she watched her property slowly fall apart.
---

Tobey said problems at her property actually began in the 1980s, when a storm drain channel formed amid the towering eucalyptus trees that grow out of the hillside overlooking the barn where her three horses live. The channel developed after the land above her family's home was graded to create the Melvin Court residential community. Since then, the channel has eroded the slope, creating a cliff and causing a large section of once-flat land to sink away.
[pullquote-6]
Along with that channel, two sewage pipes run through her property and a third lines the perimeter above the hillside. Over the years, the aging, overburdened, and compromised pipes released wastewater containing untreated sewage and dangerous tree root-clearing chemicals down the hill, where it runs alongside Tobey's barn and into her yard.
Beginning in 2009, when she pulled up a rotted fence post to reveal what she called a "cavern of sewage" flowing underneath her horse arena, she has made calls, written emails and letters, and shared photos and videos of green-tinged sludge and white puffs of noxious root foam on her land. But she struggled to get city officials to take her seriously and address the problems.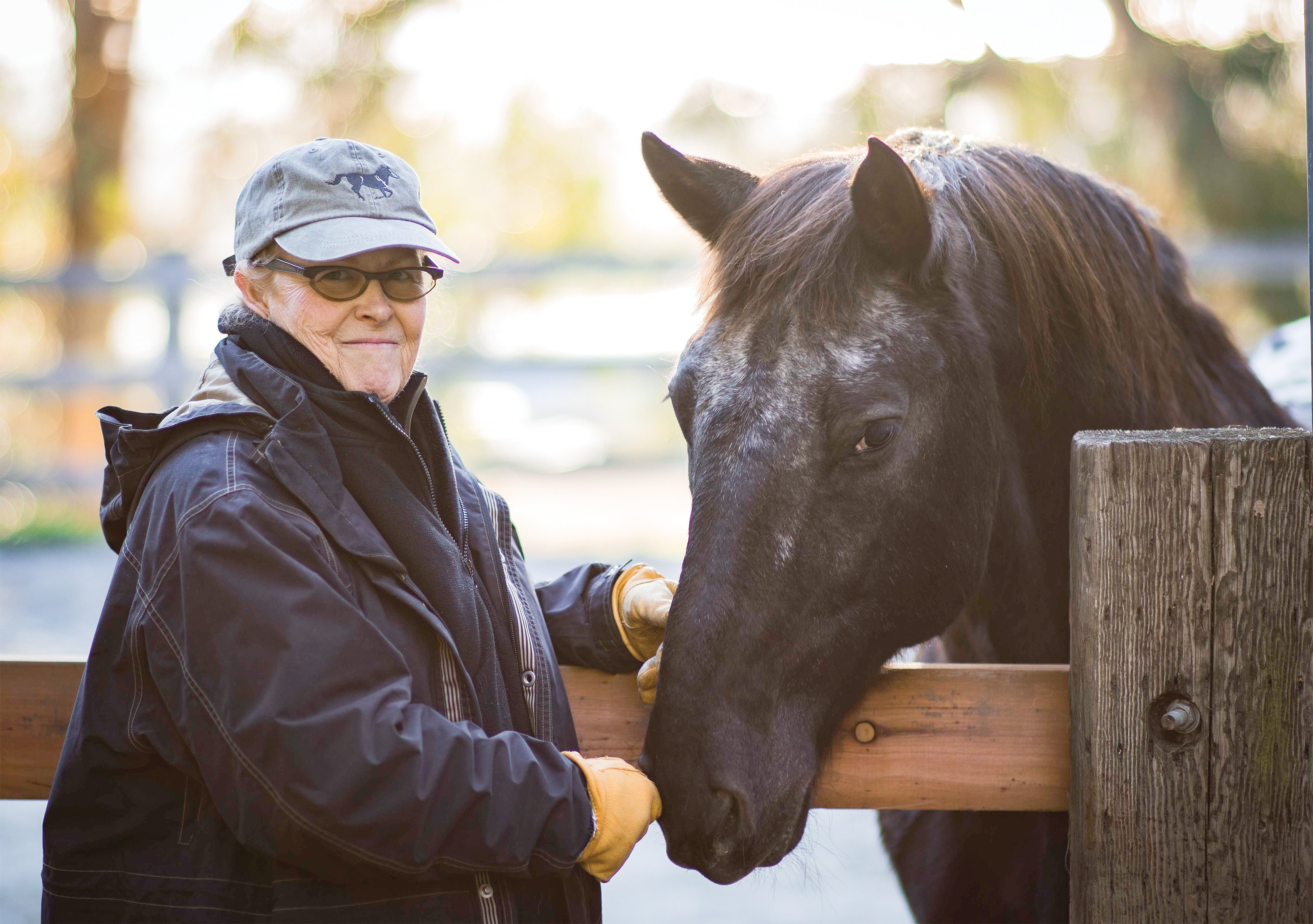 Sean Maher, a spokesperson for Oakland Public Works responding on behalf of the department, wrote in a statement to the Express that they have been working with Tobey to address her "concerns with the publicly owned sewer system that flows through her property."
He added: "The city, with technical assistance from several contractors and in consultation with the regional water board, has reviewed the sewer and surrounding watershed extensively and ha[s] not identified any water quality issues related to the condition of the sewer. The city is also working with Ms. Tobey and her neighbors to ensure that necessary improvements are made to the privately owned portions of the sewer that may also be affecting the system. It is the homeowner's responsibility to address private sewer defects, as such, the city informed the property owner of their need to make repairs."
But public records show a test conducted by the city in January 2016 called for the main sewage line to be repaired, citing danger of imminent collapse. Crews couldn't get a camera to go into the pipe more than 52 feet due to the degree of blockage. The city didn't repair the pipe for close to two years. (In the East Bay, cities are responsible for maintaining the public sewer lines that ultimately feed into East Bay MUD's wastewater treatment plant in West Oakland.)
Public records also show a sewage overflow was officially documented at Tobey's property in the beginning of 2017. It was the second recorded by the California State Water Resources Control Board for the area.
And during several months last winter and spring, even after Tobey said she was told by city officials that the pipe had not been compromised, she discovered large quantities of toxic foam flowing down through the channel onto her land.
The foam is made from chemical cocktails that can include powerful herbicides like Metham Sodium, Dichlobenil, and Diquat Dibromide, and is applied to pipes to keep roots from growing into them. Manufacturers, including Sewer Sciences Inc. and an Australian company, Drainchem Pty Ltd, warn that protective gear should be worn while administering the chemicals and that medical attention should be sought immediately if any contact occurs.
But for weeks the foam streamed unabated across Tobey's property and pooled alongside the barn close to one of her horse's stalls. By April 2017, Scout, her rescued mustang, had developed lesions on his body and a peeling burn on his knee, and had rubbed out his own tail in an attempt to scratch his itchy skin. It still hasn't fully grown back.
Tobey's dog Sadie, a border collie/McNab mix whom she said may have rolled in the toxic foam, is in even worse shape. Most of her hair fell out, revealing large patches of scaled skin. She also has to wear a dog diaper because she's become incontinent.
Although the Express has not independently verified that the foam and sewage water were responsible for sickening Tobey's animals, she said she is certain that their health problems — which both animals developed around the time they were in contact with the wastewater — were caused by the contamination to her property.
"All I wanted to do was retire here and enjoy my horses. That's all I wanted," she said. "Instead, my time is spent repairing the property or investigating the city and writing letters. That's all I do."
Tobey has even tried to involve Campbell Washington — whose house overlooks hers on the hillside above and whose sewage feeds into one of the city's compromised pipes — and has repeatedly sent documents to City Auditor Brenda Roberts, City Administrator Sabrina Landreth, and even Mayor Libby Schaaf. Campbell Washington was the only one to follow up on the concerns and emailed her letter to city staff, but the problems continued.
"I am a tough person but — ya know …," Tobey said, taking a long pause to steel herself, "it gets to me. If it wasn't my family home, I would have left a long time ago rather than subject myself and my animals to this. I am one person, but I am fighting an entire city."
[pullquote-2]
"I don't really have a comment on it," said Campbell Washington, referring to Tobey's battle with the city. "The role that I play in the district is making sure that when constituents and residents have issues, that they get to the right department who can help them. And that's really the role that I played there. Just making sure that her issue was seen and being addressed by the right staff members within public works."
Tobey said there has just been one city worker who has come to her defense: Loren Little, a senior supervisor for Oakland's Drainage Division. Last May, Little received the forwarded email from Campbell Washington about Tobey's situation and visited her property. He was appalled by what he saw.
"They didn't care about her horses. They didn't care about her dog. They didn't care about none of that," Little said in an interview. "They did not give a damn."
Little explained that the foam he observed was further proof of a broken sewer line. "When you administer the root foam to the sewer lines, it is not supposed to come above ground. It is supposed to stay in the pipe," he said. "But when you have a clay pipe like this that has cracks in it — wide open cracks — the foam is going to find its way up, if there's a block to the line."

Tobey originally believed she was a victim of negligence, but Little thinks it goes far beyond that.
"They think it is out of sight, out of mind," he said. "I mean, who is going to believe this woman? She don't know a damn thing about what we do. So, what they did was give her bogus reports. They claimed we did a smoke test for the sewer lines and everything came out the way it was supposed to — but they didn't do it. It was a damn lie."
---

Little keeps a copy of the Vitrified Clay Pipe Engineering handbook closely accessible in the desk drawer of his office at the city's drainage division in the Oakland hills. On the desk is a small model of a vitrified clay pipe bell-and-spigot joint. The city's sewers have been the focus of his career and it shows.
"This is a smaller version of what's in the ground," he said, picking up the model. "And this is what's been in the ground on these easements for 100 years."
Little explained that the aging clay pipes that still comprise most of the city's sewer system are slowly being replaced but were originally thought to be made of the most long-lasting material. "That was until they introduced eucalyptus trees," he said. "They love water. So, you got a pipe that's got a bell and a spigot. Any type of crack, any type of break in the bell, that tree root is going to find its way through it."
After spending close to 30 years in the city's sewer department, working his way up from a sewer maintenance worker to a senior supervisor, Little possesses an encyclopedic knowledge of Oakland's 930-mile sanitary sewer system — and its problems.
He got his first sewer job in 1988 after being discharged from the Army and learned the system from the inside out: removing roots, conducting camera checks, and spot-repairing sewer lines.
After becoming a senior supervisor, Little kept detailed diaries each year, accounting for the actions taken by the city and the issues that arose in its sewer system. He also helped the city draft and adopt the Sanitary Sewer Overflow response plan approved by the EPA that is supposed to govern the protocol used to address sewage problems as they happen. And he helped write the consent decree, the 22-year, $300 million agreement adopted by the city in 2014.
"I have always been a guy who has done things by the book," he said emphatically. "And I have been dealing with the issues since I started."
Little has been determined to blow the whistle on the problems in the Oakland Public Works Department ever since he was transferred out of the sewer department unexpectedly in April 2016 and into his current position overseeing drainage. He said he was transferred after he pushed back against department leaders for what he describes as fraudulent practices.
In November 2016, he met with Oakland City Auditor Brenda Roberts, who was elected by voters in 2014 to ensure that corruption is properly investigated and whistleblowers are protected. Instead, Roberts contacted an official at the public works department and informed the person of the meeting with Little, according to Robert McMenomy, who was the audit manager running the auditor's Fraud, Waste, and Abuse Prevention Program at the time. Roberts' alleged move appears to have been a direct violation of Oakland's Whistleblower Ordinance, which was established in 2008 and is designed to protect whistleblowers from exposure and retribution.
Roberts' office responded that they are unable to comment about ongoing investigations or whistleblower reports. But in an emailed statement, a spokesperson for Roberts denied that she exposed Little, writing that "the city auditor keeps confidential the identity of anyone reporting information."
But Little contends that after he went to Roberts, he was targeted by higher ups in the public works department, including current director Jason Mitchell. Mitchell declined to be interviewed for this report.
[pullquote-3]
Little's concerns include the alleged misuse of public funds — specifically, the taxpayer-subsidized sewer fund. Under the consent decree, the fund can only be used for "the construction, maintenance, and operation of the sanitary sewer system."
Every water bill charged and administered through East Bay Municipal Utility District in Oakland includes a sewer service fee, which has increased annually over the last five years. For Oakland households, which account for 70 percent of the revenues in the sewer fund, the minimum fee currently stands at $75.14 and ranges up to $168.60, paid bi-monthly. Other EBMUD customers, including businesses and apartment buildings, are billed by volume.
On notices provided to residents about fee increases, the city noted that the fee "pays for long-range maintenance and rehabilitation programs to eliminate overflows and meet regulatory requirements."
But the city's budget shows that millions of dollars from the fund go to expenses other than sewer maintenance. In the upcoming fiscal year, the budget shows that more than $3 million of the sewer fund revenue will go to the Department of Transportation's Great Streets program, and roughly $1.4 million is to be reserved to help the city settle or fight lawsuits. City officials contend that the funds will be indirectly used to bolster the sewer system.
"All Sewer Service Fees funds are allocated to maintain, or support maintenance of, the public sewer system," Maher wrote in an email. "Multiple work groups contribute to this work. Major examples include sewer inspectors and engineers, drainage work to maintain the stormwater sewer system and mitigate stormwater inflow and infiltration into the sanitary sewer system, and city crews assigned to assist when we are digging up roadways to rehabilitate or replace components of the system."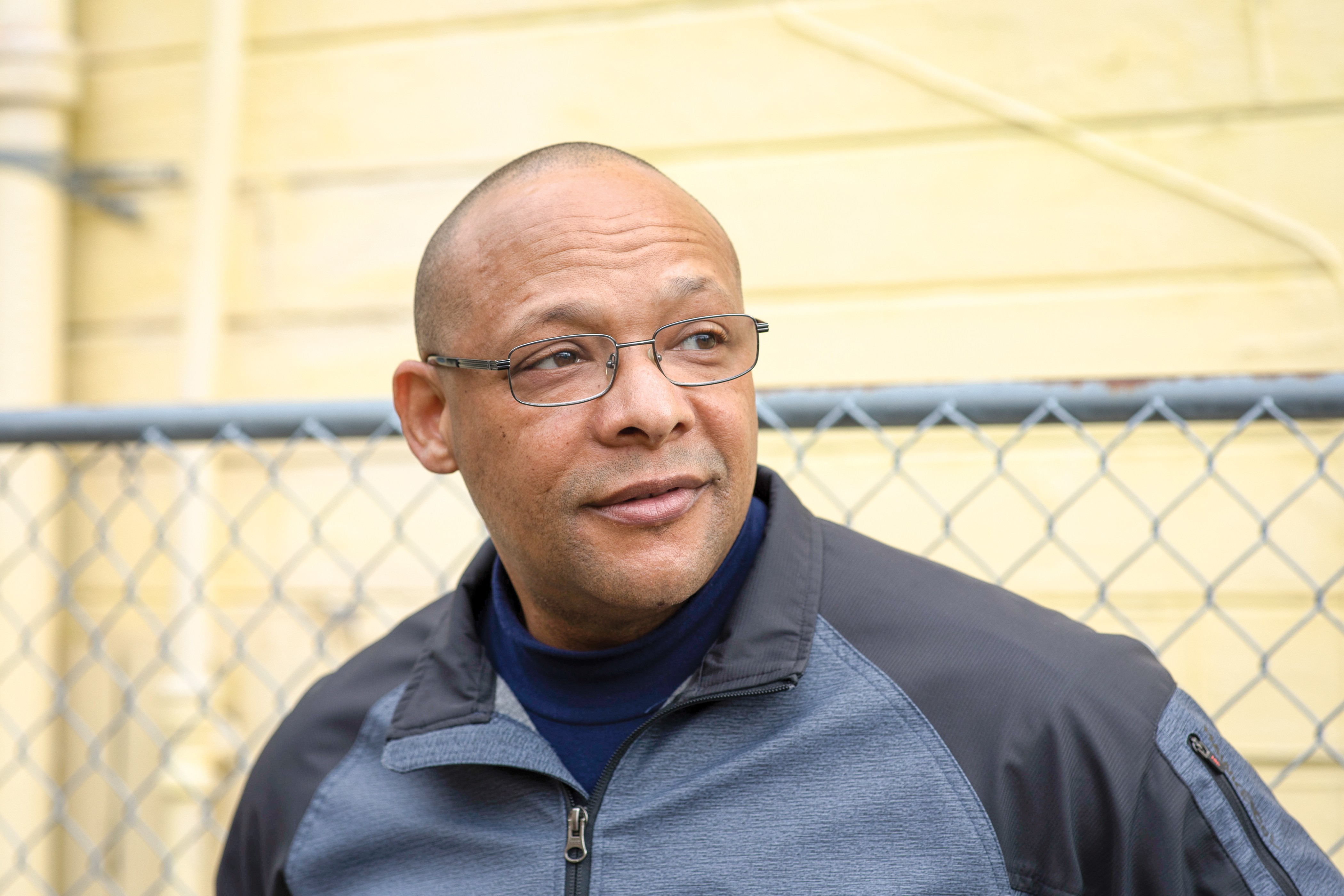 He added that the millions of dollars transferred into Oakland's general fund from the sewer fund is used to cover liability of costs when the system fails — a "standard risk management practice" — and is "earmarked specifically for the risk management of the public sewer system."
But Little said he discovered the fund had been used to purchase equipment for another department. Earlier this year, he found out that $60,000 was missing from his own operating budget in the drainage division and had been used to purchase trucks for another division, he said. When he inquired about the issue, Mitchell congratulated him for keeping such a close eye on his budget and stated that the expense had been approved the previous year, according to an email reviewed by the Express.
"I think this is just the tip of the iceberg," Little said. "They took money out of my operating budget. I am the division head, and they can't take my money and not let me know what they are doing with it."
---

Beyond the money not being allocated correctly, Little said the Public Works Department has been negligent in overseeing and inspecting the work done by private contractors, and often the city has to pay city staffers to fix problems afterward.
One contractor, Andes Construction, often receives multimillion-dollar contracts despite a questionable work history, he said. The company, run by Danilo Mayorga, has been doing contracted work in the East Bay since 1986, in spite of numerous complaints.
In 2003, community newspaper The MacArthur Metro published a scathing article on Andes' work, titled "I Smell a Rat," which detailed how an Oakland household ended up with a sewage-filled basement after the contractor left a test plug and a shovel in a sewer pipe being worked on. A month later, in a follow-up story, The Metro noted that an Andes crew began digging at a site without a required "Underground Services Alert" (which ensures it's safe to dig without puncturing a gas line or aqueduct), performed work without the required permits, and leaked oil from its trucks into a creek but did not have spill-control materials to clean it up.
"The saga continues with Andes Construction's lack of understanding of its creek protection permit," wrote journalist Dennis Evanosky (who now publishes the Alameda Sun). "In the very same neighborhood where the company's crew dug without a USA, its crew chose to ignore creek permit directives."
Three city sewer workers interviewed for this report who asked not to be named for fear of retribution said it was well-known that Andes does substandard work and that they are often asked to clean up it messes.
In December, after sewer workers joined staffers in other agencies for a citywide, weeklong strike, they returned to their jobs to find Andes had done work while they were away — and much of it was not up to code, they said.
Scott Riley, a sewer maintenance worker who has worked for the division for nearly 11 years, spoke to the Express while he was working to fix an overflow that had poured into Temescal Creek during the strike. Andes "didn't perform the job correctly, and the flow continued to happen," he said. "We are now posting signs letting citizens know not to go into the creek, because it has been contaminated."
He said it isn't the first time. "We have had to come behind them and straighten out the work that they were supposed to do," he said of Andes.
Other city employees shared similar stories. "You have city crews that have to go in behind these people to re-do the work after they have been paid millions of dollars of taxpayers' money," Little added. "They do shoddy work and no city inspector is overseeing what they do."
Mayorga did not respond to requests for comment for this report.
[pullquote-4]
Maher stated that inspections are required and performed and that private contractors must conduct their work in accordance with both the Oakland Municipal Code and the 2015 Greenbook Public Works Standards. "City inspectors are a regular presence on-site throughout the construction phase of permitted work, and contractors must demonstrate their work is code-conforming to a city inspector before the city will sign off on the work's completion," he wrote in an email to the Express.
But Little said that for Andes, city officials allow the contractor to produce its own documentation rather than checking the work independently. "This contractor, Andes, polices their own work," he said. "The city of Oakland has no idea if the work was done right or not."
As a result, the city has not accurately reported to state and federal regulators the work and funding required in the consent decree to rehab Oakland's aging and failing sewer system. In addition, the Express' review of public documents and interviews with city employees show that while some sewage overflows haven't been reported, others appear to have been altered by city sewer supervisors in order to make the city look better.
"We have to produce annual reports that are public information," Little said. "These reports show the EPA how the sewer department is doing on what they were put to task to do.
"And it's full of lies."
---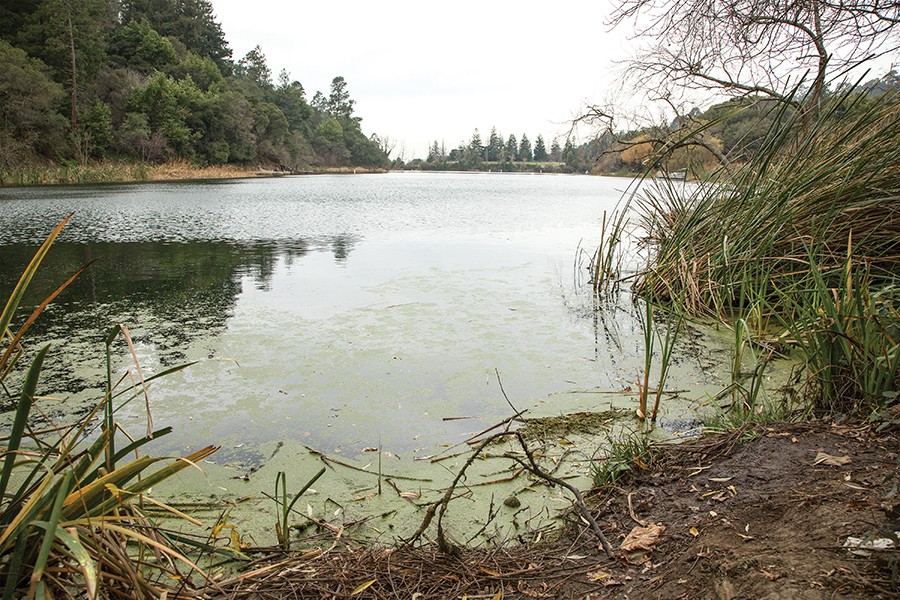 On a cold, cloudy winter weekday in early January, Lake Temescal was abuzz with activity. Joggers passed by dog-walkers and stroller-pushers along a path that circles the small reservoir in North Oakland, while toddlers played in the small sand dunes on the man-made beach and waterfowl perched on floating buoys in the water. Anglers stood onshore hoping to catch rainbow trout, stocked there in the winter season.
Surrounded by redwoods and aquatic greenery, the lake has offered Oakland residents the chance to escape the hustle and bustle of the city since it opened to the public in 1936. Not even the hum of cars speeding by on Highway 24, which hovers overhead near the park, is enough to distract from the tranquil beauty of this urban oasis.
But in recent years, water quality issues have repeatedly forced the lake to close, making it inaccessible to the hundreds of thousands of families from throughout Oakland who visit the park annually. In late December, the East Bay Regional Park District, which operates the Temescal Regional Recreation Area that includes the lake, posted signs along a walkway near the lake instructing visitors not to enter the water or fish.
"I have been coming to this lake for several years," said local resident Jean Cassidy. She added that she used to bring her kids when they were young but now sees the water quality warnings much more often. "I don't remember the problem ever being as bad as it is now. They have summer programs for the kids here, and they can't even swim in the water. It's sad."
Although the signs indicate an issue with the water, there is no clarification about what's wrong with it and nothing specifically mentioning the ongoing sewage spills from broken city sewer lines nearby.
East Bay Regional Park officials say sewage spills regularly into the Lake Temescal watershed — but they aren't able document how much or how often. That's the city of Oakland's responsibility.
"It happens every year," said Hal MacLean, park district water management supervisor. He explained that they post closure signs for fishing and swimming every time there is a sewage spill and don't reopen until certain bacteria levels drop.
"A lot of times, somebody will find it, and you don't know how long it has been happening," he said of sewage spills, adding that they don't know the extent of the bacteria that people could be exposed to. "We are using indicator bacteria, which won't necessarily get you sick — but there could be other things in the water."
Park officials regularly check bacteria levels during the summer swim season but not during the winter months when people aren't expected to enter the water. Still, the lake is a popular fishing spot year-round. MacLean said after a known spill occurs, they monitor the water quality more closely.
"We sample after they stop the spill to see what damage is done," he explained. "We don't really clean up the lake — there is constantly water going into the lake and water going out of the lake. So, you have a lot of flushing and mixing, and when your bacteria numbers are within a range, then you've got the confidence that it has dissipated. If there's body contact and swimming, then the numbers are more stringent than if there's just fishing."
Most of the closures in recent years, however, were not blamed on sewage spills but on toxic algae blooms, which could be dangerous if ingested, especially for dogs. But it turns out there could be a connection: Algae thrives on sewage.
"Toxic algae is blue green algae or phytobacteria," MacLean explained. "It doesn't necessarily always have toxins. But one of the issues we have is there are a lot of nutrients in the lake. And there are some people who have been saying that ammonia can contribute to whether you have toxic algae blooms or not, too. These sewer spills will transport a lot of nutrients and ammonia into the lake."
Alexander Horne, an ecological engineer and professor emeritus at UC Berkeley who has spent years studying algae, agreed that sewage from the city's broken sewer lines could be behind a bigger bloom. He explained that the protein from sewage that breaks down into ammonia, nitrates, and phosphates provides algae with a hearty feast. "The algae love it," he said. "If you wanted to grow algae, you could grow it very nicely in sewage."
Horne said he doesn't believe the public health risk is high, but untreated sewage in any lake is a problem.
For Oakland, it's a problem that's been shielded from public knowledge. There have been numerous overflows into Lake Temescal, but records show the city has sometimes not properly reported the spills.
---

Emails obtained by the Express reveal that the park district alerted the Oakland Public Works Department of a spill early last year that the city didn't stop for weeks. On Feb. 8, MacLean sent an email to others in the department about the amount of sewage flooding into Lake Temescal.
"The city of Oakland is attempting to pump liquid sewage from the storm drain to a sewer line in the southern parking lot at Lake Temescal," he wrote. "The city has reported SSOs [sanitary sewer overflow] twice since the SSO was initially thought to have stopped last week with removal of roots that caused a blockage in the sewer line. Unfortunately, they haven't had success draining the overabundance of sewage. Hopefully, the system will catch up with the overload soon. I'll keep you posted."
[pullquote-5]
The spill, which began on Jan. 31, would continue for weeks, unloading roughly 50 gallons of wastewater a minute into Lake Temescal. In all, more than 100,000 gallons of untreated sewage flowed into the lake — and the public never knew.
In the email thread about the incident obtained by the Express, which included both parks district and city public works supervisors, parks Environmental Services Manager Becky Tuden wrote that overflows into the lake happen regularly.
But records show the city failed to accurately report the details of last year's spill. In official documents filed to state regulators on Feb. 21, the city of Oakland reported that the spill began on Feb. 8 at 8:00 a.m., even though the email chain showed that the spill started on Jan. 31.
The city also told the state that the spill ended on Feb. 8 at 10 p.m. and that a total of 36,000 gallons of sewage spilled — which is apparently only about one-third of the actual amount that leaked into the lake.
It's also likely not the first time the city has reduced sewage spill numbers to make them look less serious, city workers say. They allege that Oakland city supervisors who submit official documents to regulatory agencies sometimes minimize the numbers reported in the field after overflows occur.
Hugo Velazquez, a sewer maintenance leader and special operator for the sewer main who has worked for the city for 12 years, said he discovered that at least two of his reports were changed after he submitted them. He said he noticed the changes when he happened to see his documents on a supervisor's desk.
Both overflows occurred the same day. Velazquez said he reported the first as 67,500 gallons and the second as 94,500. He recorded videos to back up his reporting.
But the documents that the city filed with state regulators show only 39,000 gallons for the first spill and 47,000 for the second, undercutting each by almost half. The second report still included Velazquez's initial higher estimate of 94,500 gallons in the "spill location description," contradicting the city's official number for the estimated spill volume.
Velazquez was alarmed by the discovery and now questions whether supervisors changed more of his reports without his knowledge. "I noticed there was red ink next to it," he said, adding that when he asked what had happened, the only response he got was that they had "made some adjustments" and not to worry about it.
"I said, 'Wait a minute. You guys sent us to all of these classes where we write up paperwork saying if we did this we could go to jail for this,'" he added. "But if I would have never seen it on top of the desk, I would have never known they changed the numbers. That really made me wonder."
When the city submits reports, department officials have to sign a certification statement under penalty of perjury. But Oakland has a history of failing to comply with regulatory standards and of underreporting sewage spills.
In 2011, San Francisco Bay Regional Water Quality Control Board fined Oakland $114,000 after it found that the city falsified the start times of sewage overflows and underreported the volume of sewage released.
In 2013, an official inspection revealed that Oakland failed, 35 percent of the time, to alert agencies during the mandated 2-hour time frame when an overflow reached a drainage channel or surface water; did not follow protocol for testing water quality for fecal coliform, E. coli, and ammonia after spills discharged into creeks and lakes; and did not adequately notify the public during dangerous overflows — specifically when sewage spilled into Lake Temescal.
"The city did not post any signs warning the public of raw sewage," the report noted, adding that, even though the overflow didn't occur during swimming season, "Lake Temescal is used for various non-water contact activities such as hiking, fishing, picnicking and biking. The public must be warned that an SSO resulted in a discharge into the lake and of the potential health impacts of contact with lake waters."
According to Bill Johnson, division chief of the Wastewater and Enforcement Division of the San Francisco Bay Regional Water Quality Control Board, the agency conducted a follow-up inspection of Oakland in July 2017 but has not yet released the results. The agency has also continued to follow up on reported allegations of noncompliance. "We are aware of a number of issues that have been reported to us in the city of Oakland and the collection system," he said. "Our team is investigating those issues. We are taking it seriously."
Oakland Public Works Department officials contend that the agency is in compliance with the consent decree and that city records reflect a valid assessment of the work being done. "OPW maintains accurate documentation of overflows," wrote Maher. "There are several inter-departmental points of contact and oversight that help ensure intake, dispatch, response, and reporting of overflows is accurate and meets regulatory compliance."
Parties to the 2014 consent decree, like the environmental group San Francisco Baykeeper, which has worked to protect Bay Area waters from pollution for nearly 30 years, rely on and trust the record-keeping of the city, because they do not have the capacity to check themselves. Erica Maharg, Baykeeper's managing attorney, also said that even if the numbers reported were accurate, there's too much sewage flowing into the bay. "The city has more than 900 miles of sewer pipes. So, typically, any one day if you go out and see one segment, you are not going to find anything," she said, adding, "but these reports are submitted under penalty of perjury. So, if there is something wrong, that is a pretty serious offense."
[pullquote-6]
If officials are found to have fabricated reports, it could mean a hefty fine or even jail time.
Worse than that though, Maharg said, it would call into question the accuracy of the rest of the regulatory reporting from departments citywide.
"Understanding and having trust in how the city is reporting these sewage spills is the only way that our citizens know what impacts and what hazards there are," she added. "So, if that breaks down, how can we trust anything that the city is doing?"
---
On Dec. 1, 2017 — close to two years after the city acknowledged that the sewer main above Terry Tobey's property needed to be repaired — Andes Construction began fixing it. But during the work, the Express observed that no city inspector was on site. The work also took more time than scheduled after the initial attempt to put in the new section of pipe failed.
When the work was done, the manhole was not to code; it was slanted on uneven ground. "It is supposed to be straight — surface grade," Little said. "It is not supposed to be tilted at a damn angle. They have so much deplorable work here in this city it is ridiculous."
A city records request also revealed that there were no camera records for Andes' work to show whether it placed the underground pipe correctly and to city code or that the city had inspected it.
Tobey said that's one reason she isn't confident that her battle is over. There's still lots more work needed to repair and sustain the crumbling hillside and protect her horses and her home. The stress of it all keeps her up at night. She's terrified now that it's the rainy season again.
"By the end of this winter, I don't even know what that hillside is going to be like," she said. "I don't even know if my barn is going to be standing."
She said she has no choice but to try to hold the city accountable for the damage already done.
"As far as what it's going to take to fix it?" she said. "We will not know that until the sewage quits flowing."