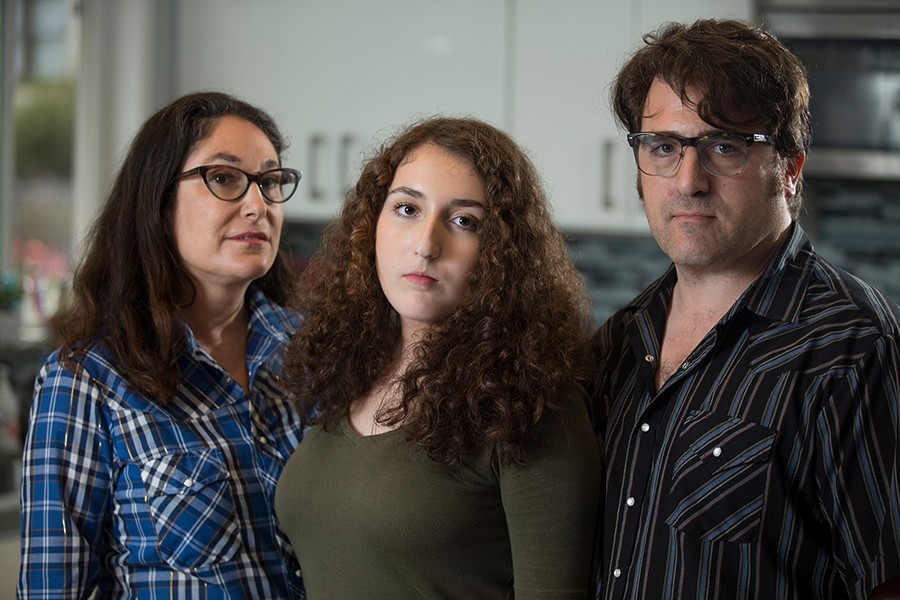 Ever since Natasha Waldorf received a series of threatening text messages in class from a couple of fellow Alameda High School students in January 2017, attacking her for being Jewish with a cartoon image of Mr. Clean dressed up as a Nazi officer and the words "Mr. Ethnic Cleansing," she said it's hard not to feel unsafe at times. She now gets rattled by things that she might have shrugged off in the past.
That's why when the sophomore noticed a series of swastikas scrawled on a lab table in the back of her AP chemistry class in December, as she was conducting a lab experiment, it gave her an all-too-familiar sense of dread. In the past, she might have ignored the graffiti, but the swastika was next to the words "Stop the Plague," drawn on the table, and nearby it were other swastikas and the words "Mein Fuhrer" written three times. She knew she had to speak up.
She also wishes that they were the only swastikas she found this year, but they weren't. In mid-November, she stumbled across one that was scrawled at the center of a mural promoting the school's sports teams — in a hallway of the school's foreign language arts building's bottom floor that she rarely visits. In that case, it was about an inch high and right at eye level — and on the yellow H of the high school's acronym, AHS. It looked like it'd been there for a while, she said.
"Both times, I had like a sinking feeling in my stomach, and thought like, 'Oh, here we go again,'" she said. "And I felt a sense of dread. And I thought, not again. Oh G-d, I have to deal with the school administration again, and is there even a point in reporting this? And nothing ever happens other than it getting erased. Is anything going to be really done by the school to deal with it?"
The two sites where Natasha found swastikas in November and December were among a total of at least six sites where swastikas were discovered on the Alameda High campus this school year, said Natasha's parents, Mel Waldorf and Jessica Lindsey. Swastikas have been found on classroom desks and a lab table, a mural, a cardboard box in a classroom, and on a paper airplane tossed at another person, according to the school district. And the incidents of hate are all the more troubling because they came on the heels of a disturbing surge in anti-Semitic acts that have occurred in Alameda in the past year, in the schools and throughout the city. In late September, a swastika was discovered on the slide of a playground of the closed Lum Elementary school; on August 17, Temple Israel of Alameda was vandalized; three days later, fliers with swastikas and hate speech were found on Sherman Street.
Last school year, swastikas also were found all over a desk with the words "Jews are evil" in one of Natasha's classrooms, while other swastikas have been discovered on a dumpster outside of Otis Elementary and on the photo of a Jewish student on a bulletin board at Encinal Junior High. And at Otis Elementary, a Jewish fourth-grader also received inflammatory anti-Semitic comments and a death threat on a Google document that students used to comment on each other's essays. The threats describe throwing the Jewish girl's dead body in a hole and Hitler would "piss on her Jewish ass," according to a timeline of anti-Semitic incidents in the past year compiled by the Lindsey-Waldorf family in a formal complaint that the family filed in August against the district over its handling of anti-Semitism in schools.
"I was hoping that they would use last year's incidents as a lesson to better handle future ones," Natasha said. "But kids don't know drawing these types of symbols is wrong. So, kids just keep doing these things with terrible anti-Semitic messages just for fun. They think it's funny. And if no adults or other people above them step in to tell them it's not OK, these kids are going to grow up thinking that that's OK. And what's going to stop the next generation of people spreading hate toward Jews?"
The Lindsey-Waldorf family says they filed their complaint after eight months of inaction on the issue and repeated appeals to high school and district leaders. They also enlisted the help of the Anti-Defamation League and the Zionist Organization of America, which have written the district letters to assert that it has not fulfilled its legal obligation to protect Jewish students from anti-Semitic harassment under Title VI of the U.S. Civil Rights Act. The family is calling for changes in school policy so that administrators immediately intervene when anti-Semitic incidents occur and take the incidents seriously.
Last school year, after Natasha received a flurry of anonymous texts of offensive images of Nazis, was called a "kike," and was told that Hitler's biggest mistake was not killing her family, the family said the school administration did not force a German exchange student, who instigated the texts, to apologize to Natasha or help both parties talk out their conflict. The school also did not fill out a bullying incident report when the bigoted acts occurred. In fact, the offending student was not even moved from Natasha's class, and she had to endure sitting near him the rest of the school year.
"And if you compare the school's response to the swastikas found at the school to their immediate reaction to a noose, which was found on Encinal Avenue near the high school in September, in which robo-calls and emails were sent to the school community within a couple of hours and counseling was offered to anyone who needed it, it's clear that the district isn't taking anti-Semitism seriously," Waldorf said. He said that the principal promised in September to inform parents monthly when such incidents occurred, but the swastikas were only briefly mentioned in a weekly newsletter, a few weeks after they happened, and without any real attention called to them, he said.
Despite the district's mantra, "Everyone Belongs Here" as a message of diversity and inclusiveness, Jewish students aren't being equally protected, he said. As a result, his family also believes that Alameda schools Superintendent Sean McPhetridge should resign from his position because of his lack of leadership on the issue.
"How hard would it have been for the principal or the superintendent, when the three swastikas were reported one week in November, to simply send out an email that says, 'don't draw swastikas?'" Waldorf said. "It's not that we think one is equal to the other, and if it had been just one swastika, we would not have reported it, but it's been a series of things. So how many swastikas equal a noose? How many swastikas does it take before they do something to clearly say this is not acceptable?"
However, Susan Davis, school district spokesperson, said the swastika and noose situations were handled differently because the noose was left on a public sidewalk outside the school. She also said they knew which day the noose was left. Also, the Alameda Police Department investigated the noose incident as a hate crime, she said.
"As a symbol of violence, the noose was more immediate and threatening than one-inch drawings of swastikas that had been created at an undetermined time in the past and had only just recently been discovered," she said. She also said that in only one of the incidents was it known who made the swastikas, and they were disciplined. She also said the district doesn't know for sure whether there has been a rise in swastikas drawn at the school in the past year, or if the reporting of them has increased due to heightened attention to hate and bias incidents nationwide.
McPhetridge declined to comment for this report because of the ongoing investigation into the Lindsey-Waldorf family's complaint, which is expected to wrap up this month, Davis said.
McPhetridge has previously apologized to the Lindsey-Waldorf family and invited them to meet with him. But they have refused to do so, until he states in writing how the district specifically plans to address anti-Semitism.
But Davis said the district has taken many steps since the complaint was filed to address the family's concerns. They include providing all teachers and managers with anti-bias training from the Anti-Defamation League and other organizations, providing resources to teachers and parents on how to talk to students about hate, and exploring ways to incorporate readings that focus on combating bias and hate in the district's history and social sciences curriculum. The district has also examined its disciplinary policies, passed a resolution to protect all students, and is planning a refresher course on how to report bullying incidents, she said. It has also set up a Jewish Educational Roundtable with other members of the school community on how to tackle these issues, and it's proud of those partnerships, she said.
Jacqueline Regev, education director of the Anti-Defamation League's central pacific region, said the district "has made measurable and impactful action toward fighting bias."
And Regev said the ADL has shared lesson plans and resources with the district on how to specifically fight anti-Semitism. In addition, Alameda High, which has been doing deeper anti-bias work through the ADL's "No Place for Hate" initiative, held a Holocaust education day this year, in which it invited Holocaust survivor Ben Stern, the subject of the documentary Near Normal Man, to talk to 10th graders. Stern survived two ghettos, nine concentration camps, and a grueling "Death March" — and all of his family perished in the ghettos and camps.
However, Natasha said she noticed during the presentation that some students were laughing and acting disruptively and disrespectfully, which troubled her. And then when she found the swastika on the mural the day after — and then she learned that two other swastikas were found that same week, it left her to wonder how much has really changed.
However, Regev said that the uptick in reporting of the swastikas that week may be seen as a sign of progress, too, since it may be an indication that the Holocaust survivor's visit spurred a heightened awareness of the swastika as a sign of hate, rather than spurred anyone to draw new ones in reaction to the event.
Alicia Cernitz-Schwartz, a parent of a fourth-grader at Otis Elementary whose idea it was to form the Jewish Educational Roundtable, said she also sees progress at the district overall. Her group, which she describes as "solutions-oriented," was created with the mission of educating Alamedans about Jewish issues, she said. Among the things the group is currently working on is a proclamation for Jewish-American Heritage Month and crafting a webinar on the history of anti-Semitism that it hopes will be used as a resource for students and families. The group is also providing input on how schools can deal with bias-related bullying, as well as working to build cultural awareness of Jewish life by educating staff and families about holiday observances every year.
She said she's lived in many countries around the globe, including Russia, France, Argentina, Colombia, and Spain, where she has seen anti-Semitism give rise to even worse acts of hatred and discrimination, she said. "Anti-Semitism is a mutating virus, and it's never going to go away," she said. "And the only thing we can do is control it, and controlling it means educating people, and that's really the only way we are going to get a handle on it."
Shalom Bruhn, a community activist, parent, and substitute teacher in the district who organized the community to help reclaim the space where the noose was found, said she agreed with the characterization that the district has been "more reactive under pressure than proactive" when anti-Semitic incidents have occurred. And that's why she hopes that the equity task force she helped establish will prompt Alameda to create an office of equity — as Oakland and Berkeley have done.
Yet she said she realized in talking to a number of young people after the noose incident that they did not understand its history. They said they thought instead it was announcing that someone was going to kill themselves, she said. And so, she believes a similar lack of understanding about the history of swastikas may be common on school campuses and more needs to be done to combat ignorance, she said.
"It is important that we walk our talk as a community, and when we say, 'Everyone Belongs Here,' that can't mean just one group, one religion, or one skin color."