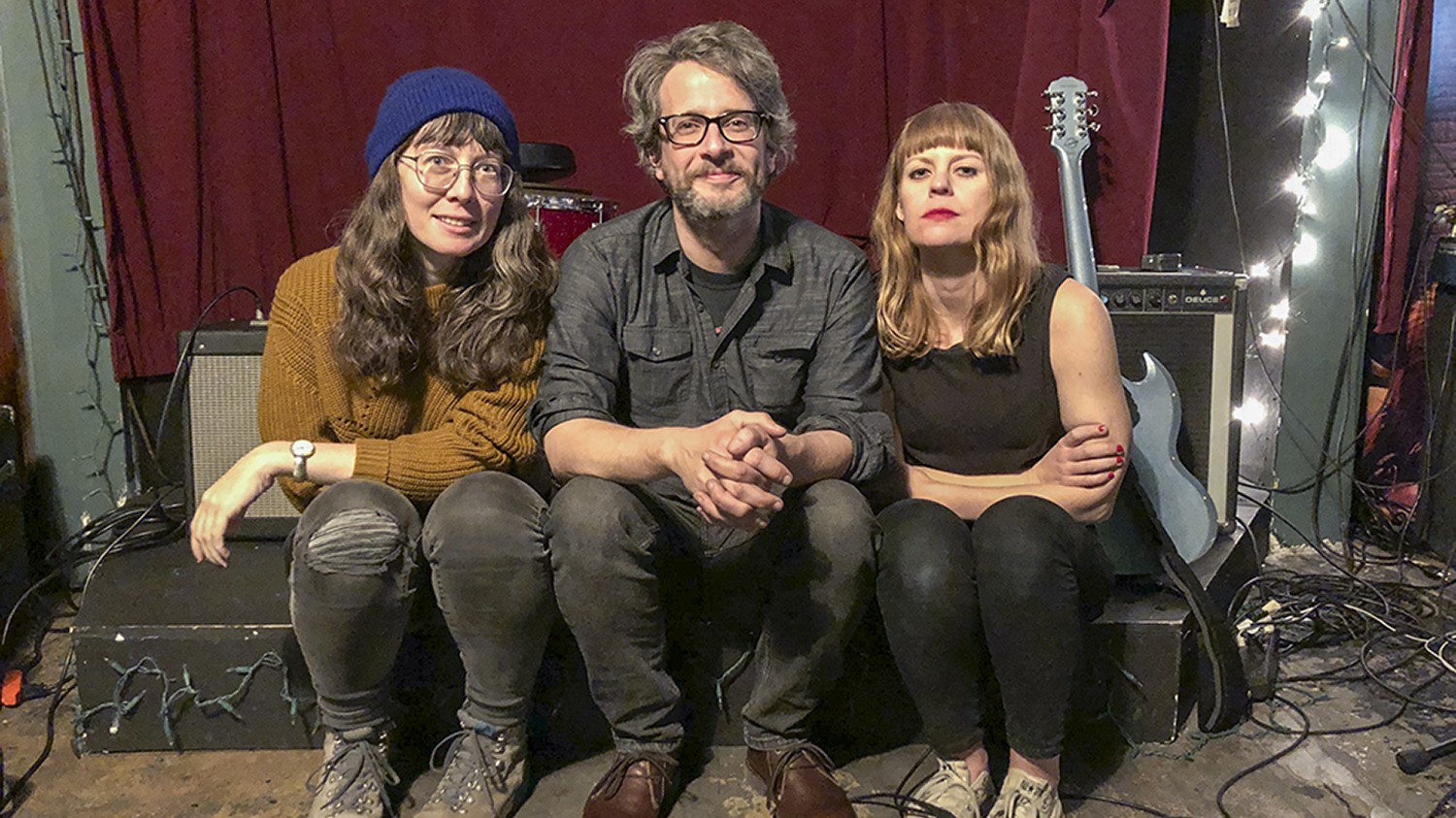 Somewhere in Richmond, nestled against the raised concrete of Interstate 80, sits a compact A-frame the color of orange baby aspirin. A strange sight to behold from an aesthetic standpoint, an odd house oddly placed between a freeway and a KFC, but a perfect home base for one of the area's brashest bands.
Mutt is an art-rock/grunge three-piece comprised of guitarist/singer Lisa May Black, bassist Juli Sherry, and drummer Chris Maneri that formed in 2015 after the dissolution of their former band, Spider Heart. The band's first album, Creature, came out in 2016, and its members are currently holed up in the aforementioned bungalow working on their sophomore, so far untitled, record, due some time in 2019.
The members of Mutt describe their writing process as rapid and collaborative and their sound as "a direct reflection of its moniker; a noise breed from a vast variety of influences." This patchwork philosophy is the prime driving force for creation and innovation for the band, and it seems like they even take it as a sort of challenge, to pivot sounds as many times as they can. "The American," the third song off of Creature, opens with a scratchy, fraught, rendering of "Amazing Grace," before dropping into a heavy down-tuned guitar section reminiscent of The Pixies. Before you can even get your bearings, the song peels off into a psychedelic kaleidoscope of guitar and crashing drums. "There's not a genre or style of music that we have ever shot down," Maneri said. "When it comes to adding different elements to our music, we're pretty open."
2018 saw some of the most compelling rock music being made by female-lead bands and solo acts. Early reporting framed this trend as a new musical movement, leading to a fair amount of pushback against the reductive categorizing and valuing of new music based primarily on the gender of the vocalist. Nonetheless, there is something exceptionally vital in listening to Black unapologetically extol her rage and shred on lead guitar, given how inanately subversive displays of female-anger are in contemporary society. "You say you know me? / So fuckin' what? / Your dreams, yeah, they don't make me come."
Asked about this, Black takes a moment and replies, "Who doesn't have a lot to be angry about right now?"
What's most fascinating about Black as a musician, though, lies outside the bounds of identity politics, and informs the general sensibility of Mutt's sound. "I feel super cool and confident when I have a guitar in my hand, and I make the ugliest, most wretched, noise," she said. "It's how I get my emotions across." This breaking of traditional standards of beauty is, at its core, the same drive that led the Ramones to loosen up the beats and Cobain to down-tune his guitar. Creation through destruction is an acquired taste to be sure, but also a legacy ingrained into the very genome of rock and roll.
Mutt's members all agree that recording at a studio is their least favorite part of making music. Enter the aforementioned A-frame, otherwise known as Anagram Studios, a boutique recording space made by musicians for musicians who hate recording. "I'd been looking for a place like this for years," said Maneri, who does most of the mixing and engineering for Mutt, "and about a year and a half ago, we found this place."
The members built out the space with the primary intention of having a hub for themselves to hang out and work on the new album. However, a secondary goal for the studios is to cultivate a tight-knit community of like-minded artists and, most importantly counteract the rising costs of being a working musician in the Bay Area.
The region's high cost of living has put a large amount of pressure on the working class, notably including the artists and performers who call this region home. Hoping to alleviate some of this financial strife, Anagram is set up for musicians to record without breaking the bank. "That's been my goal for some time," Maneri said. "It seems crazy for someone to blow a month's rent for a single day in a recording studio." He adds that there are in fact a good number of studios in the area that are relatively inexpensive and that he's happy to have joined their ranks.
Where Anagram truly stands apart, though, is in its offering of overnight residencies and lodging for touring bands. Artists on the road can come in for a day or more to rest their weary feet and record any songs they've come up with while touring. Recently, Anagram recorded June Swoon, the gloomy Americana project of Los Angeles' Juli Lydell, before a brief tour to Southern California with Mutt. "Ideally we'd like to be bringing in bands that we know and think are cool into the studio," Black said.
In a less technical sense, Mutt can also be a term for an outlier, a misfit. Someone or something that, for better or worse, doesn't fit any preset mold. Mutt doesn't make music that can be easily identified, and Black, Sherry, and Maneri seem perfectly content hanging out and making music as an insulated trio. The prospect of Anagram bringing more artists into the fold, and fighting the good fight of affordability, is exciting to consider, though. The only thing better than one Mutt in the East Bay would be a pack of them.
Mutt plays the Elbo Room on March 6.