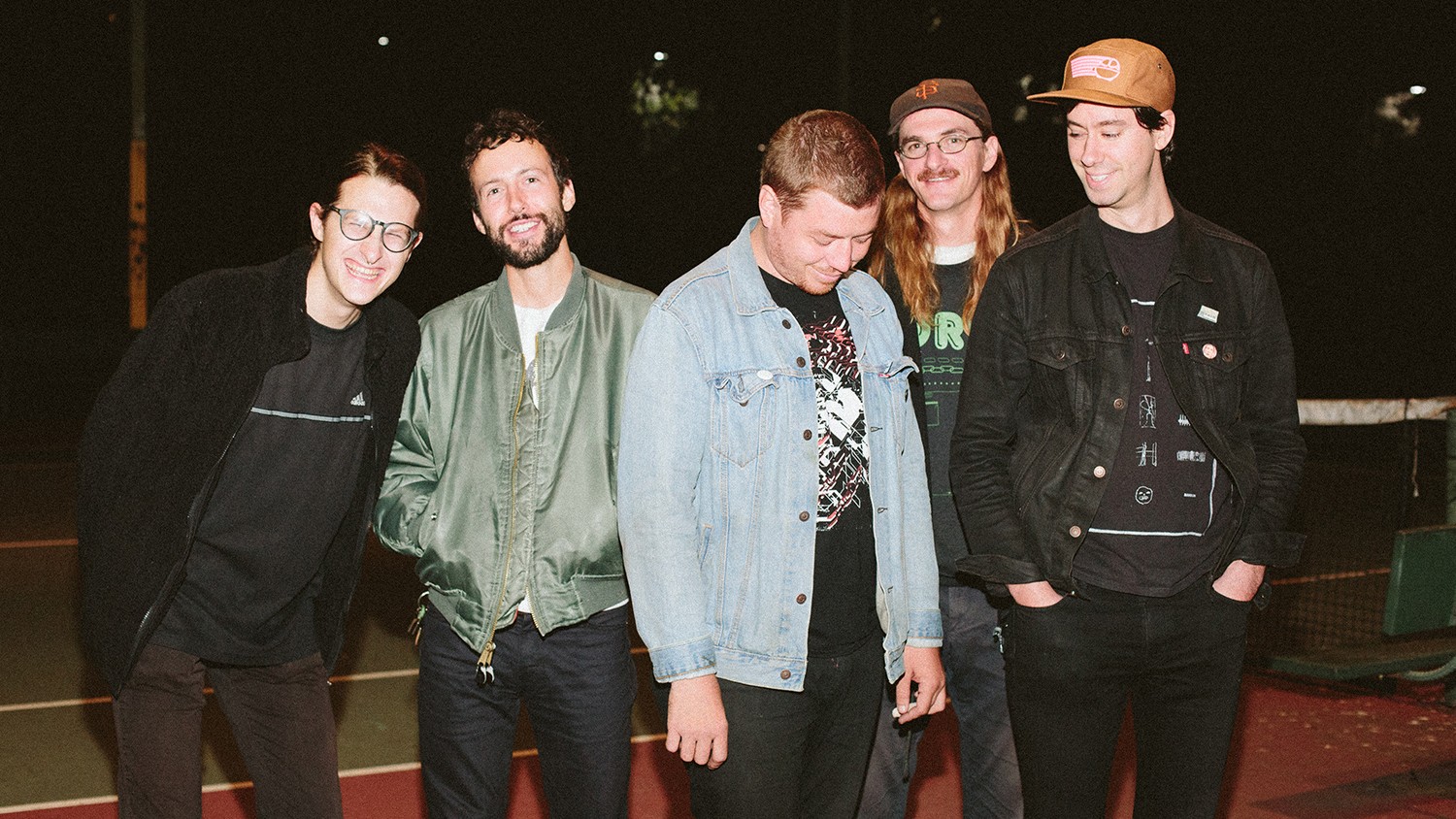 Talking to Josh Bertram of the Oakland-based experimental rock band Club Night makes you want to call your closest friends and tell them how much they mean to you. And then maybe your senators.
Bertram's music is thrashy and politically urgent, which makes his incredibly deferential and sometimes saccharine explanation of his band's recent successes all the more surprising.
The world "love" comes up a lot in conversations with Bertram, the band's founder and vocalist. Two minutes can't go by without him reassuring the listener that it's his insanely talented peers, both within the band and the Oakland music scene at large, who are responsible for any achievements. His obvious empathy and concern for others is refreshing in a local and national political moment that often feels so dominated by those who want to, well, dominate.
Among Club Night's latest accomplishments — apart from being dubbed one of Stereogum's "Bands to Watch" in 2018 and cinching a headliner position on the Noise Pop 2019 bill — includes wrapping up recording on What Life, its first full-length album after the release of its 2017 EP Hell Yeah.
If Hell Yeah is a patchwork of staccato rhythms and glitchy, otherworldly synths supporting Bertram's helium-infused warble, What Life is its more-mature older sibling. The band, whose sound has been likened to "emerging from a pile of rubble," doubles down on the eclecticism of its sonic texture and song structure throughout its first LP. On the track "Mute," Devin Trainer's moody, down-tempo bass soothes your psychic wounds, or at least anesthetizes you into a numbing sleep, giving way to Ian Tatum's guitar-forward, adrenaline-pumping interlude backed by Rebecca Luken's sireney synths. The song then digresses into percussion-heavy jangle headed by drummer Josiah Majetich. And this is just the single.
"It sounds convoluted in the end, but it's an organized chaos," said Bertram, musing that the source of the hard-to-classify sound is the members' disparate music tastes. Despite the band member's close relationships with one another, forged over the years in the crucibles of West Coast tours, MySpace, and drunk bowling, they claim that there is not one group that they can all rally around; but it's fun to see them try.
"Modest Mouse, maybe?" said Bertram. "No not Modest Mouse. I'm not into it," replied Trainer, the band's bass player. "Built to Spill?" guessed Bertram. "Eh, yeah, nevermind, Nick doesn't like Built to Spill, actually," he answered in the next breath. "We all really like The Beatles," Trainer capitulated, tongue firmly in cheek.
Bertram said Twitter was a source of inspiration for What Life. The graphic designer by day spent hours on the computer collecting sonic bits that piqued his interest as he scrolled through band, record label, and music blog pages on the social media site. Apart from that, the bandmates agree that the their biggest influences and motivators for being better musicians are one another. "This is going to sound really warm and fuzzy, but the band that we're all in right now is the mutual band that we all like," said Trainer.
During the process of making What Life, rather than writing and recording in a room together the fivesome largely wrote their own parts based on their unique "musical diets" at the time. Each of them would then layer their part over the sound handed down to them by the last band member to record.
Bertram, who has been playing in bands since he was a sophomore in high school, including the experimental rock group Our Brother The Native, said the recording process for What Life was different than anything he has done before. "I've done a lot of different iterations of making music, and this one feels organic," he said. "We put our parts under a microscope and get really nerdy and then out pops a song."
All he does to get the ball rolling on a track, he said, is to present his bandmates with a musical "prompt." The members' autonomy over their parts then gives Club Night a wildly free sound that hovers confidently above the brackets of any well-defined genre or vibe. "I think [producing] is my only skill in the band," Bertram said. "Everyone else has a very obvious talent and I'm just like 'I can tell you why I love each one of them musically.'"
He is, of course, being modest. Bertram is the main songwriter and lyrical force behind Hell Yeah and What Life, both of which were written and recorded under the Trump administration, with the aggressive instrumentation and heavy-hitting lyrics to show for it. Each Club Night track conveys a sense of foreboding, and serves as a piece of recorded history of the shame and anxiety wrapped up in the political zeitgeist. "The environment is collapsing, our political system is in complete disarray and headed by a demonic figure," he said. "It feels chaotic." Trainer added: "It comes out in the music that we write, whether intentional or accidental."
Oftentimes, it's difficult to make out Bertram's lyrics through his insanely explosive, caustic falsetto, but one line off of the track "Cherry" on the new album rings out like a bell: "Where I grew up / I felt like a tourist in my own mind."
For almost his entire life, Bertram has been using his music to cope with the type of hate and intolerance that has been exhumed by the Trump administration. He grew up in the small town of Holly, Mich., where he said people were punished for deviating from traditional values. This conservative environment deeply affected Bertram's father, who came out as gay after 17 years of marriage to his wife. "I found out by finding a note in his desk drawer," recalled Bertram. "Most of my childhood was him having the flu every other month. He was sick because he wasn't being his true self."
Reminiscing about growing up as an expressive "art kid," Bertram said he hid less-conventional parts of himself in order to get through grade and high school. But after observing the damaging effects that self-denial had on his father, and viewing his father's coming out as the ultimate act of bravery, Bertram accepted at age 16 that he needed to be true to what he wanted out of life, and that was to pursue music.
After high school, he stole away from Michigan and eventually landed in Oakland in 2012. He chose to live in the city for little reason other than to be part of the fearless artistic community he knew was there.
"When you get to a place like [the Bay Area], where you belong you feel like you can walk out of your front door and be whoever you want to be, and you're seeing all your friends being exactly who they are with no shred of insecurity—it's so empowering," Bertram said.
The rich tapestry of art and activism in Oakland and the freedom of creative expression it allows are precisely the reasons why it seems impossible for the band to ever leave.
These things were on Bertram's mind as he hosted his friends from the Oakland music scene at his too-expensive apartment to celebrate his 30th birthday. As he matured as a person and musician in the final years of his 20s, he realized he might never make it big or earn money off of this, but he is creating alongside people he loves and respects, which is exactly what he wants to be doing. "My birthday party made me tear up,' he said. "I love all these people here. These people inspire the hell out of me. I can't imagine being anywhere else."
Any aggression he puts into the music, he reasons, is the aggression he feels toward people being denied this sort of loving community.