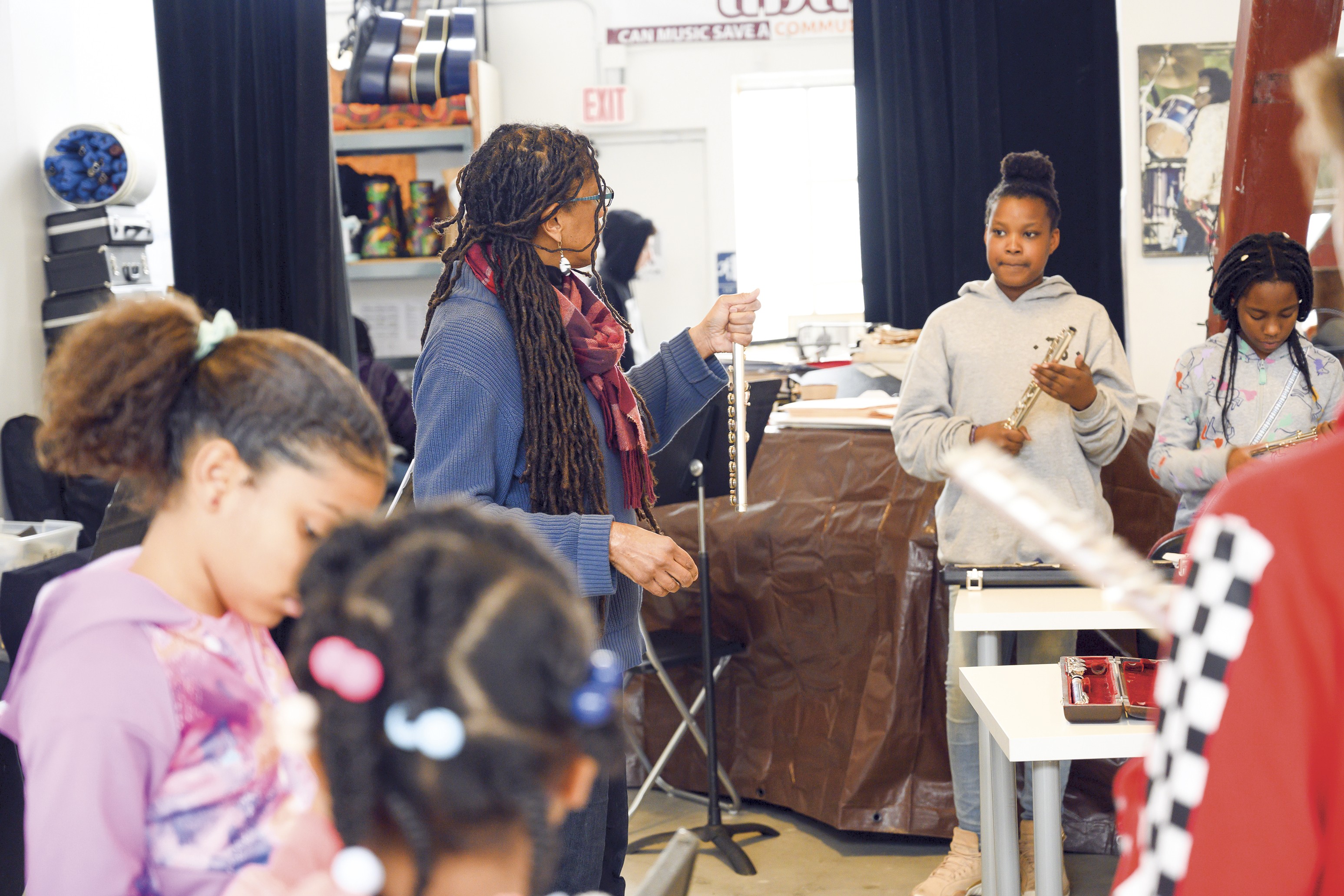 It was nearly midnight on a school night, and eighth-grader and pianist Ariel Moore was sitting inside the recording studio at Zoo Labs in Oakland, learning about the ins and outs of the music recording process.
"It takes a lot of dedication and a lot of focus and long nights in the studio," Moore said. "It's not as easy as it seems and it may be fun, but it takes a long time and a lot of effort and work to get there."
This is the kind of hands-on, experiential learning that happens at Black Girls Play, a free, holistic music education program for Black girls and women, offered through the Oakland Public Conservatory of Music since 2017. The conservatory, which recently moved to the former California Hotel, is a nonprofit organization founded in 2005 that offers music lessons, ensembles, and workshops focused on African-American music traditions to youth and adults alike. All of the conservatory's music programs are available to Black Girls Play participants at no cost. But Black Girls Play, once it's fully established, also will offer participants a host of other opportunities. Participants will take weekly private lessons on an instrument of their choice, play in the Black Girls Play ensemble, and learn firsthand from industry mentors about various aspects of the music industry, from stage management to sound engineering to arts administration — all taught by Black women whenever possible.
Black Girls Play is the brainchild of the conservatory's founding director, Angela Wellman, a trombonist, academic, educator, and third-generation jazz musician from Kansas City. Wellman said Black Girls Play was partly inspired by Monique W. Morris's Pushout: The Criminalization of Black Girls in Schools, which details the ways that educational institutions unjustly treat Black girls. "They actually are surpassing black boys in the rate of suspension," Wellman said. "And I was shocked by that. There are these programs in schools for Black boys, like the African-American Male Achievement Program. There's one for girls now, but it's not funded at the same level or anything for Black girls."
Black Girls Play also was inspired by Wellman's own experience as a Black woman musician. "Pretty much all my life as a professional musician, all of the spaces I went into to play, there were very few Black women," Wellman said. But she also was struck by the lack of diversity in other areas of the music industry. "As a Black woman performer with my band, I would like to go to a concert and interact with a Black woman sometime who's doing the sound, or have a Black woman who's my website designer, or my manager. … And so I decided, one way to address all of those things [is] to create this program." The hope is that Black Girls Play will prepare students for a variety of careers in music, eventually creating not just more Black women musicians, but more Black women music industry professionals.
The program has secured three-year funding from the NoVo Foundation, which is led by Warren Buffett's son Peter and his wife Jennifer. The foundation focuses on funding programs that address inequalities facing young women of color in the United States, and out of hundreds of applications, Black Girls Play was chosen as one of the few multi-year grant recipients. Wellman attributes that in part to Black Girls Play's clear, unapologetic statement about who it serves. "We're serving African-American girls with this program and that's it," she said.
While the weekly private lessons and Black Girls Play ensemble are still in the works given OPC's recent move, Black Girls Play already has provided plenty of unique, valuable opportunities for students to learn from musicians and industry mentors. For the past two years, Black Girls Play participants, along with professional booker and manager Mary Goree, have helped out with stage management for the Black Women Rock concert at the Yerba Buena Center for the Arts. Students coordinated the performers' costumes and sorted out last-minute snafus.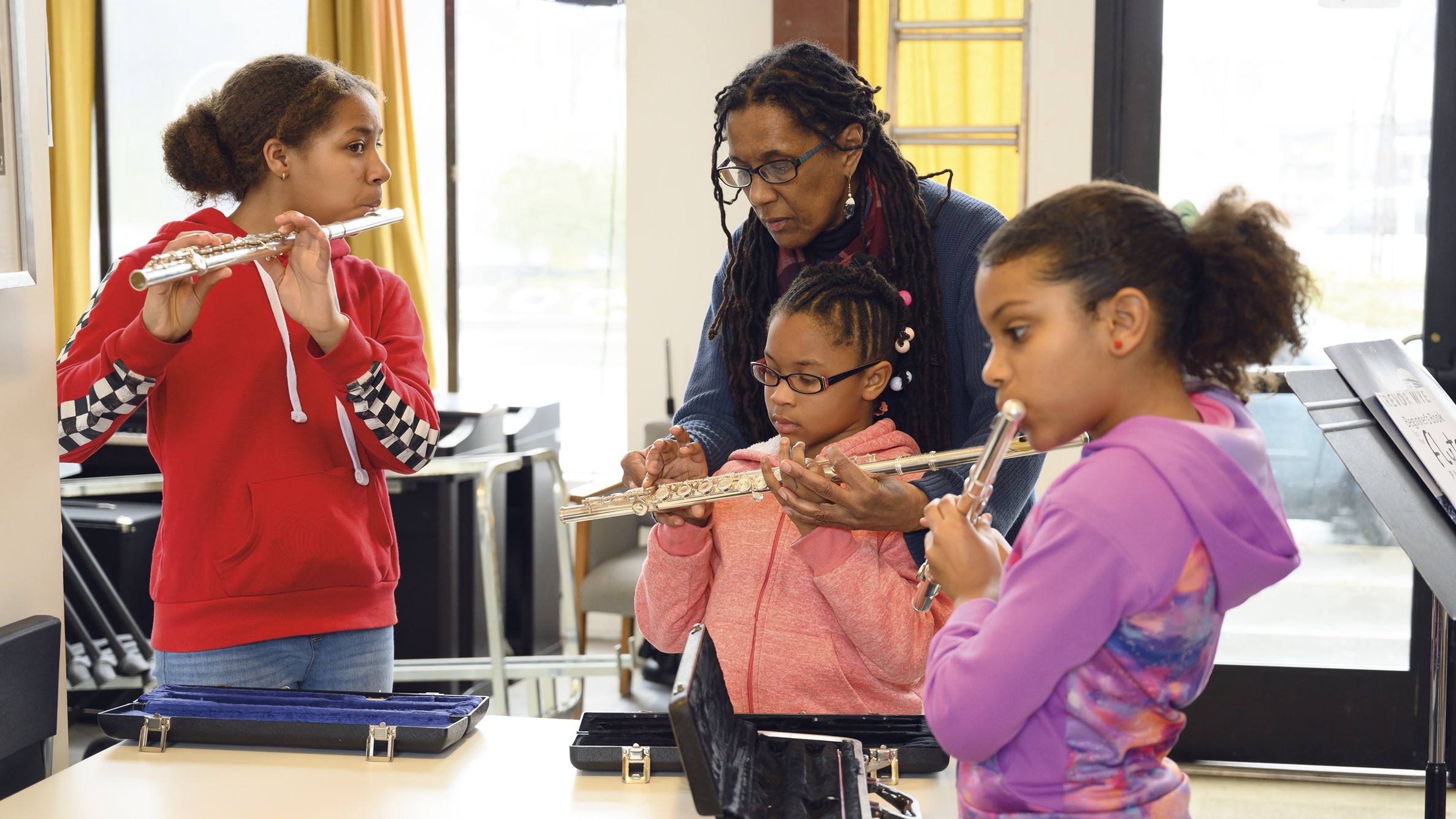 "I basically got a different view because I'm always in the audience watching people on stage," Moore said. "It's really nice and chill to listen to them play music, but then you get behind stage and it's like, 'OK, who needs this, who needs that? You have five minutes to get on stage.' And there's a lot of running around and a little chaos."
"It opened my eyes to so many other things, and I never realized how hard you have to work backstage to make that happen on stage, 'cause a dirty kitchen makes a great dinner," said high school senior and guitarist Arnetta Olden.
The students also got to talk with the performers backstage. Moore excitedly recalled her conversation with bassist and singer Nik West. "Just her energy and her personality — she's a really sweet woman and she's very informative," she said.
Olden, meanwhile, was particularly inspired by guitarist and singer-songwriter Jackie Venson. "I've never seen a Black woman play the guitar like that, and the fact that she could do that, and I can learn from that … there was just an instant connection," Olden said. "Watching those Black women perform in music, that sparked so much inspiration in me, and it just made me want to keep going … and not give up, because I want to be on that stage one day."
Through Black Girls Play, students have also gotten to take the lead in producing a concert for the West Oakland Youth Center's Juneteenth festival. The students were given a budget, researched and booked the performers of their choice, and worked as emcees and stage managers during the performance.
"It was a little hectic because I had no experience in that field," Moore said. "But my journey personally going through that process and creating the concert was amazing. I feel like being a performer, being a musician, I should know all the puzzle pieces that go into creating a stage."
Black Girls Play also offers confidence-boosting performance opportunities that students might not otherwise get. Olden's high school doesn't have any music programs. "Once elementary, middle school ended, I was basically stranded and had no place to play music, except for in my room," she said. So Olden asked her school counselor to refer her to a music program. The counselor suggested Black Girls Play. Soon after she joined the program, Olden performed and sang her original songs on the guitar.
"I was nervous, but it was a lot of fun," Olden said. "I got the audience to sing it with me, and now I'm getting better at being able to even speak in front of people now, and even share my music with other people … it was the first time ever I've shared it outside of my room or home." Olden is headed to college next year, where she plans to continue studying the guitar.
Both Olden and Moore remarked that the environment at Black Girls Play is unlike any other they've been in. Moore recalled that in elementary school, she was one of only a few Black students in her band class. Black Girls Play is the only place where she can be surrounded entirely by other Black girls.
"Coming here is, it's that safe space," Moore said. "It really is. And the energy is so different. It's like no other. It's so amazing … for all of us to just come together and gather round, and I get to look at everybody in the room and say, 'Wow, she looks just like me.'"
Olden agreed. "Being around other Black musicians, I've never had that before," she said. "And having access to someone where we could just call each other up and we could just meet up somewhere and just play, and also have some type of connection — that is so amazing, and something I've never thought I could even have in my life."