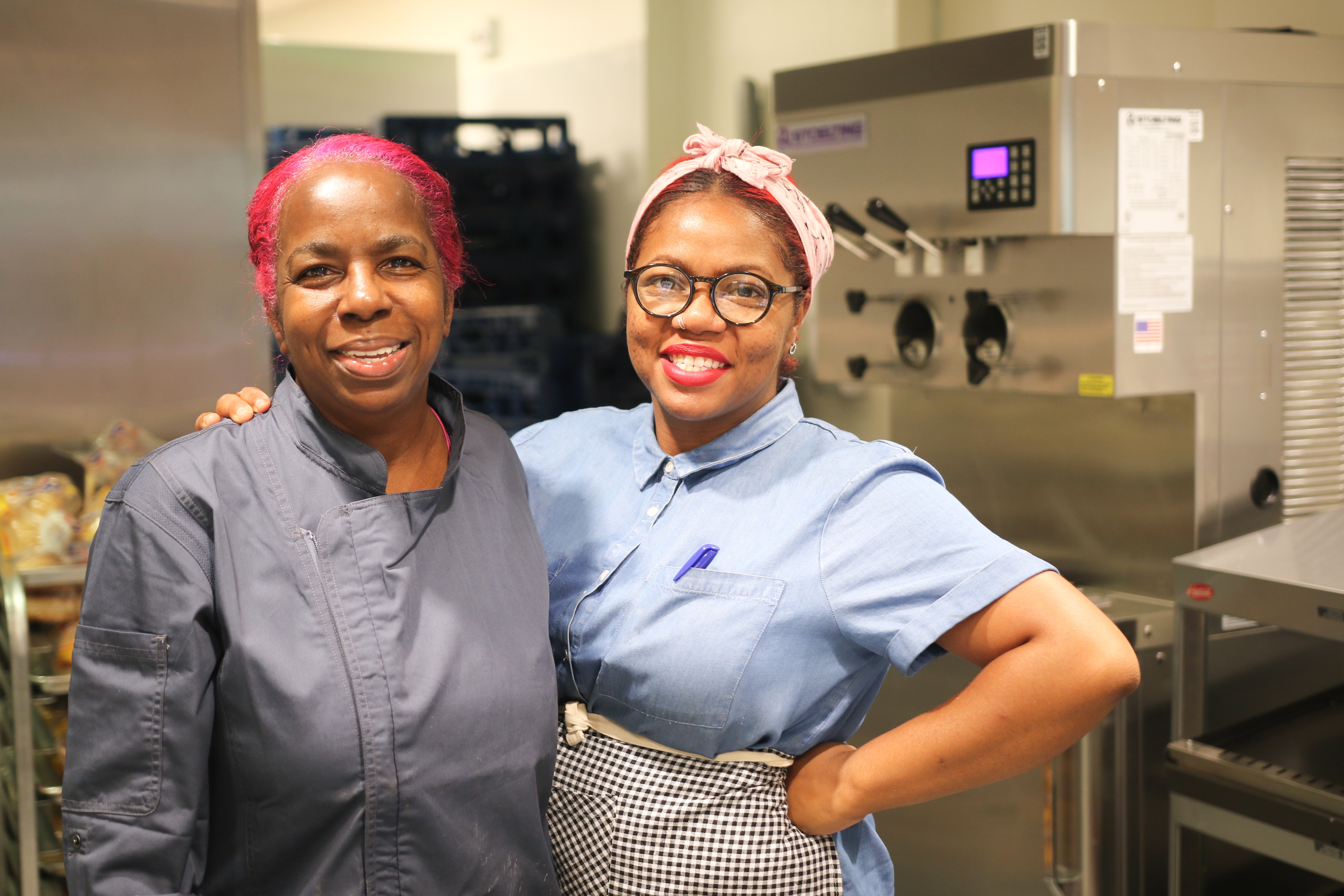 Five food businesses run by women and people of color opened up at the UC Berkeley Student Union earlier this month, just in time for the start of the new school year. La Cocina Cantina includes a Syrian restaurant, a Vietnamese noodle shop, a bakery, a soul food sandwich vendor, and a kiosk focusing on Chilean empanadas.
The businesses are located in the ASUC Student Union in the MLK Jr. Building (2495 Bancroft Way, Berkeley), and are open to the public weekdays during lunch hours.
La Cocina was selected by Cal students to be the vendor during a month-long pop-up last semester. The five vendors are part of the La Cocina "best-in-class" incubator program, and will remain on campus for the rest of the school year.
La Cocina is a San Francisco-based nonprofit food incubator that focuses on helping women from underrepresented, minority, and immigrant or refugee backgrounds. It has helped launch the careers of Reem Assil of Dyafa and Reem's and Nite Yun of Nyum Bai, which was recently named one of the best new American restaurants by Bon Appetit.
La Cocina's goal is to make these businesses self-sustaining, and the cantina at Cal is another step toward that goal for the local, family-run businesses. Almost all of the vendors are East Bay-based.
The vendors include Old Damascus Fare, a catering company run by a Syrian refugee family making traditional Syrian food such as beef mandi ($11), made with smoked basmati rice, spices, and beef with a sprinkling of almonds on top, and fattoush salad ($8), a light mix of cucumber, tomato, lettuce, onion, garlic, mint, olive oil and vinegar, and fried pita. The family includes daughter Batool Rawoas and parents Mohammed Aref Rawas and Rawaa Kaseda.
Noodle Girl, run by Hang Truong, serves Vietnamese food, focusing mostly on noodles, though there's also lemongrass chicken wings ($7) and banh mi ($8.50). Pho comes in small ($7) or large ($12) sizes and is made from organic chicken, pork, or vegetable broth.
Sharing a space with Noodle Girl is A Girl Named Pinky, run by Oakland native Tina Stevens. The bakery sells chocolate chip cookies, red velvet cupcakes, and espresso and orange sherbet macaroons, ranging from $2 to $5. The bakery is open weekdays from 11 a.m.-3 p.m., and hopes to start breakfast service in the next month.
Pinky & Red's is run by mother-daughter pair Bernadine Sewell and Sicily Sewell-Johnson. They serve soul food-inspired sandwiches such as a barbecue fried chicken ($11), a classic burger (which can also be made with a chicken or veggie patty) ($9.75), and "The Sunday Dinner" ($10.75), another fried-chicken sandwich that comes with greens, yams, and dirty rice (a vegetarian version substitutes fried chicken for a fried grit cake). All sandwiches come with French fries.
El Mesón De Violeta, by Carmen Figueroa, serves Chilean empanadas ($5) in beef, chicken, vegetarian, and vegan options served with salsa pebre, plus soup and three different salads.