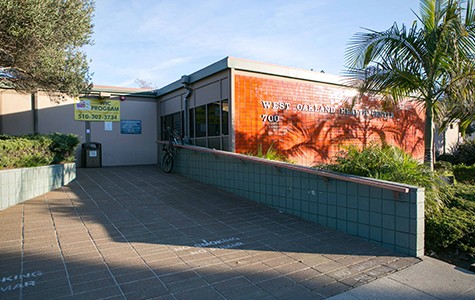 The West Oakland Health Council (WOHC), a critical safety-net health center for the poor and uninsured, may not be
losing its much-needed federal funding
after all. Earlier this month, I wrote about an impending
health crisis in West Oakland
surrounding the federal government's determination that WOHC — a nonprofit organization that has provided medical care in the area since 1968 — was failing to provide adequate patient services and was suffering from a range of management problems. As a result, the Health Resources and Services Administration (HRSA) said it would be ending its funding to WOHC starting in March — a move that county health officials feared could leave many low-income residents without access to primary care. 
Today, officials with HRSA informed me that the federal agency has since reversed its decision and now plans to give WOHC an opportunity to correct its outstanding violations of federal health center guidelines. As a result, WOHC will continue to receive federal funding through March of 2016, a HRSA spokesperson said. 
[jump] This surprising reversal comes after HRSA last year, following a three-day site visit at WOHC, found that the nonprofit was failing to comply with fifteen different HRSA requirements — and was only compliant in four categories. HRSA detailed the organization's failures in a 34-page report — obtained by the
Express
— which described problems with the nonprofit's staffing, financial management, accessibility to residents, communications with patients, and much more. As a so-called "federally qualified health center," WOHC receives annual funding from HRSA — $3.4 million last year — and benefits from favorable reimbursement rates for its patients that get health coverage through Medi-Cal, government-sponsored insurance for low-income people. (That means Medi-Cal covers a much greater portion of the cost of care for low-income patients than typical medical facilities without the federal designation).
In exchange for the financial support, the HRSA Health Center Program closely monitors program recipients to ensure that they are complying with specific requirements and are accessible to low-income and uninsured patients. WOHC was one of the first recipients of this federal money in the country and in the past has been cited as a health center model. The nonprofit — which provides a range of services, including primary medical care, dental, vision, mental health services, and substance abuse recovery — currently runs seven facilities, including the West Oakland Health Center, the East Oakland Health Center, and clinics in Oakland and Berkeley.
It's unclear why HRSA has changed courses. In an email to me this morning, agency spokesperson Martin Kramer wrote:
HRSA took enforcement action to withdraw support based on WOHC's non-compliance with Health Center Program requirements. However, HRSA is providing the grantee another, time-limited opportunity to resolve the issue of noncompliance, because HRSA is committed to assisting grantees in resolving all identified areas of non-compliance and to providing reasonable time for grantees to take necessary corrective action.

HRSA remains in regular contact with the health center as the organization works to ensure operations align with HRSA requirements, and we continue to maintain our commitment to this service area and to ensure that quality health care is provided to the targeted patient population.
When the federal agency originally decided to cancel its funding to HRSA, it also launched a "service area competition" to allow other organizations to submit proposals to take over the West Oakland funding. County health officials supported several East Bay nonprofits in submitting applications in hopes of ensuring that even if WOHC lost the money, the region would not. In the meantime, WOHC had appealed HRSA's decision and also applied for the funding through the agency's competition. HRSA originally said it would award a new grant that would begin in March, but Kramer told me that HRSA has now ended that competition process. 
Kramer declined to identify what outstanding compliance issues remained at WOHC. In its report last year, HRSA auditors wrote that patients were failing to complete needed testing possibly due to limited services at certain locations. The agency also found that WOHC had a poor after-hours system and lacked a clear sliding fee policy for low-income residents. The feds said the agency was lacking in necessary contracts with area hospitals regarding referrals and hospitalizations and further determined that the nonprofit was missing basic staffing records.
HRSA also raised a number of concerns about WOHC's longtime executive director, Dr. Robert Cooper, saying that the nonprofit's board of directors was not properly evaluating his performance and that Cooper had too many responsibilities as the organization's executive director and health services director. HRSA said in its report that there was a void in both medical leadership and financial oversight at the nonprofit. 
Most troubling to some health advocates was the fact that WOHC has also experienced massive declines in its total patient population — a major concern, considering that the needs of the poor and uninsured have not decreased in the region. Federal data shows that the number of patients treated by the health council has decreased by 60 percent over three years — from 20,767 in 2011 to 17,029 in 2012 to only 8,395 in 2013.
Both Cooper and Loyd Ware, chair of the nonprofit's board, did not respond to repeated requests for comment for my previous story — and did not immediately respond to my inquiries today. 
For more on HRSA's original report, check out our January 14 story, "The Breakdown of West Oakland Medical Care."