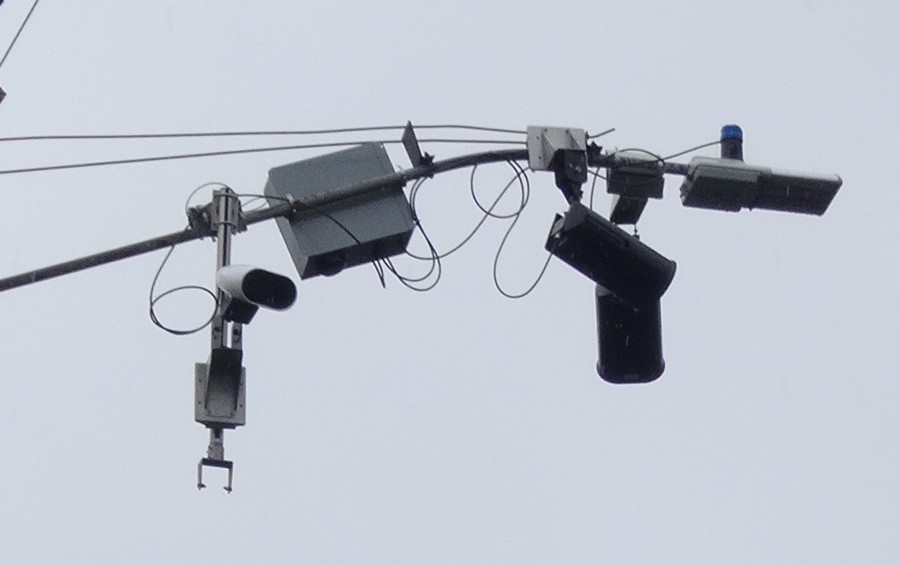 Back in 2008, San Leandro's police began cruising about the city with a new surveillance gadget, automated license plate readers, or ALPRs. Last year, the City of Piedmont finished installing ALPR cameras at multiple intersections bordering Oakland. And for years now Oakland's cops have had their own little fleet of vehicles mounted with ALPR cameras. So if you drive in the East Bay, it's very likely that you've been tagged while out and about, and furthermore that local police could, if they wanted to, mine this data to get a sense of where you've been, and when you went there. In fact, ALPR technology has proliferated across California. And due to the novelty of ALPR, and the secrecy of many police agencies, little information has been released yet to allow the public to understand the full implications of the mass collection of license plate data.
"As cities and counties across the country pursue new law enforcement technologies, EFF is on a mission to use transparency as a counterbalance to mass surveillance," write Jeremy Gillula and Dave Maass of the Electronic Frontier Foundation
in a recent blog post
that accompanies the organization's release of a new trove of information related to the use of ALPR.
[jump] Last year, EFF submitted a Public Records Act
request
to the Oakland Police Department to obtain the agency's raw ALPR data collected over an eight day period. Oakland, unlike other cities that deploy ALPR, released the records. EFF's researchers crunched the numbers and made
some interesting maps which you can view on their web site.
A few things that jump out: In eight days the Oakland police, using their ALPR cameras, spotted and identified more than 48,000 vehicles, some of them multiple times. The technology appears to be working with high accuracy. Only 150 scans of plates, less than 1 percent, produced an obviously false ID.
EFF's maps illustrating where OPD most frequently deploys their mobile ALPR cameras also reveals that the department is saturating Oakland's flatlands with this surveillance tool, while leaving wealthier residential areas in the hills alone. "The data indicates lower-income neighborhoods are disproportionately captured by ALPR patrols, with police vehicles creating a grid of license plates in the city's poorest neighborhoods," write Gillula and Maass after matching their maps against US Census demographic information.
The Oakland Police Department's release of ALPR data is an unusual sign of transparency among law enforcement agencies that use this surveillance technology. In May 2013, EFF and the ACLU
filed a lawsuit
against the Los Angeles Police Department and Los Angeles County Sheriff's Department over the agencies' refusal to provide similar records related to their use of ALPR.
For more information on how the San Leandro police use ALPR, and the debate around privacy and civil liberties,
check out this story
by
Express
contributor Ali Winston.
Also be sure to check out journalist Cyrus Farivar's
investigation
into how OPD tracked his vehicle using ALPR.