Federal budget cuts scheduled to take effect this Friday will cost Alameda County residents about $1.24 million in food stamp benefits, forcing many East Bay families to go hungry this holiday season. According to data from Feeding America, a national nonprofit, the cuts to the nation's Supplemental Nutrition Assistance Program (commonly known as the food stamps progam) will result in 453,922 fewer meals a month for the 124,000 East Bay residents served by the program.
[jump]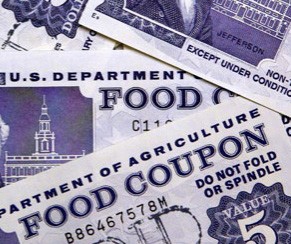 Keisha Nwezi, advocacy manager for the Alameda County Community Food Bank, said people who rely on food stamps typically run out of them before the end of each month. With the loss of funding, she anticipates families needing additional help "earlier and more often."
"This is uncharted territory for us," she said. "We have no idea what to expect or how bad it could be."
The budget cuts are the result of the expiration of the 2009 American Recovery and Reinvestment Act's 5.5 percent boost to the nation's food stamp program.
In conjunction with California Partnership, an anti-poverty coalition, advocates from the Alameda County Food Bank will help stage a "Trick or Treat" protest in front of the Ronald Dellums Federal Buildings in downtown Oakland tomorrow at noon to decry the cuts to SNAP and other social safety nets — the Halloween theme being, Congress has "tricked" us.