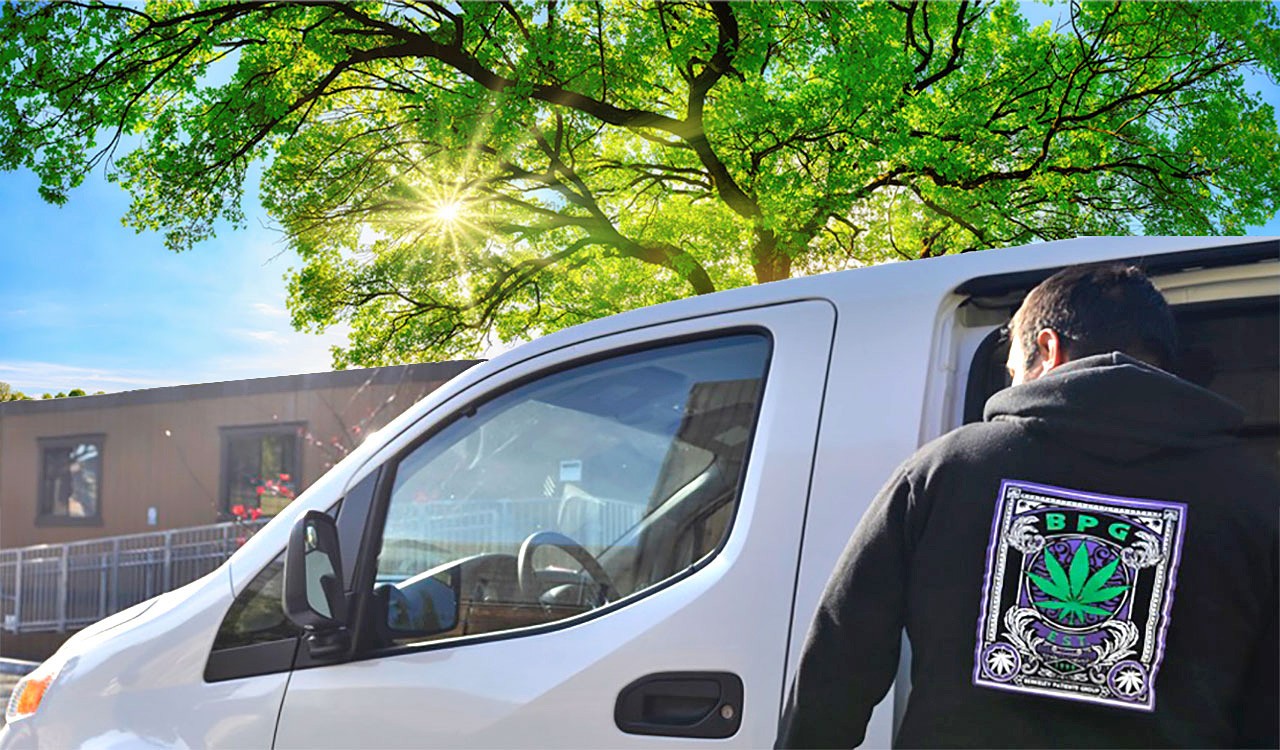 Berkeley Patients Group
Cannabis is Essential. Free East Bay Delivery from BPG
Berkeley Patients Group is offering curbside pick up and delivery every day from 11am-7pm. 10% off any 4 eighths ($25+) or 4 extracts (1g), plus 10 off for seniors and veterans. We are proud to serve our East Bay community for over 20 years, and hope to help you get through this time. Stay safe and remain positive. Cannabis helps!
Hours: Every Day, 11 a.m.-7p.m.
How to Contact Us: Order online or by phone
Phone: 510-540-6013
Address: 2366 San Pablo Ave, Berkeley
Website: myBPG.com

Berkeley Relief Fund.org
Community coming together to support small businesses, arts nonprofits, and residential tenants during the COVID-19 pandemic.
Consider a donation today! Purchase a limited t-shirt design! All proceeds go the to the Berkeley Relief Fund!
Website:
BerkeleyReliefFund.org
Website:
Stores.Inksoft.com/brf/shop/home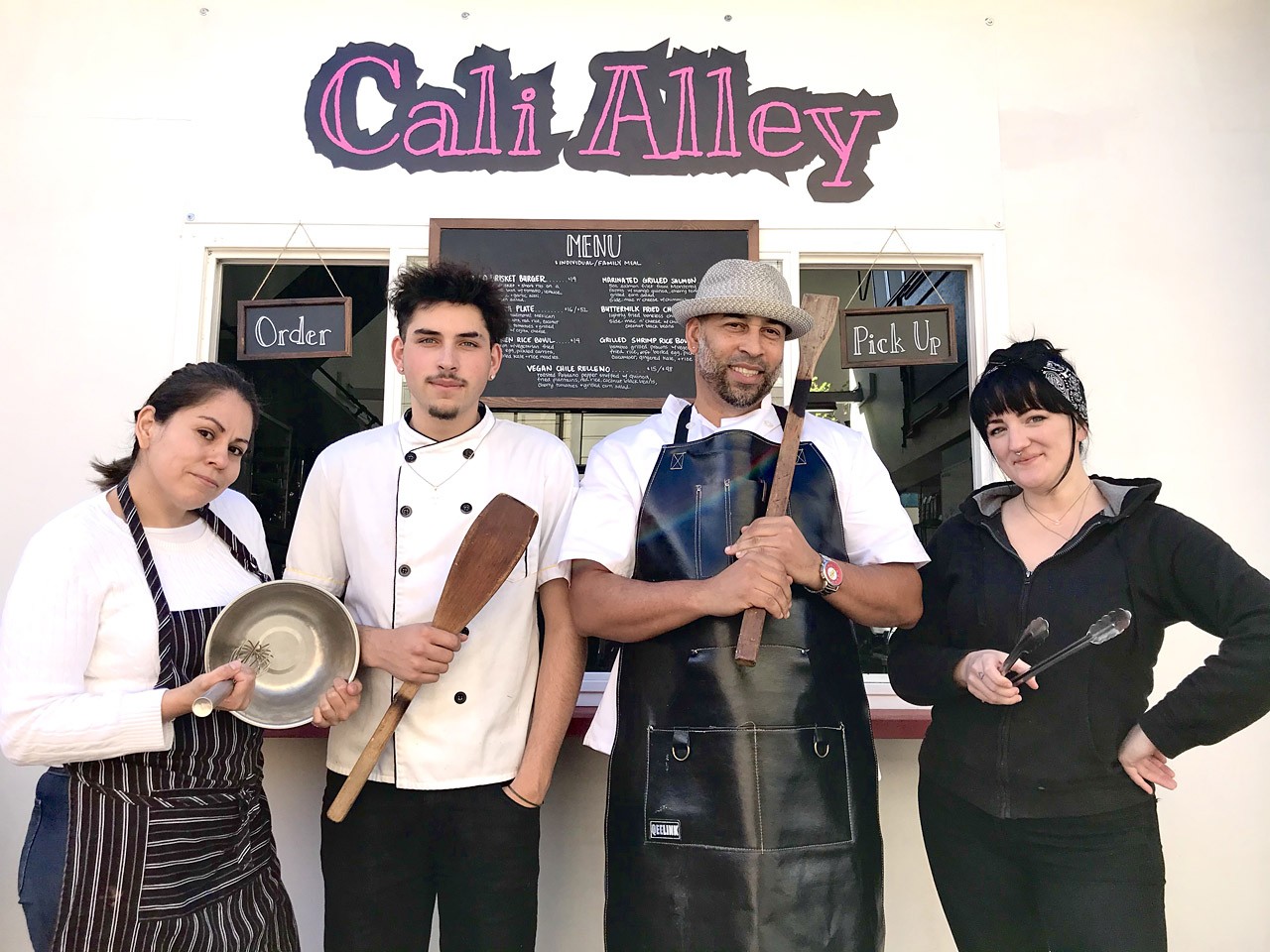 Cali Alley
An Artisan Food Window opens in Berkeley
Cali Alley is the express food window of California Rose Catering. We're a family owned, artisan food counter serving up food for take-out and delivery only. We offer freshly prepared food, both a la carte and family style. We also offer a wide space for walk ups, free disposable gloves and facemasks by request.
Hours: Tues.-Sat. 2-7 p.m.
How to Contact Us: Order through our website, walk up, or by calling us. You can also order through Doordash. We accept all major credit cards (sanitize our machine after each transaction), cash, and venmo!
Phone: 510-644-4473
Address: 1012 Grayson, Berkeley
Website: CaliAlley.com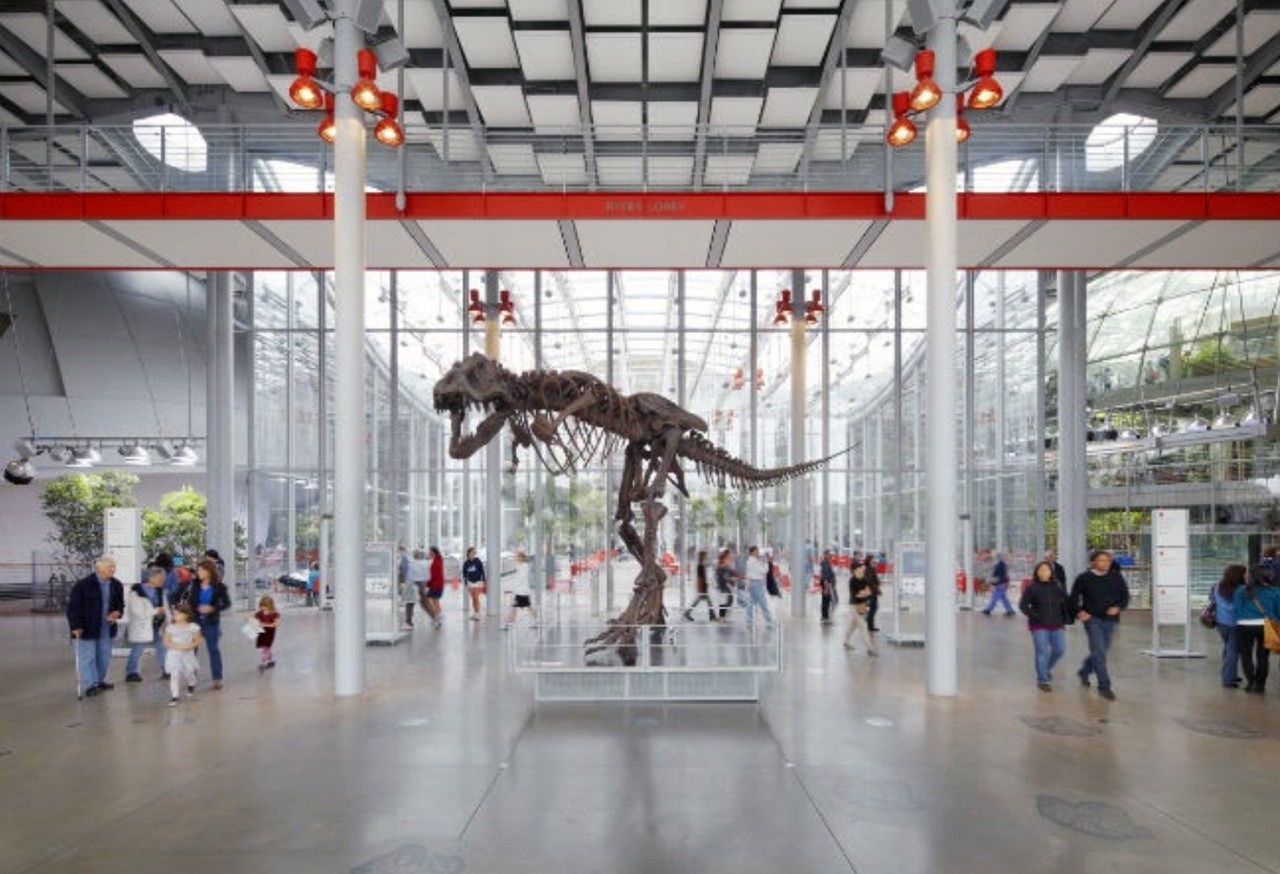 California Academy of Sciences
#MuseumFromHome with Academy @ Home!
Whether you're searching for STEM activities for the kids or just want to keep tabs on your favorite Academy creatures, we've curated an eclectic array of science-centric games, videos, and DIY projects to help you stay learning and engaged, wherever you are.
Hours: The Academy is temporarily closed to the public
Phone: 415-379-8000
Address: 55 Music Concourse, San Francisco
Website: CalAcademy.org/Academy-At-Home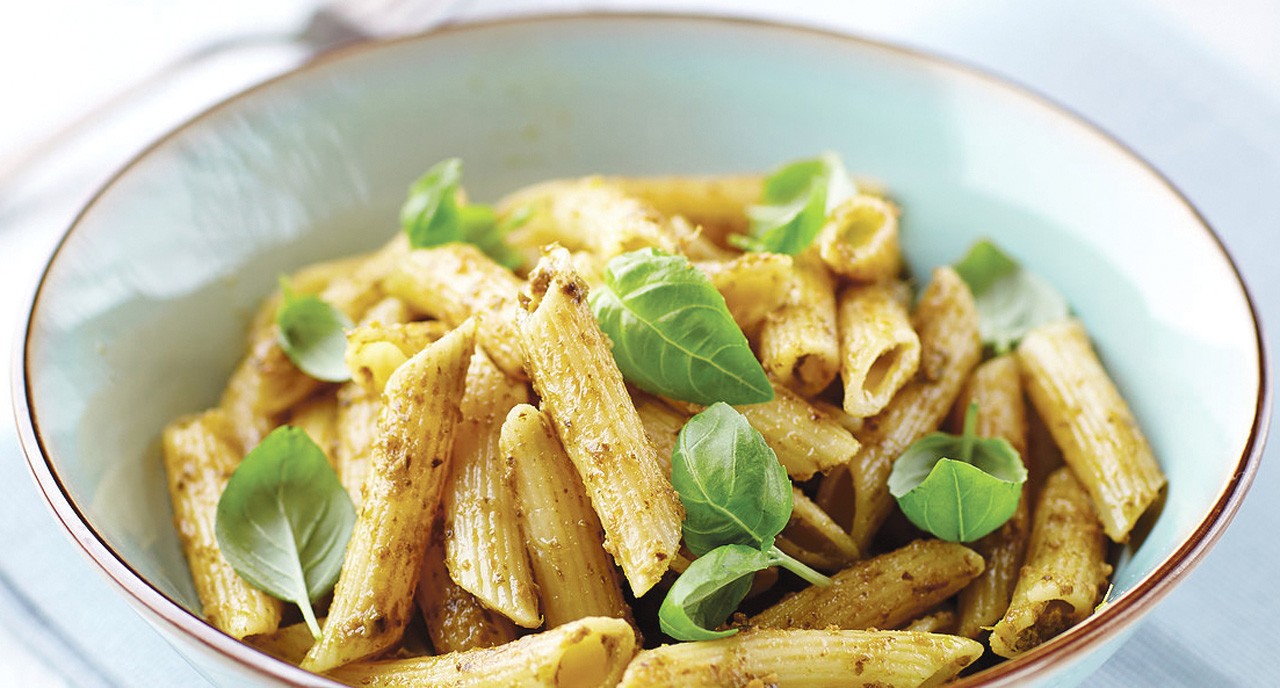 C'era Una Volta
We're cooking a special limited menu and some special dishes for your individual and family needs.
We've taken extreme measures during these past weeks cleaning and sanitizing all surfaces in the restaurant. And throughout our cooking process, a bleach solution is on hand for cleaning kitchen surfaces between each use. Disposable hand towels are available at our entry to assist with "no-contact" entry. Hand sanitizer is available in our lobby. Your health and safety is very important to us now and always. Pick up is easy: "curbside" service at our door or no-contact pick up also available. You may prepay and we'll take care of the rest! Like Italians singing
 from the balconies to keep spirits up,
 we'll have the music on waiting to greet you. 
Together we can all get through this!
Hours: Limited hours Wed.-Sat. 11:30 a.m.-7:00 p.m.
How to Contact Us: To order, call for pick up or order online for delivery.
Phone: 510-769-4828
Address: 1332 Park St., Alameda
Website: CeraUnaVolta.us

Double Helping Hands
Helping our Local Restaurants AND our Homeless Community.
By donating to the 
Dorothy Day House – Double Helping Hands
 program, you are helping both the struggling restaurants and the homeless in Downtown Berkeley. Consider a donation today!
Website:
DoubleHelpingHands.org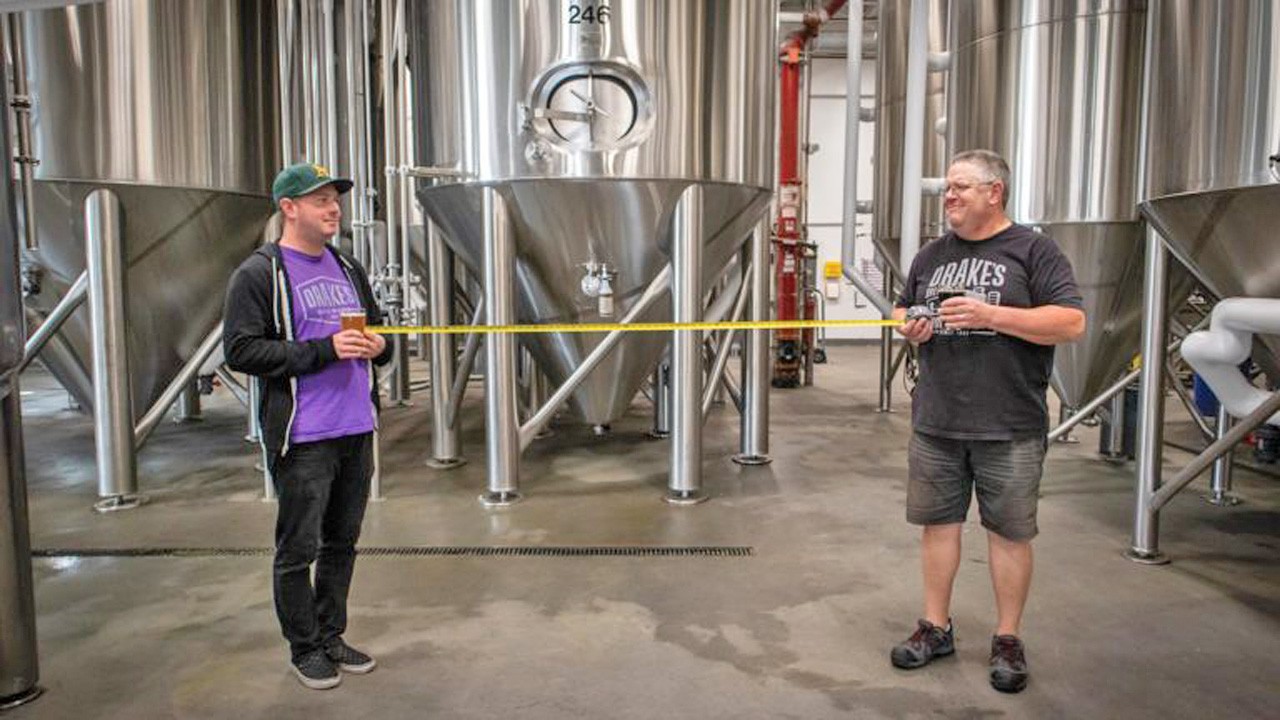 Drake's Barrel House
We're still here for you!
Drake's Barrel House is currently open with limited hours to provide beer and food to-go. We are happy to welcome you between 12-7 p.m. Monday thru Sunday. We've also made service changes. The kitchen closes at 6 p.m. Guests won't be able to linger around the bar to order pints or tasters. Only new growlers and crowlers will be filled. Brew Rhino kegs are available. Our cooler is stocked with packaged beer, but please ask a bartender to grab it for you. All events and musical performances prior to May 1st have been cancelled or postponed.
Hours: Mon.-Sun. 12-7 p.m.
How to Contact Us: In person or by phone.
Phone: 510-568-2739
Address: 1933 Davis St., #177, San Leandro
Website: DrinkDrakes.com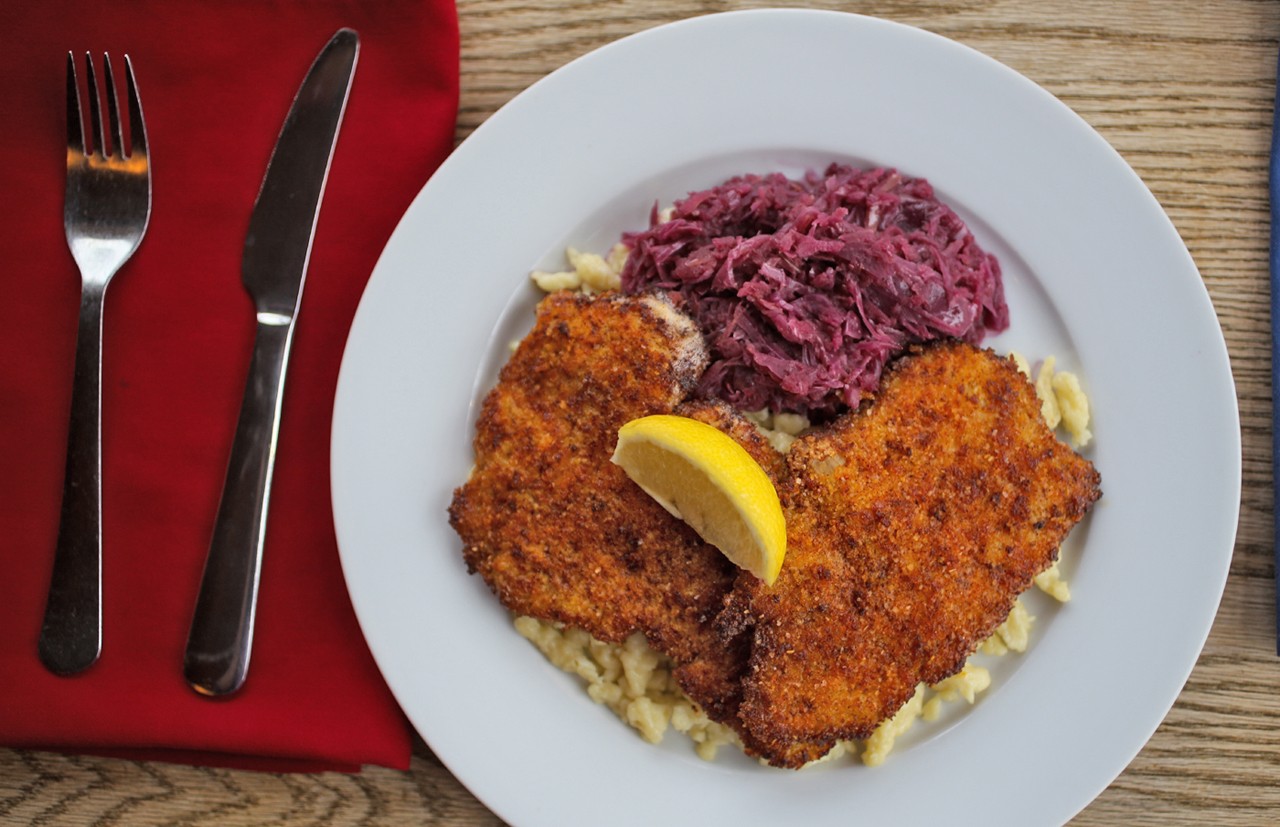 Gaumenkitzel
Organic, Sustainable German Slow Food
Organic, sustainable German slow food cooked and baked with love at family-owned and operated Gaumenkitzel. Enjoy also our German specialties such as beer, wine, and sweets. Check out our menu online for daily updates. We miss your smiles — please stay well!
Hours: Tuesday to Sunday, 12-8 p.m.
Availability: Takeout, order online, phone or walk-in. We bring your order to the curbside if requested.
Phone: 510-647-5016
Address: 2121 San Pablo Ave., Berkeley
Website: Gaumenkitzel.net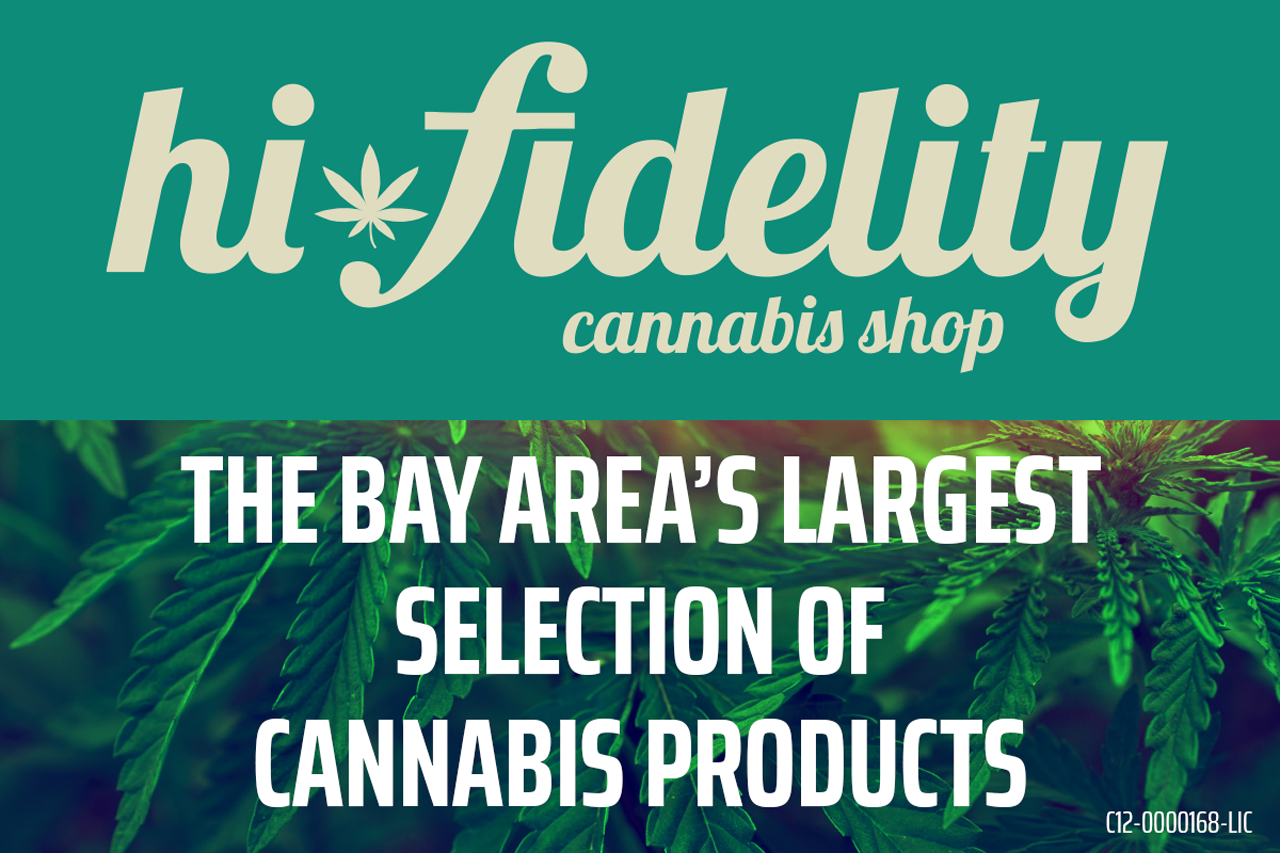 Hi-Fidelity
Sidewalk Pickup now available from Hi-Fidelity!
We are open for sidewalk pick up. Your order must be placed either online or by phone. For safety reasons, we can not do sidewalk consultations, they must be conducted over the phone. Your order will be ready within the hour of being placed, we take orders up to 6:30pm. Orders should be picked up by the end of the day, we do not hold orders over-night. CASH ONLY. We are here to help you choose the right products for your needs, whether it is sleep, pain, anxiety, appetite and so much more that cannabis can help with. Strict sanitation guidelines are in place to keep you and our staff safe. Together we will get through this, stay strong & be well. Peace, Hi-Fidelity
Hours: Every Day, 11 a.m.-7 p.m.
How to Contact Us: Order online or call us to place your order.
Phone: 510-838-2400
Address: 2465 Telegraph Ave., Berkeley
Website: hifigreen.com
[image-10]
What's Open in North Berkeley?
New Ways to Get Your Favorites!
Check out the latest options on our website and help keep our vibrant neighborhood alive during the shutdown! You can support small businesses as they adapt their offerings during these times: If you can't go to them, shop your favorite merchants online or by phone — many offer free local delivery! You also can purchase gift cards for eateries, retailers, classes, and services … or take an online yoga or writing class! Order take-out for curbside pick-up or have a food delivery from our cafes and eateries — many are open with special menus and drinks (and strict safety standards!). Our grocery stores, butcher, bakeries, and weekly farmer's market are open (with social distancing in place) so take a walk, pick up some fresh organic produce and foodstuffs — and support local farmers! Connect with us online and leave 5-star reviews for your favorite merchants!
Address: North Berkeley's Shattuck & Vine Neighborhood
Website: NorthShattuck.org
[image-11]
Patient's Care Collective
Save 20% on Everything Through May 31st
Patients Care Collective in Berkeley is offering regular Walk-up Service, Online Ordering and Curbside Pickup. Curbside Pickup is Cash Only. Walk-up is Cash & Debit. As an essential service, we look forward to keeping you stocked up on cannabis during this difficult time. Stay safe and stop by for your essentials.
Hours: Mon.-Sun. 9 a.m.-9 p.m. & Senior Hour 9 a.m.-10 a.m.<
How to Contact Us: Order Online, Regular Walk-Up, Curbside or Call Us
Phone: 510-540-7878
Address: 2590 Telegraph Ave, Berkeley
Website: BerkeleyPatientsCare.com
[image-12]
Pomella Market
Pomella Market is now open!
Our silky hummus and fresh, mediterranean flavors are now at your fingertips. Place your orders on our website for heat-and-eat meals, salads, sauces, soups, beverages, organic produce boxes, marinated meats, babka, rugelach and so much more. We have created a safe, contact-free, curbside pickup system to protect our customers and employees. Make meals and snacks with a little help, lots of flavor, and much love from Pomella. Pre-order on our website at any time, for pickup Thursday, Friday & Saturday 3pm – 6pm, with East Bay deliveries on Fridays between 3 and 6. Delivery available for pre-orders, only.
Hours: Pickup Thursday, Friday & Saturday 3-6 p.m.
How to Contact Us: Pre-order on our website at any time, for pickup
Phone: 510-250-9215
Address: 3770 Piedmont Ave., Unit B, Oakland
Website: PomellaOakland.com
[image-13]
Rudy's Can't Fail Cafe
New Hours for To-Go and Delivery at Rudy's Can't Fail Cafe
Due to the Alameda County shelter-in-place order, Rudy's is offering to-go orders only. We also offer delivery service through Doordash. We hope to continue to serve our wonderful customers during this difficult time. Stay safe and stop by for some Rudy's comfort food.
Hours: Mon.-Sat. 8 a.m.-2 p.m.
How to Contact Us: Take-out by phone or in person, Doordash
Phone: 510-594-1221
Address: 4018 Hollis St., Emeryville
Website: IAmRudy.com
[image-14]
Scends
Still Serving Southern Hospitality at Scends
Enjoy your favorite home-cooked soul food at home by ordering takeout from Scends! We have been serving southern hospitality since 1996, starting from our original location in Emeryville. We serve finger food like our famous chicken wings and fried fish to big meals that include our special turkey wings and pork chops. Want to put in an order? Call-in takeout orders cash only.
Hours: Wed.-Sat. 2-8 p.m.
How to Contact Us: Phone order, UberEats
Phone: 510-567-3955
Address: 635 E. 14th St.. San Leandro
Website: ScendsRestaurant.com
[image-15]
Smoakland
Shelter at Home Safely this 420 With Smoakland's Speedy Delivery
Smoakland is the Bay Area's premier cannabis delivery service. Celebrate 420 with us all month long with free delivery when you spend $50! Smoakland prides itself in affordable, high quality cannabis products with ounces starting as low as $49! Visit our website to view our menu. Use promocode SMOAKLAND to take 15% off your first online order when you spend $50! Find out more at
Smoakland.com
| Follow on Instagram at
#SmoaklandDelivered
How to Contact Us: Order online
Address: Bay Area
Website: Smoakland.com
[image-16]
Walden Pond Books
Walden Pond Books Open For Business: You can't browse the shelves, but we continue to serve you.
We've closed our doors to the public and only two employees at a time (keeping social distancing) are working at the store.  We are encouraging our customers to continue shopping locally during the public health emergency by calling us Monday through Saturday, from 10 a.m. to 5 p.m. to order books shipped to their homes directly by our distributor. Safe pickup at the store under sanitary conditions is also an option for customers who need their books immediately. Gift certificates and a selection of books are available on our website and are shipped to customers upon purchase.
Hours: Seven days a week 10 a.m.-5 p.m.
How to Contact Us: Order by calling us or going to our website
Phone: 510-832-4438
Address: 3316 Grand Ave., Oakland
Website: WaldenPondBooks.com
To inquire about including your business in this special promotional guide, please email our sales team at

[email protected]
Click the following text to download a letter-sized version of our poster.
[image-17]