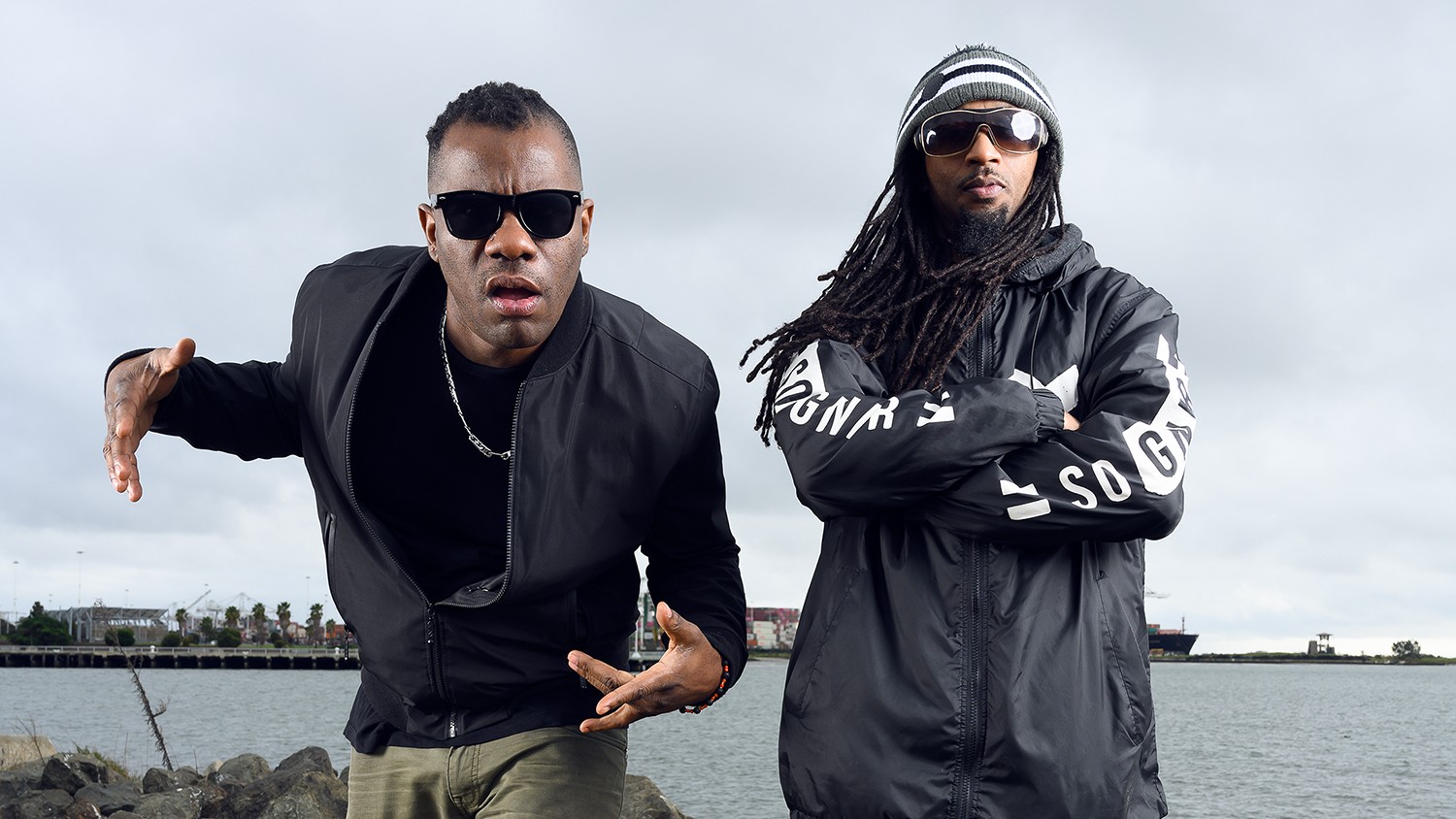 Adam Carter and Corey Johnson are some of the founding fathers of California underground hip-hop — but that doesn't mean they're stuck in the '90s.
Carter, better known as A-Plus, was a founding member of Hieroglyphics, the legendary Oakland collective that kicked off in 1991. Johnson, aka Sunspot Jonz, helped found Living Legends, the supergroup that originally met in East Oakland and launched in Los Angeles in 1996. Now, more than 20 years since the inception of their respective groups, the two hip-hop legends are finally collaborating: A-Plus and Sunspot Jonz are Stoney Hawk.
"He called me up at 6 a.m. one day a couple of years ago and was like, 'I've got these beats for you.' I was like, 'Hello, who's this?'" recalled Johnson. The call came out of the blue, fueled by some late-night inspiration on Carter's part.
Never before had the two seriously collaborated — in fact, no two founding members of either group had ever made more than a few cameos on each other's work.
"I'm not gonna say it was egos; we were just two separate crews," Johnson said.
However, the two have known each other since they were kids growing up in Oakland in the '80s. They met through a mutual friend who hosted video-game sleepovers, where the boys would trade and play computer games. Carter was in the seventh grade; Johnson was in the ninth. Years later, they kept crossing paths at the house of fellow Hieroglyphics member Del the Funky Homosapien.
"But it was never me and him [A-Plus] doing the music,' Johnson said. "All of a sudden we're here today making a very belated album. We should have done it years ago."
What was supposed to only be a handful of songs soon morphed into dozens and dozens — enough for not just one album, but two. The first, Stoney Hawk, came out at the beginning of this year, with the second having an anticipated release date of March 25. Initially, Johnson wanted to release all the songs at once, but Carter convinced him otherwise.
"I was like this is too much fire; we can spread this shit out," said Carter. "If we just keep it short and sweet, people will want more."
So what happens when two old school MCs from the '90s make music together in 2019? Their underground roots are definitely present in the lyrical content, but Stoney Hawk also is peppered with mainstream hooks and modern-sounding beats.
"It definitely can't be confused with a deviation from traditional hip-hop,' Carter said. "It has serious topics on it and serious content as well as some fun stuff, too. As a producer, I'm not as tunnel vision in my approach as I am with being an MC. Modern stuff has definitely influenced my production."
One of the main strengths of Stoney Hawk is its range — it contains both songs like "Stay Hungry," a gritty callback to the duo's backpack rap origins, and "Walk," a woozy, psychedelic track with a slower flow. They fluctuate effortlessly between the funky bass and pure poppy hooks of "Just Like That" and "Pretty Girls (Chapo's Theme)" and the thoughtful lyricism of "City or the Cutz," with lines recalling growing up in The Town: "Raised in the town where I used to get hyphy / where murders every day, shoot your ass just practicin' / sour OG got you stiff as a mannequin."
"I don't know what people thought a collaboration between us would sound like, and I don't think they would think it'd sound as good as it ended up sounding," said Carter. "Not to say that I'm wack or he's wack, but it's just like we're two different cliques, and no one really imagined us doing anything together."
Johnson believes Stoney Hawk features some of the best music he's ever made. Letting Carter completely take care of the production side while he focused on rapping set him free creatively. Instead of micro-managing every step of the process, he allowed himself to get inspired and pushed out of his comfort zone by Carter's beats.
"When I first sent him all the tracks, a lot of those beats that were in there I didn't expect him to choose," said Carter. "Knowing Corey, I expected him to pick the most underground."
But Johnson picked some that crossed the threshold of a more accessible sound.
"The reason I was so attracted to the beats at first was that, man, my problem in life is sometimes I'm just too fucking underground," Johnson joked. Picking more commercially viable beats allowed him to play more with something he excels at — writing catchy hooks. "It's been just a great moment to see myself in a whole new direction."
Despite having to adapt to the modern age of SoundCloud mumble rap and short attention spans in the streaming age, Johnson and Carter still come from the school of conscious rap — so don't expect Stoney Hawk to sound disposable.
"They say this is microwave culture — quick in and out. But I still like to make records that are going to have poignant things popping up later on the third and fourth and fifth listen," said Carter.
The first installment of Stoney Hawk serves as a reaffirmation of the founding principles of underground hip-hop. They pledge that the second album will go deeper, critiquing the gentrification and displacement of people of color happening in the Bay Area right now.
"The first one is like, 'We're here; let's kill it!' The second one is like, 'But you should know though …'" Johnson said.
Both men grew up in Oakland and have watched it transform before their eyes. Johnson's mother recently was evicted from her home because she wasn't able to pay her property tax. Carter has been able to stay in the same apartment since the early '90s due to rent control.
Despite all the rapid change, the two find the original values of the underground hip-hop movement still relevant today. Growing up in Oakland during the peak of violent crime in the '80s and '90s, their hip-hop shows served as safe spaces for Black members of the community. "We were finally a safe place to go where you're not gonna get shot," Johnson said.
And no one was turned away for lack of funds, either, Johnson recalled: "Our first shows would be like $3.99 with a pack of Top Ramen to get in."
They've kept it community-oriented ever since: Hieroglyphics founded Hiero Day, an initially free (and now still affordable at $20 per day) music festival and block party that champions local hip-hop in Oakland. Living Legends threw Broke Ass Summer Jam, a legendary underground hip-hop event for everyone too broke to attend KMEL Summer Jam. They still live and die by that dedication to the community.
"I think our role is to make people like us feel OK," Johnson said. "Because when we were first coming up, there was nobody like us. Nobody gave a fuck about underground hip-hop. It was square music, because it's content."
Like Johnson said, groups like Hieroglyphics and Living Legends stood in stark contrast to the gangster rap the West Coast was known for. Their music completely revolutionized the scene, finally expanding peoples' narrow definition of California hip-hop.
"We built a society; we were giving the power back to people like us," Johnson said. "It's so important that Hieroglyphics was made and that Living Legends was made because if I'm imagining those two cliques not in the bay … Oh my god. We would be a different Bay Area."
With Stoney Hawk, they're back to remind us where underground hip-hop came from — and to keep using their songs to lead people to safety. 
Follow A-Plus and Sunspot Jonz on Instagram at @HieroAPlus and @SunspotJonz.