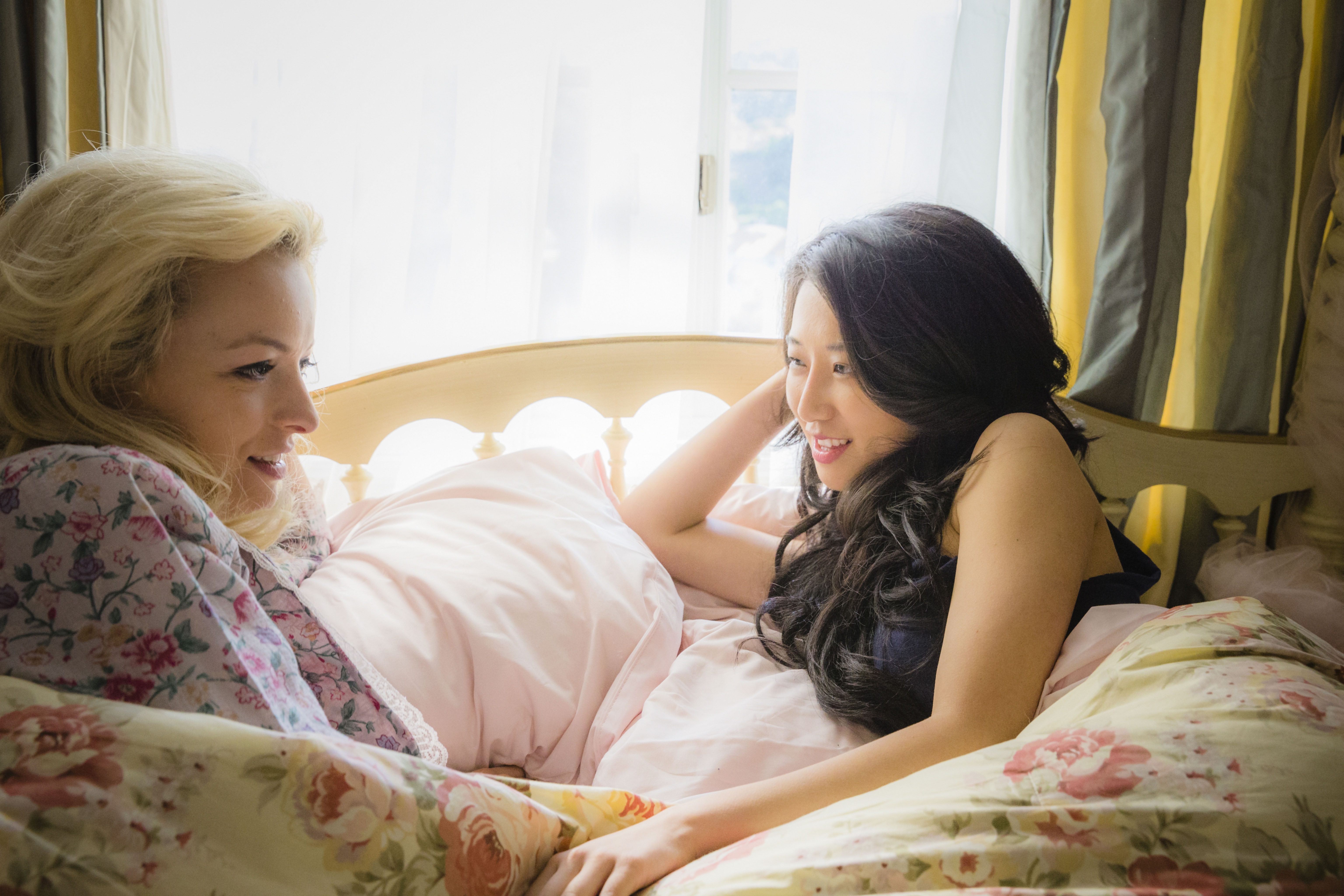 Annie Q (right) and Francesca Eastwood enjoy the morning after in
Cardinal X
.
Cardinal X
views the Eighties in a gaudy nutshell: Lines of coke at a dance club and overdone wardrobe and hair. A working-class Chinese-American student named Angie Wong (played by Annie Q), from Newark, New Jersey, gets a scholarship at "Crocker University," a prestigious West Coast diploma mill (shot at the Presidio and other San Francisco locations). While there, in addition to binge-drinking, getting laid, and studying like everyone else, Angie pulls a Walter White and starts cooking up batches of Ecstasy in the school chemistry lab to sell to partying classmates. Business is good.
There are only two ways to handle this type of material: The do-gooder way or the raunchy, exploitative way. Writer-director Angie Wang walks the line between these approaches, erring toward the redemptive – it's definitely not hard-edged, despite some tame sex scenes. Filmmaker Wang reportedly based the story on her own experiences, the fictional version of which includes Angie bottoming out as a go-go dancer and getting shot at by a gangster rival. By ordinary crime-pic standards, Angie's career is mild stuff – the main selling point is that it's unusual to see a petite Asian woman dealing drugs. That's obviously the story's appeal for co-producer Richard J. Bosner (
Fruitvale Station
), as well as for Asian-American film festivals such as CAAMFest. Angie is tougher than she looks.
Wang's writing is better than her directing. Annie Q and Francesca Eastwood (daughter of Clint) turn in workable performances as roommates/partners in crime, with Scott Keiji Takeda as a stereotypical Asian nerd and daytime-drama star Pierson Fode as the archetypal suburban Caucasian jocko. But the social milieu and dialogue score more points – the script makes big fun of Orange County, USC, Thanksgiving, and other "white" brand names. Caught between White Square and Chinese Square options, our Ecstasy queen opts for the dope trade. So there's more going on here than meets the eye. Too bad. In a movie everything should be onscreen.
Cardinal X
plays Saturday, March 18, at Oakland's New Parkway Theater, as part of CAAMFest, the Asian American Film Festival. Angie Wang and Annie Q are scheduled to appear in person. CAAMedia.org