Alaska, Oregon, and Washington, DC voters legalized cannabis for adults 21 and over in November. And this week two of those measures kick into action in a stunning illustration of the historic sea changes under way in the United States  with regard to the ancient botanical drug.
In Alaska on Tuesday, it became legal for adults 21 and over to posses up to two ounces of pot in public, and to grow up to six plants (three mature). Pipes are now legal as well. (Here's the text of
Measure 2
.)
In Washington, DC at 12:01 a.m. today, citizens could legally begin possessing up to two ounces and grow up to six plants (three mature). (Full text of
Measure 71
.)
[jump]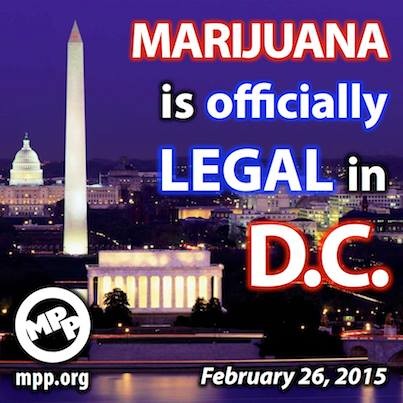 "This is a major milestone on the road to ending marijuana prohibition in the United States," stated Robert Capecchi, deputy director of state policies for the Marijuana Policy Project, in a release. "This development in our nation's capital embodies the broader movement taking place throughout the country.
"If the president can brew and drink beer in the White House, adults should be allowed to grow and consume a less harmful substance in their houses," Capecchi continued. "Alcohol is no longer the only authorized social lubricant in town. A safer alternative is legal for adults."
Retail stores may not open, however, in Alaska until 2016. Washington DC faces legal hurdles to enacting its own commercial tax and regulation regime. Congress blocked the use of federal funds to enact legalization in the District. District leaders believe they can implement legalization without the use of such funds.
"Legalization has come to Congress's backyard," stated Retired Major Neill Franklin, executive director of Law Enforcement Against Prohibition (LEAP), in a release. "The only question now is will they be the leaders their constituents voted for and allow the DC Council to tax and regulate the product, or will they prop up the criminal market by keeping sales underground?"
"We are hopeful that Congress will not stand in the way of D.C.'s efforts to regulate and tax marijuana," Capecchi stated. "Members of the District Council are clearly interested in adopting such a system, and they appear ready to move forward if Congress doesn't interfere."  
Of course, smoking pot in public remains a crime in Alaska and the District.
Oregon's
Measure 91
kicks in on July 1, 2015.
To understand all the details, check out this handy
state by state legalization guide from the news startup Vocativ
.