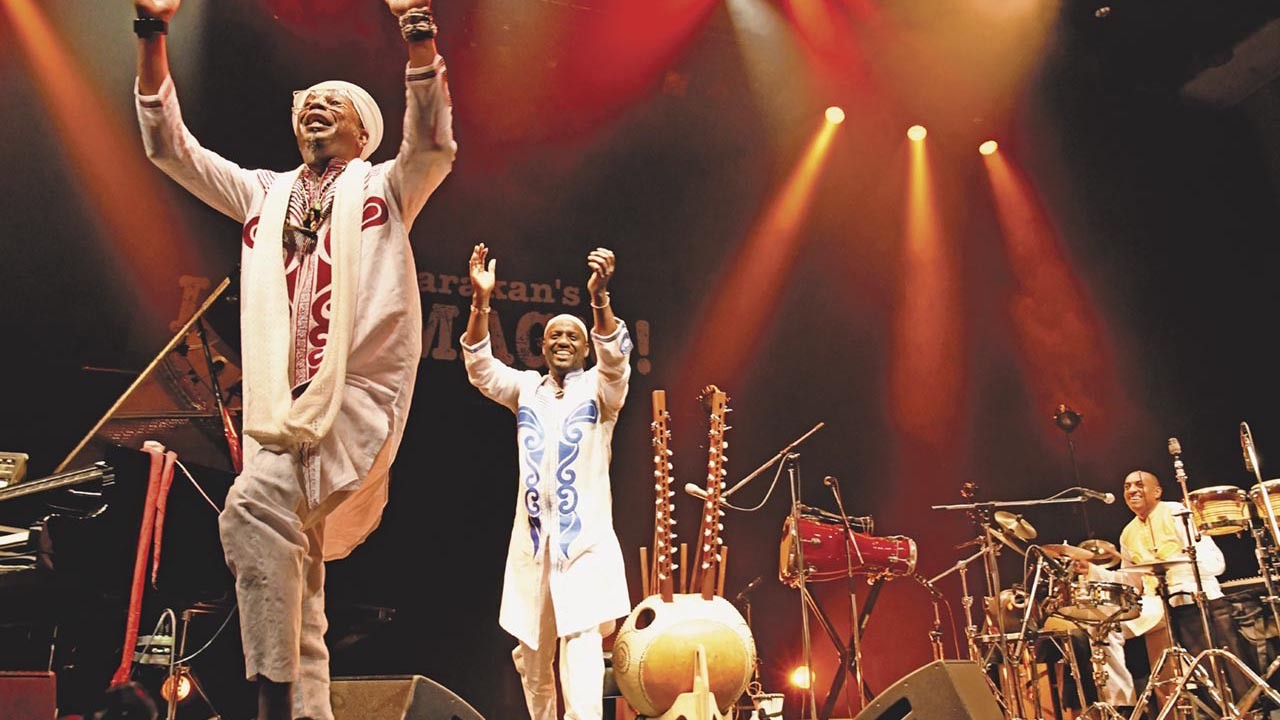 Omar Sosa is one of the world's best-known jazz pianists, with an adventurous spirit that goes in any direction the music takes him. That improvisational inclination also is evident in his conversation. "When I was young, I wanted to play percussion," Sosa said. "Growing up in Cuba, I studied classical and traditional drumming. On all my records, I always play one clave, or güiro, or drum. In my head, I play piano like it's 88 drums. I found piano by accident. My idea was to play vibraphone and marimba but, at the time, it was almost impossible to find those instruments. I would see many pianos, so I followed my spirit, but I always say, 'I'm a percussionist that loves to play piano.'"
Even before leaving Cuba, Sosa had a reputation as a formidable musician. He played jazz and folk music in dance bands and small combos, but his thirst for new forms of expression made him restless. He moved to Ecuador, Spain and, eventually, Oakland, where he immersed himself in the lively Latin music scene of the early '90s. "I had many beautiful moments in the Bay Area. It was affordable to live in Oakland and there was music everywhere. I got to play with John Santos, Babatunde Lea, and many others. I give thanks to those brothers and all the lessons and music they gave to me."
As his reputation grew, Sosa began making records — he has more than 30 titles to his name — and touring internationally, collaborating with many jazz and world music players. The Transparent Water Trio, the band he's bringing to the Freight and Salvage, features kora player Seckou Keita from Senegal and percussionist Gustavo Ovalles from Venezuela. They will be playing music from the Transparent Water album they made in 2017.
"This tour is a reunion of brothers that come from the same motherland," Sosa said. "We express our traditions through music and make people aware of the importance of clean drinkable water. Water is the base of the problems we face everywhere — Cuba, Africa, Asia, Venezuela — even California. We need to pay attention to what we do with nature. We don't have the whole team with us, but on the record, we have people from China, Japan, India and Korea. We open every show with a ceremony to honor our ancestors and pray for transparent water. We also invoke the most important expression of music, the silence. The subtlest part of the music is the notes we don't play. We ask the audience to have a spiritual moment and connect with us, each other and the silence."
Keita and Sosa met six years ago, at a concert in London. They were both sitting in with Drum FM, a band put together by Marque Gilmore. They felt an instant connection and Sosa suggested getting together to make an album. A month later, they were in a recording studio in Germany, improvising freely on kora and piano. "I don't know if the music we made in the studio, or make on stage, is jazz," Sosa said. "I call it music from the earth. There are elements of classical music, jazz and traditional music from Cuba and Africa — the voice of our ancestors. The bottom line is the jazz philosophy of freedom. That gives us the opportunity to blend all this music with no boundaries, no borders."
The album came out five years ago, but the trio keeps playing together because of the shared rapport. Every concert is different and they exhibit an almost psychic musical connection. "When we talk, I speak English with Seckou, Seckou talks to Gustavo in French and I talk to Gustavo in Spanish. Mostly, we don't talk. We look at each other and maybe nod, then Gustavo goes to a different drum and he knows what to do. Seckou also plays percussion, so if we exchange a glance, he can put down the kora and pick up a drum. The whole performance is a conversation and we concentrate on listening to each other to be on top of every note and every sound. We create a mood and continue moving together, lets say, in the way of the river. Water is always moving and if it doesn't move, we are in trouble, so the music always moves. We've been touring now for two and a half years and sometimes even off stage, we don't have to talk. We just look at each other and start laughing. We all live and assimilate life in the same direction, even though we don't come from the same generation. Seckou is younger than Gustavo and Gustavo is younger than me, but it's not a problem. Music doesn't have any age."
The Transparent Water Trio plays The Freight on March 20 and March 21 at 8 p.m. $36-40.