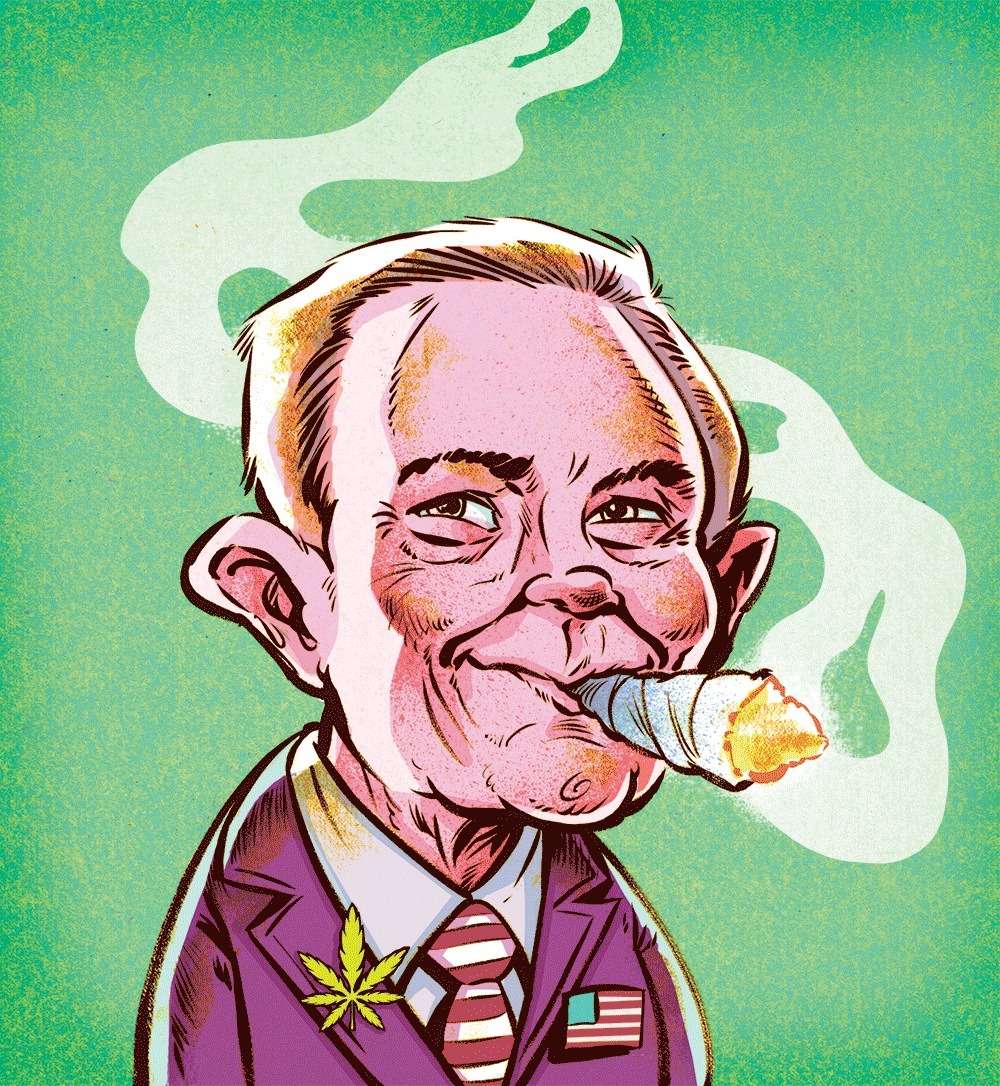 When Amanda Reiman begins teaching her course at UC Berkeley,
she makes one point very clear: the legality of drugs has nothing to do with science or safety. It's based on fear. It's about allowing the government to keep tabs on everyone from immigrants to creative people, she says.
"We regulate our drugs in the way we want people to act," said Reiman, a policy manager with the Oakland-based Drug Policy Alliance, as well as a UC Berkeley instructor and lecturer.
That's why, she says, drugs such as cannabis remain at the highest scheduling on the federal government's list. And many in the cannabis industry are waiting to see what President Donald Trump and Attorney General Jeff Sessions are going to do about states' decisions to legalize cannabis for medical or recreational use.
Trump, who billed himself as the "law and order candidate," and Sessions appear to be continuing the War on Drugs, as conceived by President Richard Nixon and continued through the generations.
In a speech to law-enforcement officers last month in Richmond, Virginia, for instance, Sessions invoked the slogan of a Reagan-era drug-policy mantra: "Just Say No."
"I reject the idea that we're going to be a better place if we have more marijuana, and you can just go down to the corner grocery store and get it. Give me a break," Sessions told the crowd. "It's not a healthy substance, particularly for young people."
While research from the National Institute on Drug Abuse links marijuana dispensaries to lowered opioid overdoses, Sessions mocked the idea that cannabis can impact opioid addiction. "How stupid is that?" Sessions said. "So, we're going to have to stand out and confront that and tell people the truth."
Sessions' stance on marijuana has some worrying about increased federal prosecution, similar to the 2012 raid by the Internal Revenue Service, Drug Enforcement Agency, and U.S. Marshal's Service on Oaksterdam's Oakland campus. Or the 2010 crackdown by California's U.S. attorneys.
Victor Pinho, the head of marketing for Berkeley Patients Group — the longest continually running dispensary in the United States — said it's hard to tell what's going to happen from the top of the federal government down when the Trump administration "fires from the hip."
"Uncertainty is the word," Pinho told the
Express
. "It's always going to be a wait-and-see approach."
Last week, Sessions sent a memo to members of a task force focused on crime reduction and public safety. The memo asks for a review of existing policies of "charging, sentencing, and marijuana to ensure consistency with the Department's overall strategy on reducing violent crime and with Administration goals and priorities."
One of those policies is undoubtedly the eight guidelines set up in the 2013 memo from James A. Cole, then deputy attorney general. It laid out federal law enforcement's priorities, including preventing sales to minors, profits to gangs and cartels, and pot traveling to states where it is not legal, among other things.
Such was the case when Nebraska and Kansas sued Colorado in 2014. The neighboring states claimed Colorado's legalization increased the presence of marijuana in the two states where it remains entirely illegal. While the U.S. Supreme Court recently voted not to take up the case, protecting Colorado's legalization for now, Reiman said keeping every stem and seed out of other states is "next to impossible."
"It's like a drug-free America," she said. "It's really going to come down to the states and how many resources they're willing to put into fighting this."
Another law at stake is what's known as the Rohrabacher-Farr Amendment, championed by two California members of Congress and passed in 2014. It barred the justice department from spending money to enforce federal marijuana prohibition laws in states that have legalized cannabis. Passed by Congress and signed by President Obama, those protections must be renewed annually. They expire April 28.
While Pinho hopes the federal government continues to respect the will of the people in the states that legalized marijuana to some degree, he also recognizes states legalizing a substance that's illegal under federal law is an "experiment in democracy."
"For the federal government to come in and oppose that, to combat that, it's only going to look really bad for the government," Pinho said.
Overall, he said an increasing number of people across the country are in favor of legalizing marijuana in some form or another. "It's a game of numbers, and those numbers are on our side."
But Sessions may not care. As he said in that speech in Virginia: "Lives are at stake, and we're not going to worry about being fashionable."