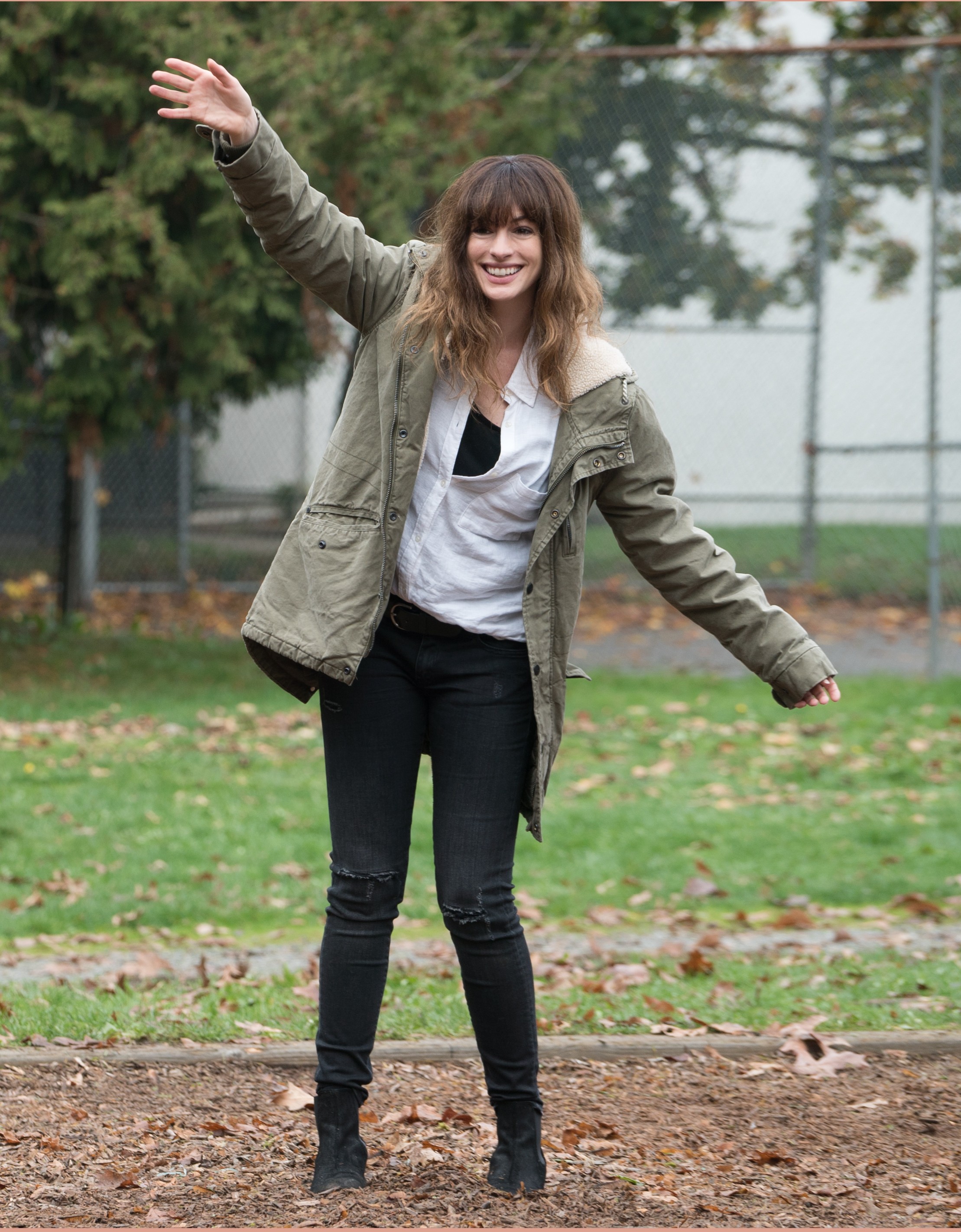 Anne Hathaway gets in touch with her feelings in
Colossal.
The "therapeutic drama" we will always have with us. The therapeutic
kaiju
flick is an entirely new phenomenon. But the therapeutic
kaiju
flick built around Anne Hathaway is one for the record books. Presenting
Colossal
.
The
kaiju
(giant monster) movie was arguably invented by director Ishirô Honda, whose 1954
Gojira
(aka Godzilla) and its spinoffs still haven't run out of gas. The sight of Godzilla ramshackling Tokyo – even a model Tokyo with cheap plastic skyscrapers – is supremely gratifying to kids of all ages. Likewise, the acting of actress Hathaway, in such movies as
Les Misérables
and
The Devil Wears Prada
, is enough to make audiences break things as well. Smaller things. So casting Hathaway as Godzilla is an intriguing, if perverse, proposition. Therefore, it's reasonable to presume that combining Hathaway with giant monsters – and then doubling down by adding Jason Sudeikis to the mix — might trigger some sort of violent reaction in the form of hellacious ticket sales. Or not.
Writer-director Nacho Vigalondo, his backers, and crew presumably thought this out thoroughly beforehand. Thus we're assured they're seriously laying money on the line with the story of Gloria (Hathaway), a dissipated New York party girl (read: slacker alcoholic) who has run out of options. After getting the boot from her boyfriend, Gloria retreats to her old hometown, where she runs into her childhood chum Oscar (Sudeikis, flexing his dick-attitude tendencies). Oscar is just as big a loser as Gloria, so in that sense they're perfect for each other.
Their mating ritual gets taken to another plane, literally, when they discover that somehow the guilty secret they share is now causing a
kaiju
to wreck Seoul, Korea. Why the monster couldn't just go ahead and destroy their hometown, and them as well, instead is one of the movie's many unsolved mysteries. Hathaway doubters, of which there are evidently many, will find much to disparage in Vigalondo's unearthly metaphorical pity party.
Colossal
is certainly one of the most awkwardly conceived psychodramas in recent memory, particularly when it turns from agreeably whimsical to aggressively creepy at the halfway point.
Hathaway, Sudeikis , and their lumbering, screeching doppelgangers are exactly like "doll therapy" figures used by psychiatric therapists. So there's a ready-made after-market in the self-help sector in case the film bombs. Bring a crying towel.