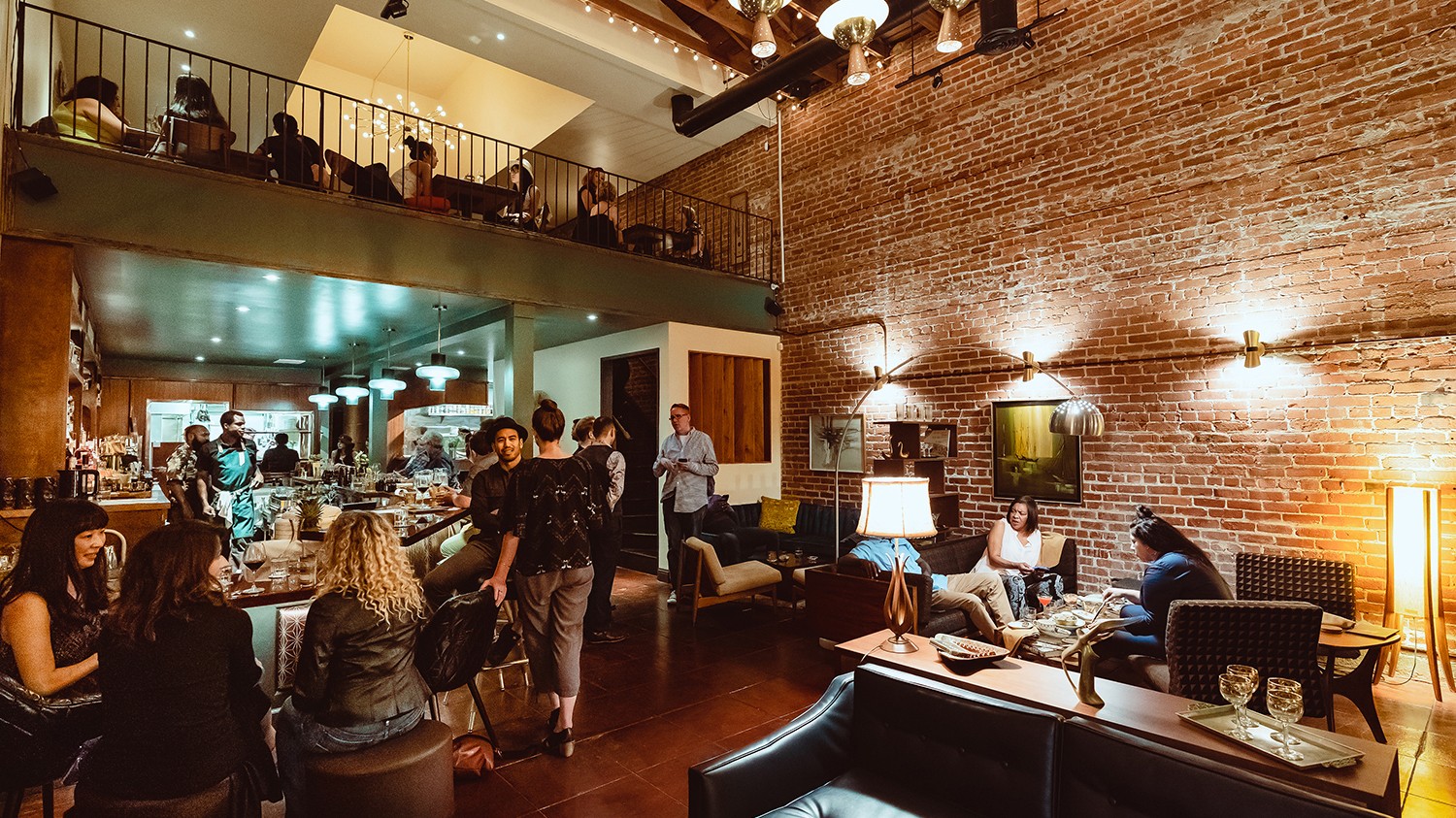 If you didn't know any better, you might miss it, sequestered between a Starbucks and a nondescript optometrist on a bustling curve of Lakeshore Avenue. The mostly black façade reveals little information about the lounge minus a retro-fashioned logo of the letter B and a miniature marquee board in the window reading, "Live Rob Michael Sun 6PM."
On a seasonally brisk Sunday evening in late November, acoustic reveries from Rob Michael's guitar permeated between the tall walls of the Bardo Lounge & Supper Club (3343 Lakeshore Ave.). The ace guitarist's rendition of John Mayer's "Stop This Train" sounded rich alongside the respectful murmur of dozens who mingled about as music, people, and ambiance hung in harmonious balance.
Two months into its tenure, Bardo has become a refreshing musical outlet on the Lakeshore strip, upholding a legacy of lounge music that has since withered in this sliver of Oakland. The avenue was once home to Oscar's, a restaurant with a fireplace and piano bar that was located just a few digits down from Bardo but closed in the '80s. Rod Dibble, the longtime beloved pianist at The Alley on nearby Grand Avenue, died last year, leaving a hole in the area for music and cocktails.
Patching the void are two Oakland restaurateur-entrepreneurs: the wife-husband duo Jenni and Seth Bregman. They reside just down the street and have concentrated on crafting a genuine outlet for music — but don't assume it's just another venue or bar with occasional live bands.
"We're a venue that's not a venue," Jenni said somewhat wryly. "We're a lounge."
Bardo's address was previously home to the Michelin-endorsed Michel Bistro, which Jenni and Seth purchased last year. With Bardo, the couple's intent was to create an atmosphere (read: vibe) of inclusion and commonality where patrons enjoy the meticulously crafted ambiance as much as they would the menu. Every piece of furniture, light fixture, musical note, and flavor was designed with pleasure in mind.
Upon assuming management of Michel, one of the couple's first modifications was instituting the Sunday series Beats & Brunch, where Jenni's musical alter ego, DJ Yens, would spin downtempo records. This programing has expanded and downtempo blossoms at Bardo. Every Saturday night (plus the occasional Thursday and Friday), a DJ spins smooth, sultry records on an indoor balcony above the front door they call the "bird's nest." The goal isn't to get you to dance, rather, to have you tap your foot, nod along naturally, and nestle between the notches of the prescribed vibe.
Sunday evenings are reserved for soul, jazz, and R&B acts — typically local — and feature no more than four people per group. (The "stage" is simply a cozy corner next to the front window.)
Since opening in October, Bardo has hosted the likes of the Calvin Keys Trio, Daria Nile Trio, and pianist Clifford Lamb. So far, musicians have approached Bardo to perform but Jenni and Seth are always on the lookout for new acts. As for her dream artist, Jenni aspires to book Oakland-born singer Goapele — a prime example, she said, of someone who can transform a room.
As much as music programing was at the forefront of their vision for Bardo, how it was going to sound was crucial. Seth said they sought consultation from a sound professional who helped design a space where each area of the room could be digitally controlled. The result is impressive; Michael's guitar filled the lounge that night while conversations remained at comfortable, audible levels.
"It's really great to be able to play at a conversation-level volume yet have the music fill the entire venue equally," Michael said in an email to the Express. "So often, music is simply blasting from the bandstand at a volume level that makes it difficult for people to be up close to the stage."
The cordial atmosphere, where an empty seat next to you may serve as a warm instigation to a fresh friendship, was inspired by a combination of hotel bars and the time-honored tradition of home entertainment.
"We've had amazing experiences at hotel bars around the world and in social interactions with strangers," Jenni explained. "It was a model of comfort. We were also inspired by home entertaining, where you invite someone over to your house. This idea of the '70s 'ultra lounge.' The name 'Bardo' is from the Tibetan Book of the Dead, meaning the place between death and rebirth. The name came way before thinking about the bar. We thought that this is a container where you're in between two spaces getting ready for the next."
Bardo is not only offering Lakeshore a musical experience of the cool, calm variety – the entire experience is curated to reflect a universal aesthetic of comfort with tranquil lighting, unassuming color textures, and a bevy of flavorful cocktails, including a whole menu page dedicated to non-alcoholic cocktails. Each element in Bardo serves to elevate the next in reciprocal melody.
"I'm designing an experience," Jenni said. "We have five senses, man! And we're going to hit all five."
As the performer, Michael recognized a dual purpose for music at Bardo: It's a medium to set the tone for a socializing experience but also has the potential to be the feature entertainment for an audience.
"The choice is up to the clientele," he said. "When there are bright lights on an elevated stage and darkened seating, it becomes obvious that whatever is going on onstage is the featured thing. At Bardo, the music, food, conversation, and the beautiful room itself are all existing on the same social plane."
Correction: An earlier version of this story stated Oscar's closed after a fire in 1954. While there was a fire, Oscar's reopened and didn't close until the 1980s.