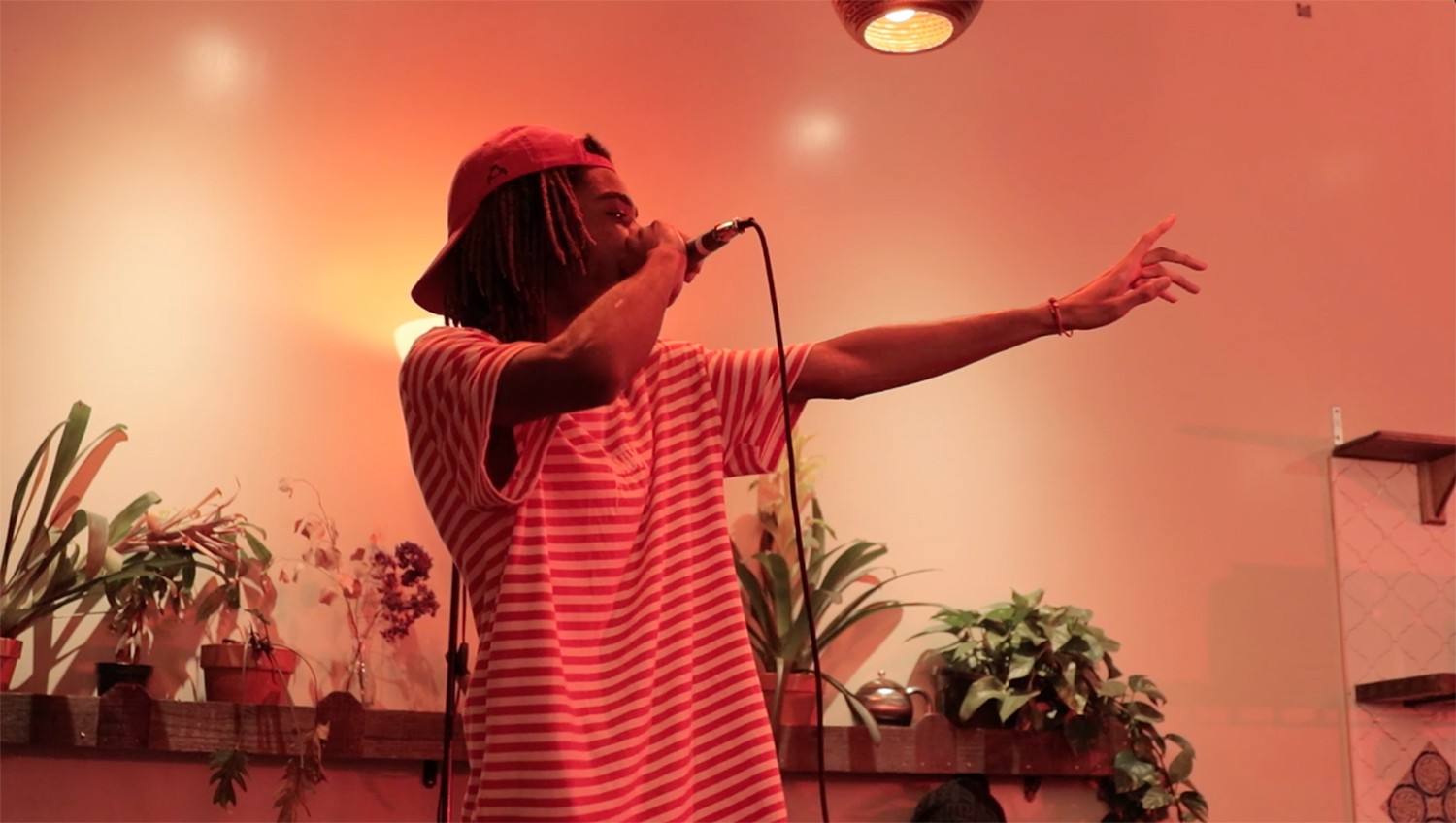 When Shane Lassiter met Ina Adele Ray, he was going through a "red phase." One day at Oakstop, the Oakland office/gallery space where 23-year-old hip-hop artist Lassiter and 42-year-old filmmaker Ray both work, Ray complimented him on his red dreads and asked him about his weekend.
"I was like, 'Yeah, I have this red room and everybody came over to jam,'" said Lassiter, also known as Shino Smoke. "I was nonchalantly talking about it, and she was super intrigued."
At the time, Ray was beginning to explore the world of virtual reality filmmaking, and Lassiter immediately sparked her interest. Upon hearing the story behind the Red Room, she asked him to be the subject of her first VR documentary.
"He was talking about this room and how important it was to him as a place for creativity and healing, and I just imagined it being like a Gertrude Stein salon," said Ray. With VR, space is very important, and she immediately sensed the immersive potential of Lassiter's space.
The Red Room was born from serendipity: Looking for a light bulb to put in his bedroom, Lassiter could only find one that was red-tinted. But through such a mundane task, he found his room immediately transformed from ordinary into something sexy, bold, and creative. He started inviting friends over to make art, relax, and vibe in his space.
The urge to share his room with others was rooted in a need for healing in his community. Lassiter moved to Oakland from Sacramento in January of 2016. In August that year, he lost a friend in a shooting outside a downtown art gallery. And in December, the Ghost Ship caught fire just four blocks from where Lassiter lived, killing 36 people. The morning after the fire, his phone blew up. "People were asking if I was there because that was like my crowd — the artist scene. Anybody that lives in my house could've been there," he said.
The Red Room was already in existence at this point, but after the fire, he invited people over more frequently. It was a safe space for his friends to commiserate in their sadness and make art out of it, through whatever medium they preferred.  
Let's be clear: Lassiter's bedroom is not exactly roomy. But still, everyone was welcome. He'd somehow fit as many as 10 people under the soft red glow at once, wedged together on his bed making beats, taking photos on the balcony, painting on the floor, or rapping at the mic by his desk.
The red "brought a different emotion out of my friends, which was very bold," said Lassiter. "So with my friends who maybe didn't want to model or take pictures out in the open, in this red room, they would pose for me. It'd be sensual, and it'd be powerful."
And the red fixation? "A lot of people have mistaken this whole red thing and the way I rap and perform as 'angry Black guy.' No, it's passion," he explained.
With Ray's short VR documentary, The Red Room Project, Lassiter has been able to open up the supportive, creative community forged in his bedroom beyond the limits of physical space. The two held their first pop-up VR screening and live performance at the Well in October. At the North Oakland cafe, attendees were encouraged to mingle, use VR headsets to watch the 360-degree documentary, eat, and drink before a Q&A with the creators and a short hip-hop set from Shino Smoke himself.
The immersive effect of such an event is twofold: First, the show itself feels like a recreation of Lassiter's Red Room, with the lights tinted red and many frequent collaborators from his bedroom present; then, the documentary transports you directly into his bedroom through the use of VR.
"The effect of being immersed in it by default is so intimate — you do feel like you're in his world and he's your friend," said Ray.
The five-minute documentary walks the viewer through Lassiter's story, from growing up in Sacramento, to moving to Oakland, to the Ghost Ship fire, to making music in his bedroom with his friends. The energy of the Red Room transcends the limits of the screen, both through Lassiter's natural knack for storytelling and the heightened technology at work.
One of Ray and Lassiter's goals with The Red Room Project is to make VR more accessible to the masses, particularly by introducing it in a casual, comfortable environment.
"It's introducing technology to a community that's maybe never had access to it," explained Ray. "We don't want it to feel all uptight and sterile like going into an Apple store and having to put on a headset or something."
The two artists went into The Red Room Project with zero expectations, but it's taken off: They've been submitting the documentary to film festivals, Lassiter plans to drop an official Red Room EP soon (although an unofficial playlist called "Red Room: The Doobies" is already up on his Soundcloud), and they're already organizing events in New York, where Lassiter plans to move by next summer.
As far as the near future, The Red Room Project is returning for another pop-up show at the Alice Collective on Dec. 8. This show will be bigger than the one at the Well, with an optional VIP three-course meal beforehand, Red Room-inspired drinks, a roomier space, and more performances.
Originally, the project's intention was to make something for the people who had already been to Lassiter's room, so they could feel its energy even when they couldn't physically be there. Now, he said, "It's how far away from my room can I take this project and make people really understand what it's like to be in this red room?"
Saturday, Dec. 8, 6-10 p.m., $10-$60, 272 14th St., Oakland, TheRedRoomProject.com