There's no easy way to categorize the new restaurant-market hybrid that Doug Washington is planning for 3265 Grand Avenue in Oakland (the recently shuttered Monkey Forest Road spot), a project that combines elements of an artisanal food market, a beer-and-wine garden, a cheesemonger/charcuterer, a takeout counter, and a coffee shop — so, Rockridge Market Hall meets Gregoire meets Local 123.

Whatever you do, just don't call it a food court, Washington joked.

[jump]
Still, suburban mall connotations aside, a well-curated, gourmet food court of sorts isn't a terrible way to wrap your head around the restaurateur's intentions for the place, which he's dubbed Grand Fare. In the center of the space, there will be a large prepared-foods section where customers can buy a hot meal; all along the perimeter will be the various specialized food counters — for breads, ice cream, charcuterie, cheese, coffee, and so forth. Outside there will be a large seating area that, pending city approval, will also function as a beer-and-wine garden.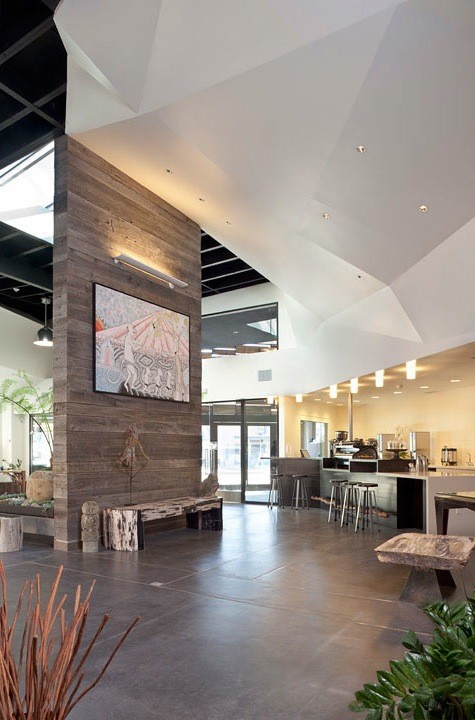 Doug Washington
The former Monkey Forest Road space will get a quick facelift before reopening as a coffee shop next week.
"It's kind of taking a restaurant and turning it inside out," Washington said. Or, to put it another way, he'd like Grand Fare to function as "one massive kitchen serving everything that you love eating."
The project's first phase will launch next week, on Wednesday, February 5, when Washington opens Grand Fare as a casual cafe serving coffee (roasted by San Francisco's
Linea Caffe
) and pastries. Then, in March or April, the cafe will shut down for a few weeks' worth of construction, reopening — probably in May, Washington said — with all of the other elements of the market in place.
Washington, a partner at San Francisco's Town Hall and Salt House restaurants, said he's in talks with a chef that he'd like to hire to head up prepared-foods operation, but food-wise the goal will be to serve restaurant-quality dishes that reheat well at home. Possible entrées include sous-vide beef short ribs and olive oil-cured tuna. The idea, Washington said, is that the food would be good enough that a sneaky dinner-party host could pass off Grand Fare dishes as homemade.
As for the rest of the market's inventory, pastries will be made in house, as will some of the store's selection of jams, condiments, and vinaigrettes. But, aside from that, the market will mostly be in the business of curating. Bread will be supplied by one or two local bakeries. There will be about five different brands of coffee available. The cheeses and various packaged foods will come from all over, but with an emphasis on local purveyors.
According to Washington, the worst thing anyone could say about the market (even worse than calling it a "food court") would be say that it's overly "precious." Instead, he said he wants Grand Fare to be fun, affordable, and, above all, accessible — a bustling gathering place packed from floor to ceiling with delicious food.
"You shouldn't have to be a foodie, or have a food degree, to appreciate this place," Washington said.