In 2014, Oakland police Sergeant Bernard Ortiz was patrolling East Oakland when he spotted a sex worker making a deal with a customer. Ortiz detained the sex worker, who told him she was trying to find shelter. He said he would help her, so he took her back to the hotel where she had been staying.
But when he followed her into the hotel room, sources close to the department  say Ortiz asked her for oral sex.
Following an internal-affairs investigation, the Oakland Police Department fired Ortiz over the incident.
But Ortiz — who also has been named in numerous police misconduct lawsuits — was able to reverse his termination, rejoin the department, go on medical leave, and then retire as a sergeant.
He went virtually unpunished, as have dozens of other officers who OPD has fired or suspended for violence, sexual misconduct, dishonestly, and other serious offenses.
Several city councilmembers and a coalition of activists have tried to fix Oakland's cop-discipline system as part of a November ballot measure that, among other reforms, takes away the option of binding arbitration. 
But now Oakland's largest non-police unions are lobbying to defend the existing system of police discipline that allowed Ortiz and other cops to substantially reverse or reduce their punishment.
The unions IFPTE Local 21 and SEIU Local 1021, which represent most of Oakland's civilian city employees, and the Alameda Labor Council have already convinced city councilmembers to remove language that would overhaul of OPD's officer-discipline system from a ballot measure drafted by councilmembers Dan Kalb and Noel Gallo.
The unions claim the proposal would "strip workers' rights" by eliminating binding arbitration for cops.
Under the city's current rules, police officers disciplined by the department can challenge their punishment before an arbitrator. A court-appointed investigator found in 2015 that Oakland loses most police-discipline cases that go to arbitration, due to poor internal-affairs investigations and inadequate case preparation by the city attorney.
As a result, even if a police chief thinks a cop isn't fit to patrol Oakland, the officer remains on the force.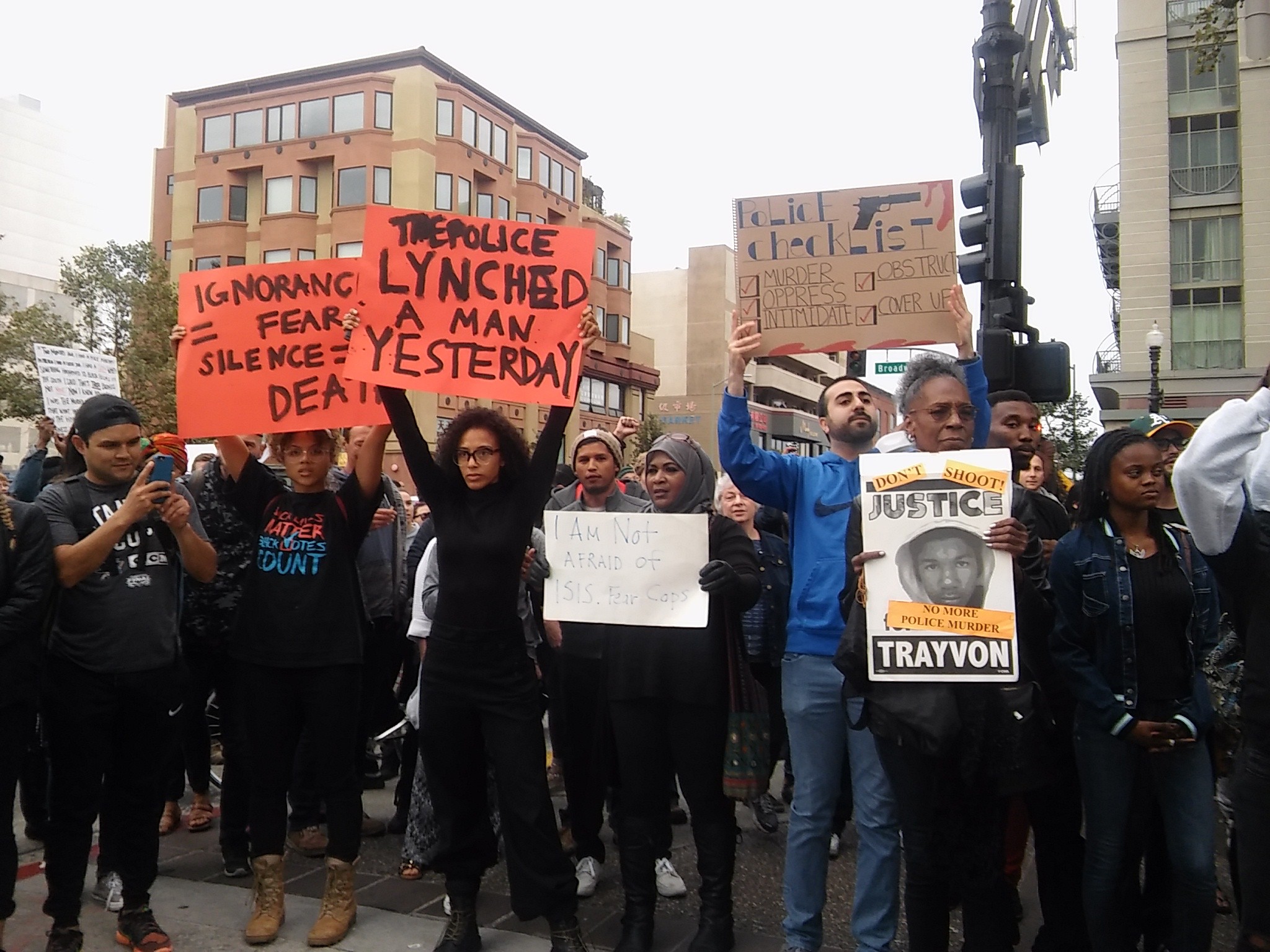 OPD itself even blames arbitration for allowing bad cops to stay on the force. "I'm disappointed because I want them to stay fired," Acting Assistant Chief David Downing said at city council's public-safety committee meeting on Tuesday. "They shouldn't be a police officer ever again. Unfortunately, I have to take them back."
Kalb and Gallo originally proposed eliminating arbitration for police-officer discipline and giving the police commission and chief final say in meting out punishment. But the Oakland Police Officers' Association union strongly opposed this reform.
Other city unions that represent civilians have backed OPOA's demand to keep binding arbitration for cops, even though the proposal would not alter the rights of non-police city employees. These other unions claimed that removing arbitration for police-discipline cases was a "slippery slope" that could eventually lead to the removal of arbitration rights for other city workers.
In a compromise, Kalb and Gallo rewrote their proposal to keep arbitration for cops, but have a neutral state panel appoint the arbitrators, instead of allowing the police-officers union and the city to select them, as is currently the practice. The civilian employee unions also opposed this compromise.
Earlier this week, representatives of IFPTE Local 21 and SEIU 1021 met with Gallo
and deleted all language regarding changes to police arbitration from the draft of the ballot measure
, which is scheduled to be heard at next Tuesday's city council meeting.
The labor-unions also deleted language that would allow the police commission to have access to OPD's files and records, and also a section giving the police commission subpoena power over witnesses.
Police-accountability activists have accepted defeat on the matter of arbitration for police discipline. But they say they will continue fighting to keep other sections of the proposed law so that the police commission will have investigative and policy-making powers, and remain independent of the mayor and city attorney.
"We have told labor we will fight for removing arbitration another day," said Rashidah Grinage with the Coalition for Police Accountability.
But Grinage said that the existing Citizens Police Review Board already has subpoena power and access to OPD's records, and insisted it's crucial the new police commission retain this authority. "We will not accept a rollback," Grinage said.
OPOA was not directly involved in this week's lobbying flurry to strike the arbitration-related portions of the police-commission measure, according to Gallo. OPOA is also not a member of the Alameda Labor Council, the East Bay's umbrella organization for unions. Nevertheless, sources in City Hall said that Alameda Labor Council's top official, Executive Secretary-Treasurer Josie Camacho, was engaged in the effort to have arbitration reforms removed from the ballot measure.
Camacho did not respond to a request for comment. Representatives of IFPTE Local 21 also did not respond to emails or phone calls. Gabriel Haaland, a staff member of SEIU 1021, wrote in an email to the
Express
that his union could not support any changes to arbitration for police officers.
"We do strongly support civilian oversight," Haaland wrote about potential police reforms in Oakland.
The unions' successful effort to keep binding arbitration for police-discipline cases leaves in place a system that court-appointed investigator Edward Swanson described as "broken." Swanson wrote in a March 2016 report that the city has made some positive changes in their handling of arbitration cases over the past year–and-a-half, but he concluded that progress only came about as a result of intervention by the court.
Swanson also called the city administration's commitment to making the reforms sustainable "underwhelming."
At a city council public-safety committee meeting this past Tuesday, Deputy City Attorney Ryan Richardson said that Oakland is still losing a majority of "high-stakes" police arbitrations, which is defined as a suspensions of ten-or-more days for an officer.
According to Richardson, Oakland has lost three of seven high-stakes cases that went to arbitration since December 2014 — the period in which the city claims to have improved the system.
One of them was, of course, Ortiz, who was fired in 2014 for sexually harassing and coercing a sex worker. According to multiple police-department sources, Ortiz encountered a young, female sex worker on East 14th Street while he was patrolling as part of a Crime Reduction Team in 2012. Ortiz observed her interacting with a customer and detained her.
The sex worker told the sergeant that she'd just run away from her pimp. She asked for help finding temporary shelter. After arranging a stay somewhere, Ortiz also drove the girl to the motel room where she was staying so that she could gather belongings. He allegedly followed her into her hotel room and asked her for oral sex.
Their contact did not end there, sources closed to the police department told the Express. The young woman continued to solicit clients on the internet, posting her name and cellphone. Ortiz allegedly located her online and set up a date. He picked her up in his personal car while off-duty and took her out to dinner. Afterward, he brought the woman back to her lodging, and paid her a small amount of money to have her show him her breasts.
OPD internal affairs received a complaint about Ortiz's behavior prior to his second encounter with the women and opened an investigation. He was placed on administrative leave in August 2013 and terminated by former Chief Sean Whent on April 9, 2014, according to court records.
But Ortiz contested his termination through arbitration and won his job back. On October 29, 2015, Whent's decision to fire him was overturned, according to a report by the city attorney. His termination was reduced to a 30-day suspension, and Ortiz was allowed to retire on medical disability and collect a significant pension, according to city records.
Ortiz's firing was mentioned in a recent report written by Oakland's independent police monitor Robert Warshaw.
"The Department terminated an officer who allegedly engaged in inappropriate activity with a prostitute. IAD conducted an investigation that, while not perfect, was thorough and fair," Warshaw wrote to U.S. District Judge Thelton Henderson. "In a roughly two-page analysis of an arbitration that lasted two full days, the arbitrator found that the alleged victim was not credible."
During his time at OPD, Ortiz was named in nine different police-misconduct lawsuits, according to an analysis by Abraham Hyatt for OaklandPoliceBeat.com. The nine lawsuits were settled for $12.4 million.
Other high-profile officers who returned to OPD after having their terminations overturned during arbitration are Robert Roche and Hector Jimenez.
Roche was terminated for lying to internal-affairs investigators about his role in the injuring of Marine Corps veteran Scott Olsen during an Occupy Oakland Protest on October 25, 2011. His termination was overturned by an arbitrator in July 2014. The reversal of Roche's discipline prompted Henderson to order a review of OPD's disciplinary system.
Olsen has spoken out repeatedly against the arbitration system. In an interview, he said Roche's rehiring was a signal to rogue cops that Oakland isn't capable of holding them accountable for their actions. "Oakland officers know that the DA won't charge them. And, if they get fired, that it will only be temporary, resulting in a vacation with back pay," Olsen said.
Jimenez was fired in 2009 after fatally shooting two unarmed men, Andrew Moppin-Buckskin and Jody "Mack" Woodfox, within a year of each other in 2008 while Jimenez was a probationary officer. His termination was overturned by a labor arbitrator in 2011.
Both Jimenez and Roche currently work in the department's Criminal Investigative Division.