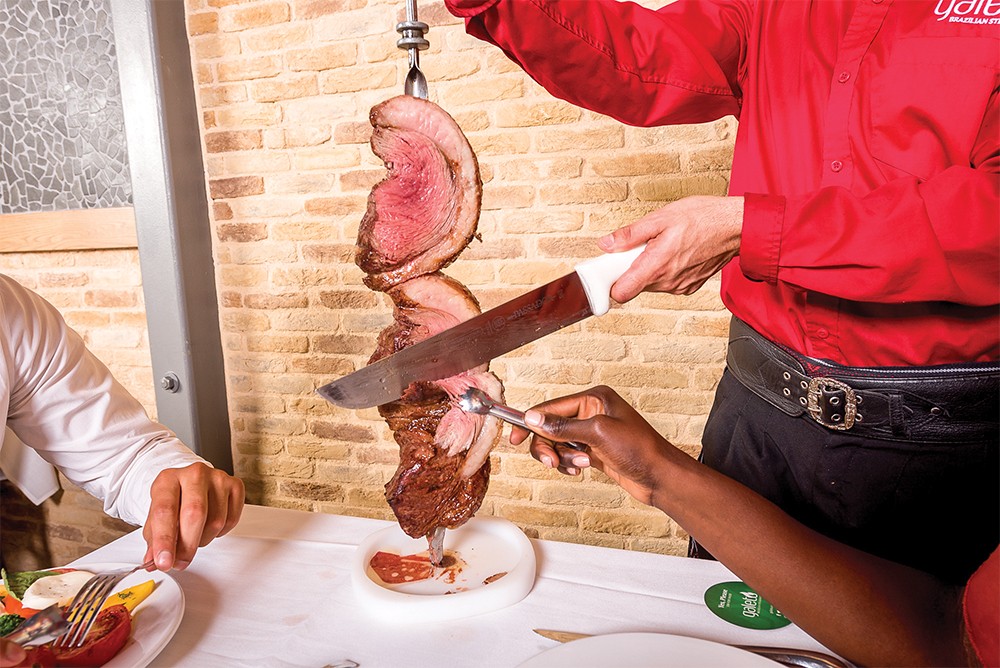 It's almost December, which means any day now, your relatives are about to descend en masse. Depending on the size of your family, this could mean planning dinner outings for six or 12 or even 20 people. Talk about stress. Then again, cooking for so many people — and their varying dietary needs — would be far more stressful than figuring out a reservation. Luckily, the East Bay is home to a slew of restaurants that are ready to take on your giant family meals and put you in the holiday spirit. All of these spots are great for groups, and some will even be open on Christmas Day.
Lungomare
With its enviable waterfront setting at Jack London Square, Lungomare already feels like a special occasion sort of place. On top of that, the spacious restaurant has two outdoor patios and a private dining room if you have an extra-large party craving Cal-Italian seafood and pastas. Every Christmas Eve, Lungomare offers a special Feast of the Seven Fishes menu, which can be enjoyed as a tasting or à la carte. Last year's edition highlighted Dungeness crab, uni, oysters, and black cod, closing with eggnog and panettone, the Italian fruit-studded bread enjoyed during the holiday season. Lungomare will be open on Christmas Day, too.
1 Broadway, Oakland, 510-444-7171, LungomareOakland.com
Saul's Restaurant and Delicatessen
Berkeley's old-school Jewish deli is fully supportive of folks who don't celebrate Christmas as well as those who don't have family in the area. In turn, it's always open on Christmas Day, and if the weather is decent, a big Klezmer band jams outside. It's festive cheer for the alienated — how cool! For Hanukkah, Saul's will make sufganiyot, Israeli jelly doughnuts traditional this time of year, as well as all the crispy latkes you can handle.
1475 Shattuck Ave., Berkeley, 510-848-3354, SaulsDeli.com
Miss Ollie's
Every year, Miss Ollie's prepares a special meal on Christmas Day. Details are still scarce on the exact menu this time around, but the restaurant would be a lovely choice for any festive gathering with its soulful, heartwarming, and thoroughly Oakland take on Jamaican cuisine. The impossibly moist skillet-fried chicken ranks among the best in the region, and the crispy cornmeal fritters with wild honey feel like ideal winter fare.
901 Washington St., Oakland, 510-285-6188, RealMissOlliesOakland.com
Galeto Brazilian Steakhouse
For omnivores, few things feel as festive as a huge slab of meat. This Brazilian steakhouse does the trick with a parade of up to 14 rotisserie meats, including lamb, chicken, pork, sausage, and six different cuts of beef. Do you want the filet mignon or rib eye? Here, there's no need to choose. There's also a massive buffet with even more meat, charcuterie, seafood, cheese, and regional Brazilian dishes. With big family gatherings, a full bar never hurts, either. This year, Galeto will be open for Christmas Eve and New Year's Eve but closed on Christmas Day.
1019 Clay St., Oakland, 510-238-9388, Galeto.com
Meritage
It figures that a hotel restaurant would be open for the holidays, but the Meritage at the Claremont Spa & Club is also hosting a bunch of special events through New Year's Day. There will be a visit from Santa, gingerbread decorating, enormous buffets, prix-fixe menus, freshly carved prime rib, oysters, and caviar — of course, not all at once. If you want to splurge on views, atmosphere, and abundance, this is the place to do it. Another good option is the hotel's more casual restaurant, Limewood Bar & Restaurant, which is also plenty beautiful. Limewood won't have any holiday specials on offer, but it will be open through Christmas and New Year's Day.
41 Tunnel Road, Berkeley, 510-549-8510, Fairmont.com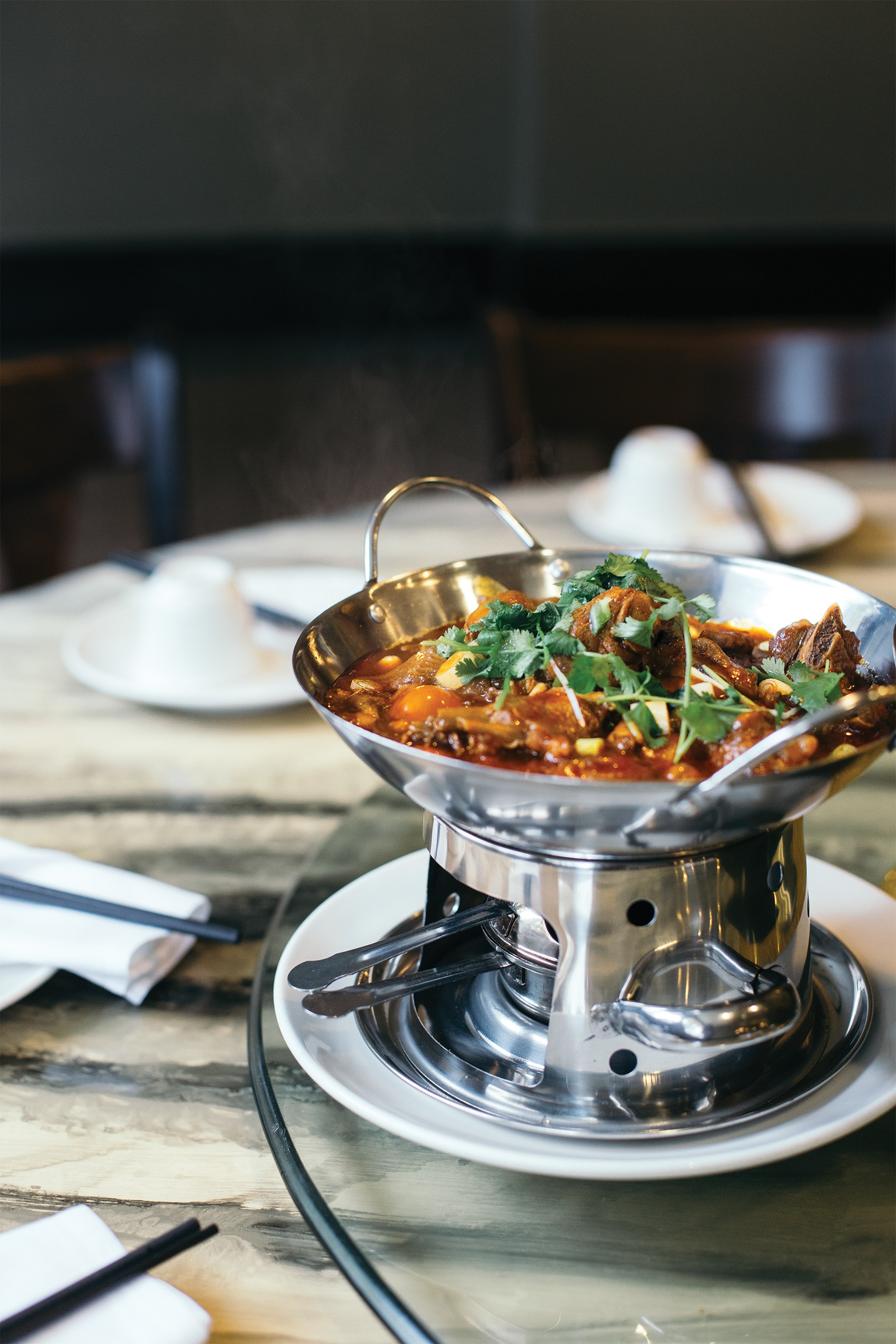 China Village
Chinese restaurants are always popular on Christmas Day, and Albany's China Village is one of the best in the region. Bonus points: a modern, sleek dining room and cocktail menu. China Village focuses on the cuisine from China's Sichuan province, and you should definitely steer toward chef John Yao's hot, spicy, and mouth-numbing specialties. (A family that sweats together stays together, right?) With their abundance of red chili peppers and green herbs, Sichuan dishes just look festive, too.
1335 Solano Ave., Albany, 510-525-2285, ChinaVillageAlbany.com
Pacific Lighthouse
This Alameda spot is another wonderful pick for Chinese over the holidays and Christmas Day. The massive space is stocked with private rooms and large, circular tables, leaving no one out of conversation. The elegant decor and views of the Oakland-Alameda Estuary certainly don't hurt, either. While the restaurant is best known for dim sum, its dinner is also very good — light, fresh Cantonese cuisine in large portions as well as family-style set menus. All the special occasion fare is here, such as live seafood, whole roasted suckling pig, and even booze.
1051 Pacific Marina, Alameda, 510-263-9232, PacificLighthouse88.com
Mockingbird
Mockingbird is giving its employees Christmas Day off, but the restaurant will stay open for New Year's Eve. Regardless, it's a solid choice to keep in mind as you plan your gatherings throughout the season. Earlier this year, the bistro moved into new digs in downtown Oakland, and the space exudes warmth and class. (The staff is finally equipped to whip up a pretty mean cocktail, too.) This is a spot for very well-executed, classically Northern Californian meals — with a bunch of gluten-free and vegetarian options — punctuated by intensely delicious Brussel sprouts. The restaurant also has a large mezzanine for private parties up to 30.
416 13th St., Oakland, 510-290-0331, MockingbirdOakland.com