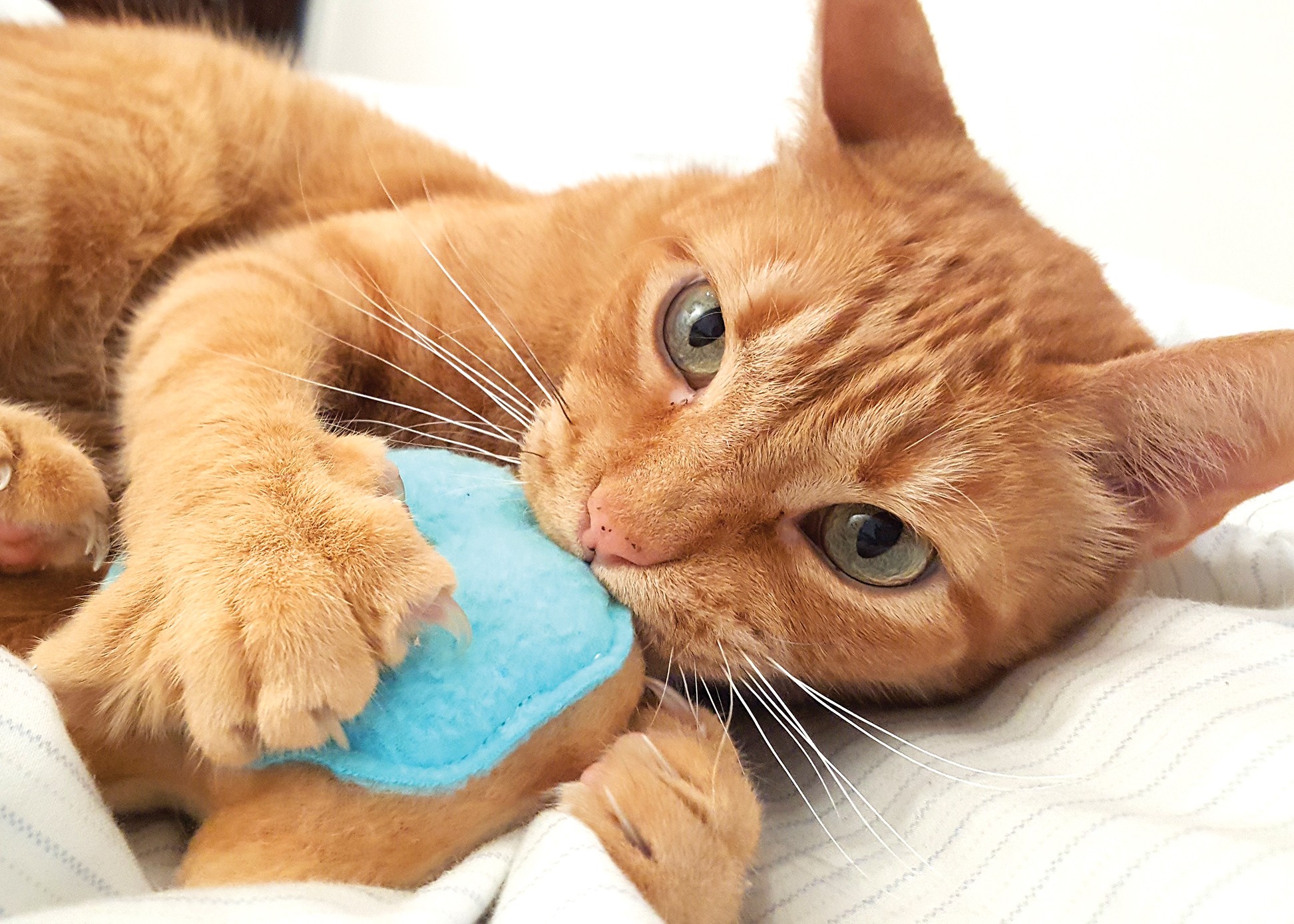 For many of us, our pets are our children — especially if we don't have the human kind. We take care of them and they fill our days with joy. If you'd buy your human child a gift this holiday season, then clearly your pet deserves one, too.
Skip Petco and check out one of the East Bay's many fabulous, locally owned pet shops. Some craft their own specialty items, while others focus on sourcing quality products that are sure to make your furry friends happy. Either way, we have some ideas.
Toys make great presents for both kids and animals for similar reasons: They don't take up too much space and they provide instant gratification. We're far from the days of boring toy mice and feather wands, too. Vallejo-based Miso Handmade sews adorable, fun-for-human designs such as squeaky doughnuts for dogs and catnip-filled bags of coal for naughty kittens. One particularly clever option is a Chinese-style takeout box carrying fortune cookie toys. The soft, fleece pouches are filled with organic catnip and even have feline-appropriate fortunes such as "Your future is fishy" and "An empty lap needs a cat." They're so cute you won't mind finding them under the couch and in your bed. You can order Miso Handmade's toys on Etsy (Etsy.com/Shop/MisoHandmade) or find a selection at RAWR (2869 Broadway, Oakland, EatLikeALion.com).
Speaking of RAWR, the local company makes super-premium, raw food for cats. The idea is that wild cats don't eat cooked food and processed grains, so why should domestic cats? And if you think your feline friend deserves the same level of high-quality food as you, then you'll be stoked to see RAWR sources its meats from notable California farms such as Liberty Ducks and Marin Sun Farms.
Looking for an edible gift for your pup? Jiminy's Cricket Dog Treats is a new San Francisco company that uses crickets as its primary protein source. That means these are environmentally sustainable treats that are also rich in fiber, iron, and essential amino acids. They're also free of grains, corn, gluten, antibiotics, and preservatives. Jiminy's makes a few different flavors, although the sweet potato and apple one seems particularly seasonal. You can find Jiminy's at a number of East Bay pet stores including Grand Lake All About Pets (3335 Grand Ave., Oakland, GrandLakeAllAboutPets.com), Jack London Pet Store (308 Jackson St., Oakland, CanineComfortsOakland.com), and Holistic Hound (1510 Walnut St., Berkeley, HolisticHound.com). All of those stores, by the way, are great places to hunt down other edible gifts worthy of wrapping paper.
For locally made wearables, look no further than Paco Collars (2905 Shattuck Ave., Berkeley, PacoCollars.com) and George (1824 Fourth St., Berkeley, GeorgeSF.com). Paco Collars makes hefty, stylish collars out of latigo leather for dogs and cats. Rhinestones, sea glass, gold studs, spikes — there's no such thing as too much bling for your pet. Depending on the style, you could drop anywhere from $60 to $225 on a collar, which includes a lifetime of free repairs. You can also throw in a matching leash — there are a bunch of different length and clipping options depending on your dog's needs. For cats, the collars come with a rubber-ring safety release so there's no risk of choking. Unlike the many high-end collar purveyors on Etsy, you can actually visit Paco in person to make sure your purchase fits your pet perfectly.
As it gets colder, your pup will appreciate an extra layer of warmth. George makes trendy sweaters as well as waterproof jackets, which will be very useful if this rainy season is anywhere near as torrential as the last one. George's khaki sport coat looks particularly sharp and sleek, with a Cordura shell and toasty layer of fleece underneath. Fair warning: Your dog will probably look more fashionable than you.
For your less conventional pets, the holidays are a great excuse to make habitat upgrades. See Spot Run (2510 Santa Clara Ave., Alameda, AlamedaSeeSpotRun.com) is stocked with everything you need for birds, rabbits, guinea pigs, chinchillas, and hamsters. Similarly, you could switch to eco-friendly litter for your cat or all-natural bedding for your bunny. They're not exactly flashy gifts, but they'll make life better for everyone. Find a good selection at Paws & Claws (3436 Diamond Ave., Oakland, PawsNClawsOakland.com).
As with humans, you could also shed the idea of a material item and instead spend some quality time with your pet, which is totally a gift in and of itself. There are obviously more options with dogs, like taking them out into nature or scoping out a new dog park. You could even take your pooch out for ice cream. Dog-friendly Little Giant Ice Cream (1951 Telegraph Ave., Oakland, LittleGiantIceCream.com) sells "pup cups" for $2. Made of organic yogurt, pumpkin, and flax seed oil, it's an ice cream-esque treat your dog will love.