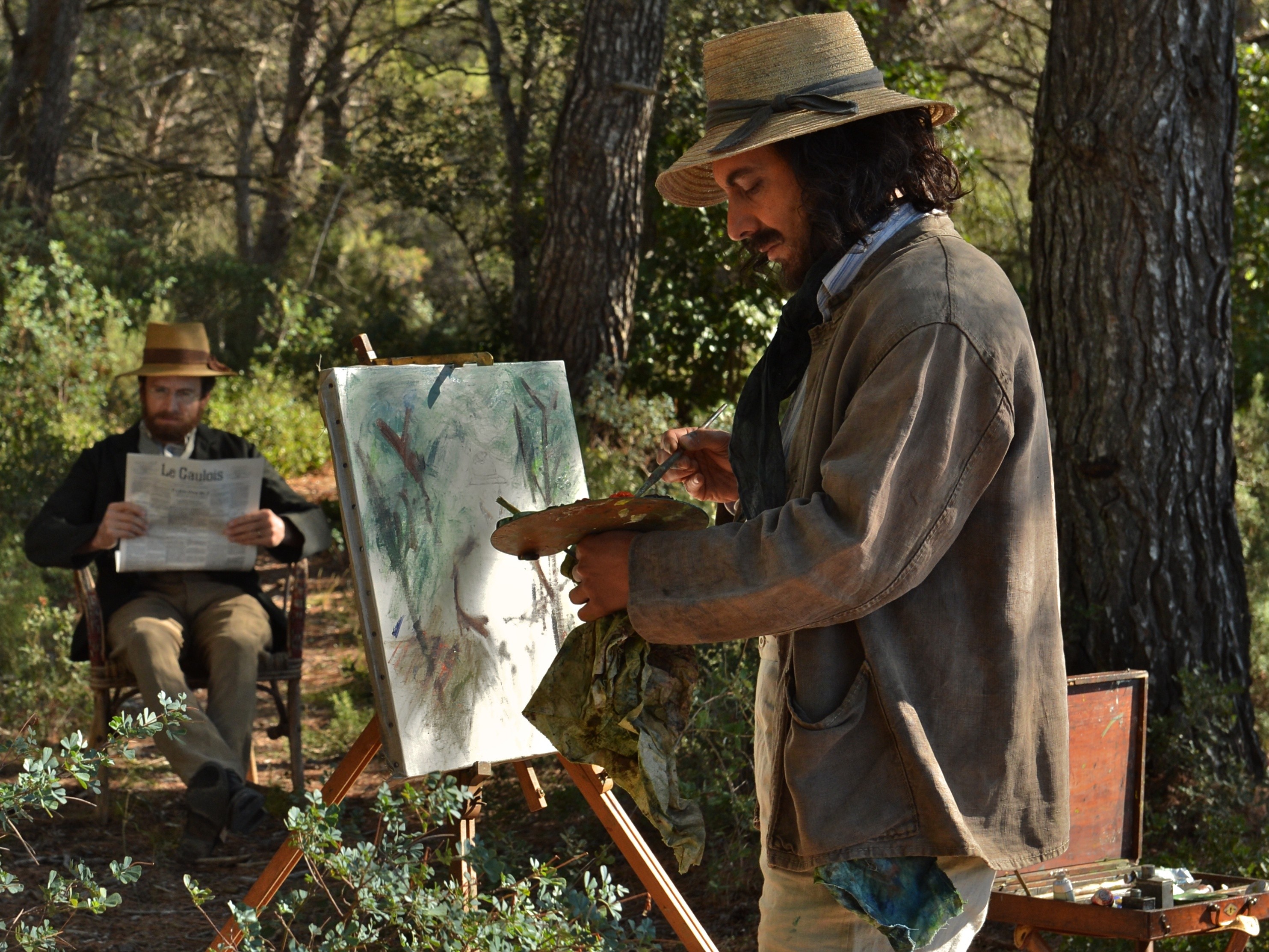 Guillaume Canet (left) and Guillaume Gallienne take to the woods in
Cezanne et Moi
.
It's "Lives of the Artists" time at the movies this week. In the case of Danièle Thompson's lightweight, accessible
Cézanne et Moi
, the show is a certified French twofer – an account of the intertwined careers and camaraderie of painter Paul Cézanne and author Émile Zola, boyhood friends from Aix-en-Provence, in the latter half of the 19th century.
Cézanne (portrayed as an adult by Guillaume Gallienne) comes from a posh banking family, while Zola (Guillaume Canet) is the son of an impoverished Italian mother. As kids romping together in the picturesque Provençal hills, the two form a bond of mutual assistance, even though Paul's parents disapprove of Émile, the perennial immigrant outsider. They both move to Paris to set the city on fire with their brilliance. As fate would have it, poor boy Émile achieves success and fame with such socially motivated novels as
Thérèse Raquin
and
Germinal
, while rich boy Paul struggles to put across his bold Impressionist visions – his work is a bit too abstract for the artistic establishment. So the two men's relationship is both intimate and strained for virtually their entire adult lives.
Screenwriter-director Thompson, a well seasoned Gallic concoctor of romantic comedies (
Jet Lag
,
Avenue Montaigne
) as well as costumed spectacles (
Queen Margot
), runs the young artists from the South through a classic – one might say clichéd – gauntlet of bohemian escapades in Belle Époque Paris. They go out drinking with Pissarro, Manet, and Renoir. Zola falls in love with Gabrielle the naughty laundress (Alice Pol) — Thompson can't resist recreating a Manet-style
déjeuner sur l'herbe
tableau for them. Zola later champions the cause-célèbre of Jewish-French army officer Alfred Dreyfus with his anti-anti-Semitic newspaper article
J'accuse
. Zola's naturalistic novels, in which he takes the side of the downtrodden, become a literary sensation.
Meanwhile, as the action flashes back and forth, the bitter (and eventually diabetic) Cézanne behaves like the ideal misunderstood genius, forever beating his head against the wall while sticking it to the bourgeoisie – insulting prospective patrons, starting brawls in galleries, sleeping outdoors, hurling many a canvas through a window, etc. And yet he continues to seek out his longtime
pote
. Hot-headed Paul harbors thoroughly mixed feelings for Émile after they exchange social positions, and the disagreement heats up with the publication of the novel
L'œuvre
, Zola's not-so-veiled attack on his Impressionist friends. For ultimate boho Cézanne, the artistic life is his rebellion against his parents, who continue to support him. For Zola, art is at first a means of survival, then a principled but rather stuffy devotion to humanistic justice.
Filmmaker Thompson doesn't appear overjoyed to be navigating the cultural crosscurrents of pre-modernist Europe. Maybe that's because Cézanne's poverty is so grim and full of reproach. But so is Zola's respectability and moral righteousness. Actors Gallienne and Canet handle their roles ably, but
Cézanne et Moi
seems to skim the surface of its era searching for a bromance that doesn't really materialize.
The best scenes turn out to be the most pathetic, as when Paul, on the cusp of long-overdue recognition, overhears Émile dismissing him to a group of other people one sunny day. The painter of
Pommes et oranges
and
Harlequin
departs, broken-hearted and disillusioned. Thompson's portrait of the artists is a bit too energetically panoramic to produce the same effect on the moviegoer, but Cézanne's climactic dejection sets the tone irreversibly. It's no fun being a genius.