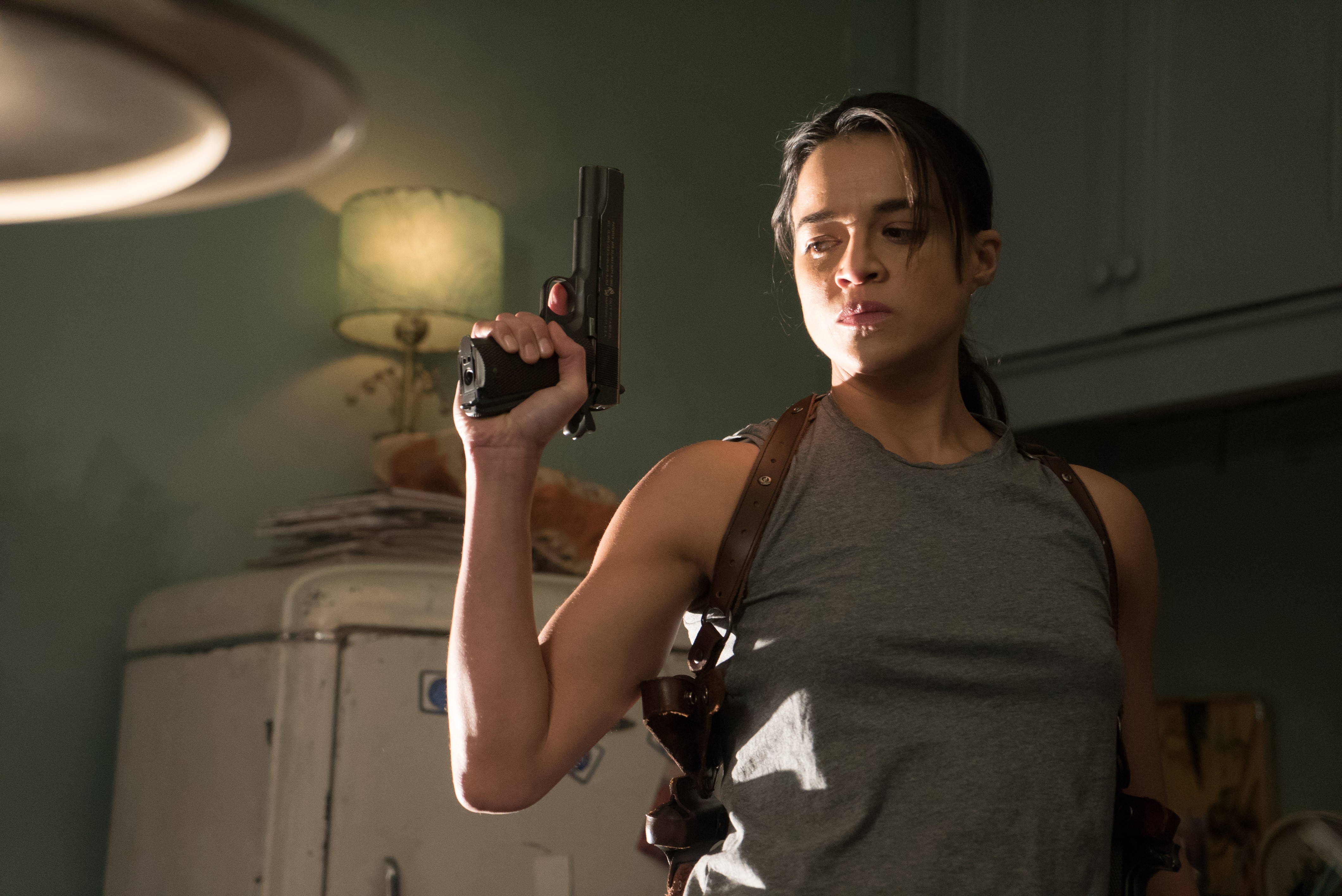 Crime engenders crime: Michelle Rodriguez in
The Assignment
Walter Hill is back. As a screenwriter for other filmmakers — Sam Peckinpah's
The Getaway
— and a prolific director in his own right –
48 Hrs.
,
The Warriors
,
The Driver
,
Hard Times
,
Wild Bill
– Hill made some of Hollywood's most exciting and provocative action films from the Seventies through the Nineties. Hill brought out the best out in Charles Bronson, Nick Nolte, the Carradine brothers, Fred Ward, Bruce Willis, Powers Boothe, James Remar, Mickey Rourke, and Gene Hackman, a tough guys' hall of fame. He is Bruce Dern's favorite director, and has inspired more filmmakers than Akira Kurosawa. After 2000, not so much.
But here he is with another gutsy, violent thriller, the French-Canadian-American co-prod
The Assignment
, starring crime-pic stalwart Michelle Rodriguez and character actress deluxe Sigourney Weaver in a tale with a pseudo-newsworthy scientific gimmick. As told in flashback from a prison interview with Dr. Rachel Kay (Weaver) by a court psychiatrist (Tony Shalhoub), San Francisco's Dr. Kay is in the habit of illegally operating on homeless people and other unfortunates procured by a hood called Honest John (Anthony LaPaglia). In one of her "experiments," mad scientist Dr. Kay – channeling Hannibal Lecter with her Shakespeare recitations — performs gender reassignment surgery on a professional assassin named Frank Kitchen (Rodriguez, playing a man), for plot-spoiler reasons of her own.
Even with "his" inauthentic-looking mustache, Frank is ripe for gender confusion. He has a high voice and a tender face. But he does have a penis – or at least the body double does – plus a penchant for lusty trigger-happiness. Some of that changes when he awakens, post-op, as a similarly nasty-tempered hit woman. The screenplay by Hill and Denis Hamill is patently ridiculous, but really no more so than
Southern Comfort
or
Johnny Handsome
, from Hill's high period. In fact, if we were in a generous mood we could call
Johnny Handsome
, in which gangster Mickey Rourke gets his ugly mug rearranged by plastic surgery (shades of Rourke's real life), a cinematic forerunner to Frank and Dr. Rachel's sordid story.
At any rate,
The Assignment
is an arguably watchable but eminently dismissible hunk of junk, strictly for late-night consumption, with decent actors saying dumb things and the spurious sex-change angle for whatever box-office fizz that might provide. Trans activists who object to the movie's exploitative aspects are only doing it a favor. To add injury to insult, synth honcho Giorgio Moroder (remember him?) contributes tedious electronic noodling to the music track. What a sad comeback for Hill. If it weren't for his reputation as an entertaining and influential action auteur, we would never have taken this misfire seriously.