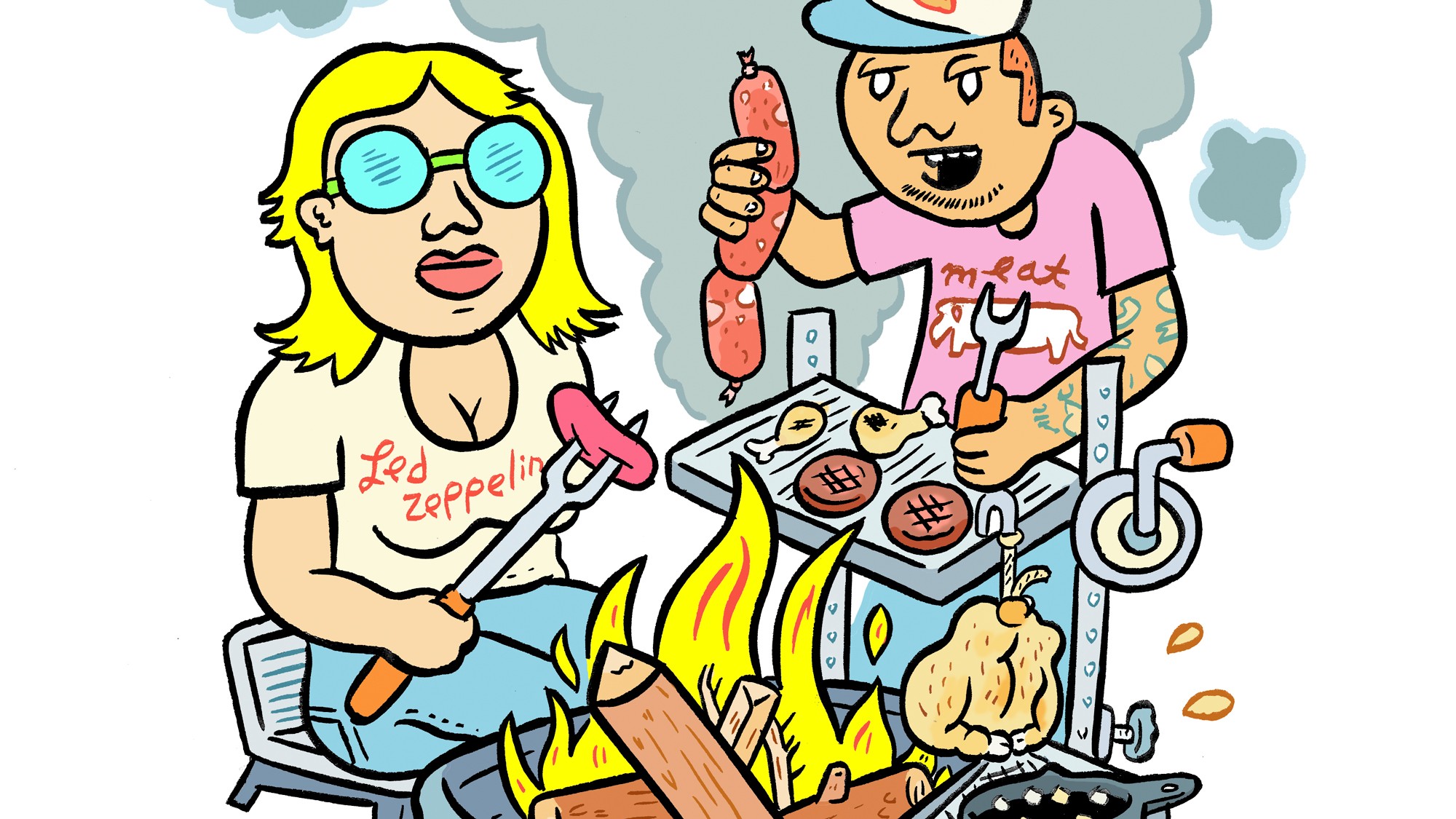 On my 24th birthday, my boyfriend took me on a camping trip. With it being my birthday and all, he rightly assumed dinner should be good — and, unfortunately, refused to let me take part in the prep. His valiant efforts at a calzone — packaged pizza dough, sauce, and cheese folded in foil and dropped in the fire — yielded nothing more than a raw mess. So, he whipped out the ground beef we were going to eat the following night, formed it into patties, laid them on the crate, prodded them with a spatula, and promptly watched them fall into the fire. Every single one. We ate salami, trail mix, and peanut butter sandwiches all weekend.
We are still together, and that might partially be because I took over the meal planning from then on. The next time we attempted burgers at a campsite, we packed a cast iron pan — and an oven mitt to grab it. Instead of foolhardy pizza dough, we dropped foil-wrapped sweet potatoes in the fire, split them open, and showered them in smoked salt. When we went backpacking, he packed the tent, sleeping bag, and camp stove, while I measured out exactly how much dried pasta and Parmesan cheese we'd want for dinner that night.
When you're cooking in the great outdoors, planning is key, as is relying on ingredients that'll hold up without refrigeration. (You might have a cooler, but then where would all the beer go?) Figure out exactly how much of each ingredient you'll need, and remove any extraneous packaging in advance, so you're not bringing more than necessary. You'll also want as little cleanup as possible, which makes pre-chopping and measuring even more important.
That backpacking meal felt so elegant given we ate it while sitting in sand. We boiled pasta, drained it, and added lemon juice, cheese, and a can of anchovies, with their delicious, umami-rich oil.
One time, I cooked dinner for 60 people with a single camp stove — OK, it was Burning Man, but the principles here are the same. I needed to rely on ingredients that wouldn't spoil and needed very little prep. The answer to this task was congee, the Chinese porridge. I simmered rice, water, dried mushrooms, and carrots in a giant pot for an hour. (Because it was at Burning Man, this meal needed to be vegan, but I'd also throw in dried shrimp, century eggs, and Chinese sausage.) I finished each bowl with soy sauce, sesame oil, sesame seeds, and fried shallots. Watching a bunch of skeptics eagerly go for seconds warmed my heart all night.
Or, you could just buy those Indian food packets from Trader Joe's. Let's be honest: They're easy and remarkably tasty.