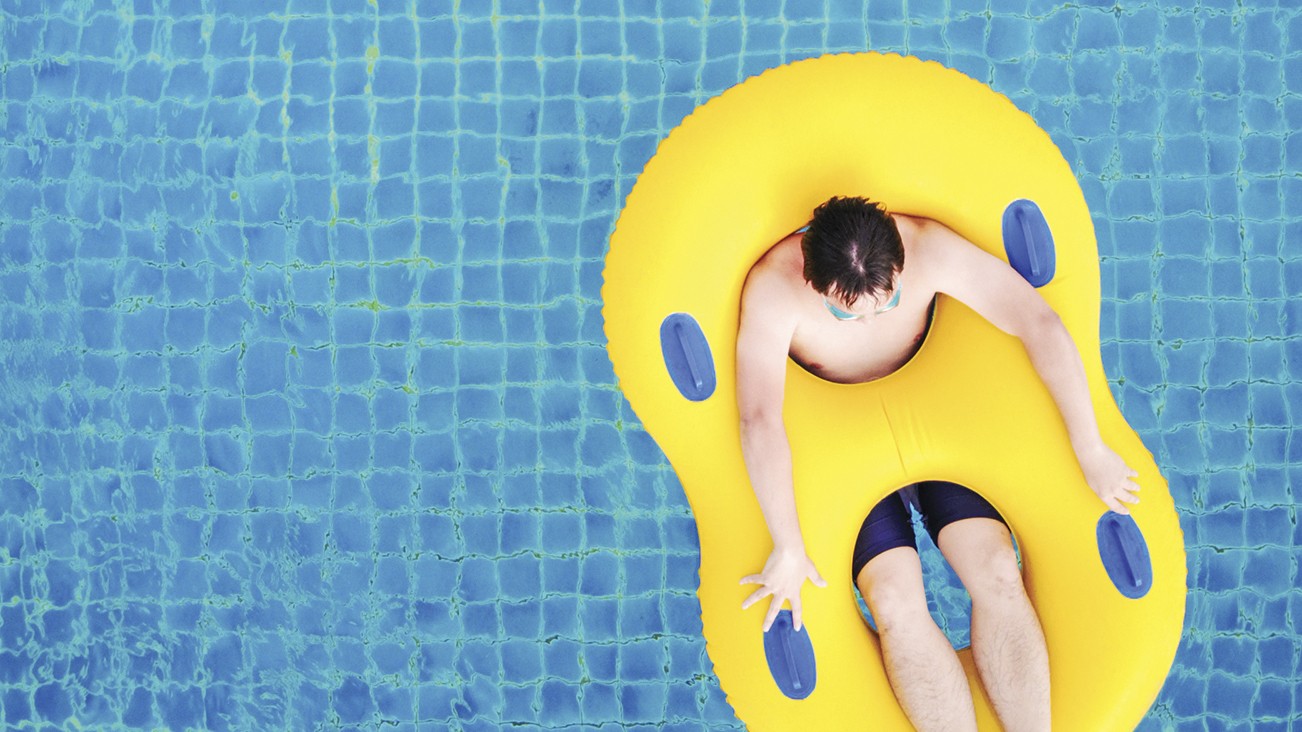 Last year, DeFremery Pool sat unused for the majority of its busiest season. Swimmers, waders, and loungers were re-routed to the nearby pool at McClymonds High School while renovations took place at the West Oakland pool. By the end of August — after a delay — the repairs and updates were finally completed, and a free grand re-opening was planned. It coincided with the late summer heat-wave that swept through the Bay Area.
That day, DeFremery seemed to sparkle, which might have been an effect of the heat but was also probably because it had a new quartz pool surface. Racing stripes had been painted on the bottom of the pool, too, and LED lights installed for the twilight hours. The exterior of the building was painted a cool blue and the name a stark white, light bouncing off it at every angle like a marquee.
It was hot, really hot, and the pool was full. The only shade was in the locker room's shadow, and even then, you had to stand up flat against the building to avoid the sun. And by that point, trying to manipulate bits of shade out of whatever shadows you could find, it was clear that there was only one thing to do because there's always only one thing to do at the pool: you had to jump in.
One of the best parts of summer is that even if your day has been too long, even if you've worked too late, the sun is still shining and, if you're lucky, the pool is still open somewhere in Oakland. Chlorine is an aspirational scent. It's a reminder that you are buoyant, that you can relax, that you can exist somewhere in between the solid now and the in-between wherever. Take a dip where you can, when you can. There's a pool for everyone: athletes, families, beginners, and even non-swimmers.
If you want to get a workout in, head to the Temescal Pool. It's open for lap swimming every weekday morning, during the lunch hour, and for a few hours after five. The later you go, the more crowded the pool is, but if you're up for waiting, you'll always be able to get your laps in.
(Open year-round; adult and senior passes $31-75, lap swim fees $4-$6; 371 45th St., Oakland.)
But if you're a very particular lap swimmer and want to move at your own pace, the Trefethen Aquatic Center at Mills would be better for you. There are fast, medium, slow, and even "Water Walker" lanes. As an added bonus, there's also a poolside hot tub. (Day passes, punch cards and semester passes are available for $6-$275; open year-round; 5000 MacArthur Blvd., Oakland.)
If you're a wader, sunbather, or simply like the pool for atmosphere and an occasional dip, the Lions Pool is a great spot for you. Tucked into Dimond Park, the scenery is lush and green, and the pool is large. If you've got kids, bring 'em. There's enough space for everyone here. (Open year-round; adults $3, youth under 18 $1, seniors 55 and over $2.25; Dimond Park, 3860 Hanly Road, Oakland.)
Similarly, DeFremery is great for families and loungers alike. With a wide, paved deck, there's plenty of space to lay out. The shallow section of the pool is big enough to keep very early swimmers and more seasoned beginners entertained. (Reopens summer 2018 and will be year-round; adults $3, youth under 18 $1, seniors 55 and over $2.25; 1269 18th St., Oakland.)
For new swimmers of any age who want to work on their breathing or practice their strokes, the East Oakland Sports Center has two shallow swimming lanes perfect for you. And, for non-swimmers looking for the benefit of a water workout, the sports center also hosts water aerobics classes and reserves a lane for water walkers throughout the week. (Open year-round; day passes for Oakland residents are $8 for adults, $3 for youth, $6 for seniors; non-resident day passes are $10 for adults, $3 youth, $8 for seniors; 9161 Edes Ave., Oakland.)