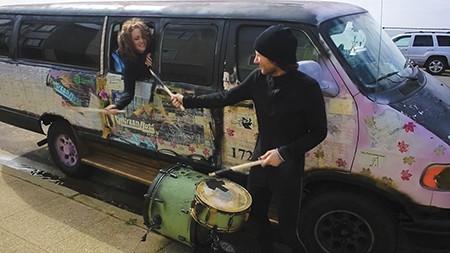 It's a Thursday evening in early February, and the unsuspecting fans of Ja Rule are about to be the victims of an unusual drive-by.
Lined up outside the Warfield in San Francisco, where the hip-hop star is slated to perform, they're staring down at their phones, paying no attention to the van parked nearby and the conspirators inside. Jamey and Volly Blaze, a twentysomething married couple and the two members of a band called Vantana Row, are busy plotting their next performance.
Jamey, wearing a brown beanie and a neck full of tattoos, is fumbling with a computer keyboard, while Volly, who's got long, unwieldly hair and is dressed in all-black, sticks the top half of her body out of the van's window.
Then, a pulsating, dissonant electronic beat starts booming from speakers aiming outside the van, Jamey begins wailing on the weathered drum kit inside the vehicle, while Volly begins scream-rapping and throwing CDs at Ja Rule fans like a busted piñata.
The fans look up from their phones, bewildered. Moments later, the van peels out as a Warfield security guard shouts: "It's a rap show! What are you thinking?"
For Vantana Row, such moments of dissonance are exactly the point. The self-described "non-ironic" experimental duo combines elements of electro pop, punk, and screamo and is known for its "drive-by" concerts. (In the last year, they've performed onstage in a venue only once.) Driving around in a van that doubles as the couple's home, with the band's name emblazoned in bubbly letters on the side, the Blazes typically park in front of venues, where lines of people are waiting to get in to a show, and perform impromptu gigs to unsuspecting crowds.
"We've always been fairly insane people yelling out of our cars when it wasn't appropriate," Jamey explained. "I don't want to just be homeless. I want to show everybody that I'm homeless."
Vantana Row isn't just performance art. Since 2015, the band has put out more than 30 releases (albums, EPs, singles) through Bandcamp. Their production embraces broken technology sounds with a DIY aesthetic and intense, vibrant energy. It's also packed with weird in-references: Volly's old singer-songwriter material is sampled throughout Vantana Row's catalog.
The band calls its style "trapunk," a combination of trap and hardcore punk, but that description is too simplistic for the wildly diverse sounds the band pursues, including electronic noise, glitchy beats, screamed vocals, plodding bass, and pretty guitar samples.
The focus is as much on music as it is on their interaction with fans. The band uploads hours of footage of themselves to YouTube. They even have their own sitcom. And for its second album, Vantana Row 2, the band asked fans for submissions of poetry and writings through its website, which it then used as the basis for some of their song lyrics.
One of their biggest fans is Adam Davis, a 40-year-old stay-at-home dad and former punk rocker — he used to play guitar for '90s ska-core punk band Link 80. He's somewhere between band manager and super-fan, although he's almost old enough to be their dad. (He was the band's driver on the night of the Ja Rule show.) He first discovered Vantana Row's music after meeting Volly at a coffee shop in Alameda where she was working at the time, and then checked out their vast catalog on Bandcamp.
"I remember being like, 'Only three of these [releases] can possibly be good.' They're all good," Davis said. "What passes for punk these days is boring. It may as well be Huey Lewis & the News singing about anxiety. Vantana Row is the future of punk. They are immersed in their music, and they literally do it 100 percent for themselves."
Once, Davis landed Vantana Row a gig playing Alameda's 4th of July parade. He said the three of them sang the chorus of "Born in the USA" for three hours straight, until Volly started throwing up.

[embed-1]

So, what's the point of all this?
The Blazes don't seem to be trying to make any money. They encourage people to download their music for free. "I think there's no financial turnaround for us at this point other than maybe if we pursue shirts more," Jamey said.
They continue to live out of their van, which they park in cities around the Bay Area. (Their home is currently in Pacifica.) When they move to a new city, they usually get pulled over by the local police. Davis describes the experience of seeing the van around town as "seeing Bigfoot."
"They let it go once they realize that we're just some dumb kids," Volly said. "It takes half the force to meet us."
Both Volly and Jamey said they hope to build their fanbase through their drive-by performances, and their goal is to do planned van shows in designated parking lots. But they admit they don't know how much longer they'll continue.
"We definitely anticipate this ending for sure," said Jamey. "Every time we play, we're thinking 'Fuck, is this the last one?'"
And yet, the band never fails to draw fans.
After their performance outside the Warfield, Vantana Row parked around the corner and discussed the crowd's reaction as they prepared to circle back and give Ja Rule fans a second mini-concert.
"The girls getting out of the Escalade, they were straight shook," Davis said. "They were like, 'Oh, my reality has just changed. I was in an Escalade with my girls, now this is happening.'"
Considering the band's noisy, dissonant, electronic beats, punky live drumming, and hardcore vocals are so far away from the mainstream hip-hop sounds of Ja Rule, the relative lack of hostility was reassuring to the band.
"That went better than I expected," Volly said. "I think they were more shocked than mad. I wasn't sure if it was going to be anger or confusion. I can work with confusion."
When the band drove by the Warfield two more times, more and more people became interested. People began taking out their phones and recording them. Some were even dancing to the music.
The members of Warfield's security team were less patient, but for the members of Vantana Row, that seemed like a badge of honor.