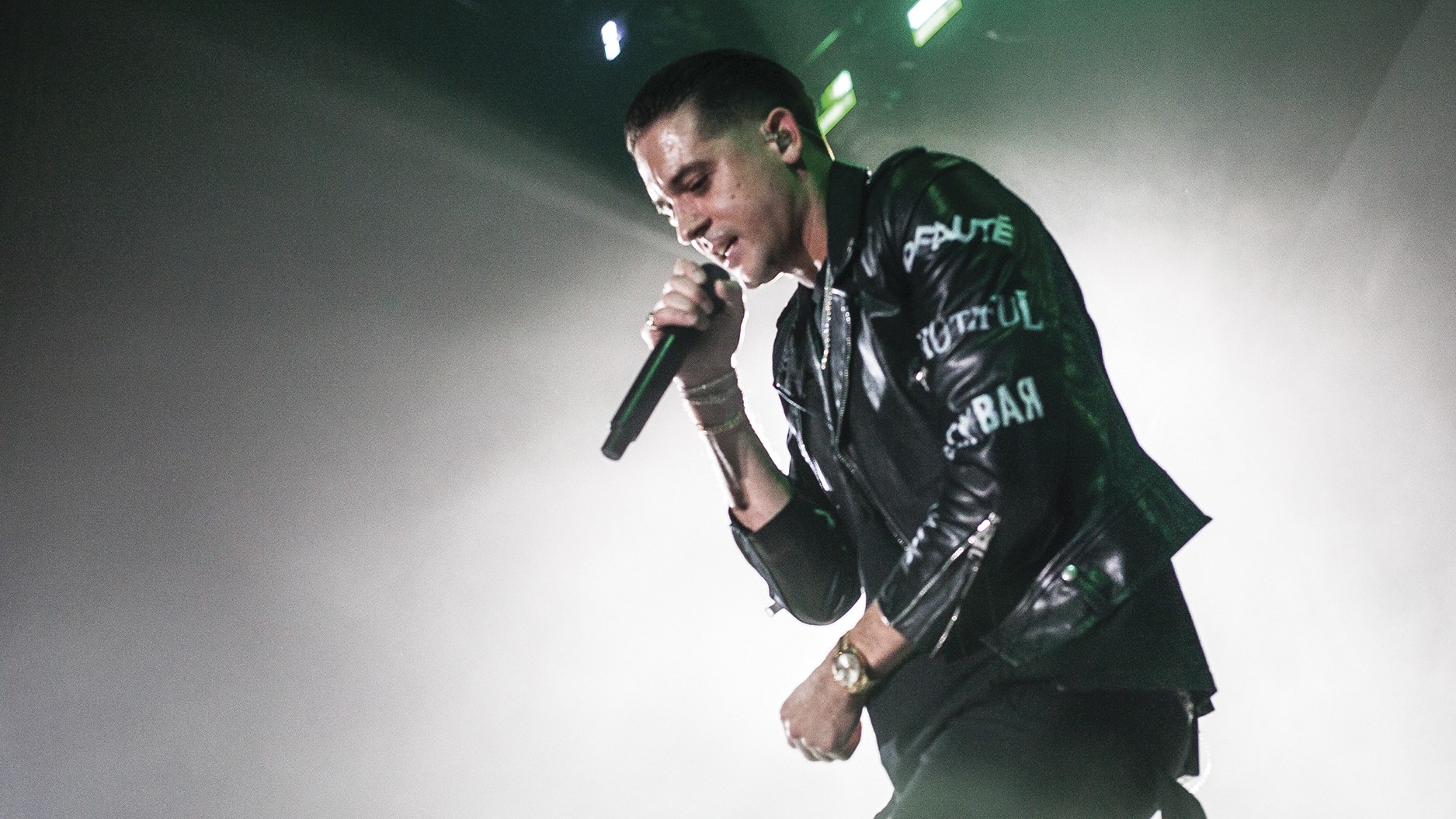 G-Eazy was conspicuously seated in a well-lit, amply windowed trailer parked midway through his sold-out hometown gig's long line, getting his signature slicked-back haircut maintained by his personal barber. Blocks away he was frowning, with a more tousled hairdo, on a billboard. Already, outside the Fox Theater last Thursday, the 28-year-old rapper born Gerald Gillum projected the supposed duality of his material, the struggle between hedonistic and sweet impulses suggested by the hokey, Fitzgerald-echoing title of his dreary, monochrome plod of a new album, The Beautiful & Damned.
G-Eazy, whose last three albums have clinched #1 on Billboard's Hip-Hop/R&B chart, brought an elaborate production to the Fox. Song-specific imagery flickered on a translucent backdrop, with the silhouettes of a live keyboardist and drummer perceptible just beyond the screen. Nef the Pharaoh and Mistah F.A.B. appeared for a few bars and dabs. The set, which hewed close to the sequence of his new album, lasted a neat 90 minutes before an encore featuring the ubiquitous "No Limit." But the production value only amplified the groove-less pileup of charisma-free clichés at the core of his catalog.
The 6-foot-4 beanpole clad in black bounded on stage, shadowed by a videographer, while a faux parental-advisory warning advertised all the vanilla, daytime-soap debauchery on deck. Soon, he was sputtering about the trappings of celebrity, with relentless chestnuts about boozing and featureless women between glib references to the two sides of his Gemini, which he seems to take as license to rap about himself twice as much. Then, for the second song in a row, a lyric about "angels and demons." It was the first of at least three songs to mention "rubbers." Behind him was a picture of hands clasped in prayer.
G-Eazy has a taut, wooden delivery with little more inflection than wilting self-pity and, especially in concert, turn-up warble. He seems to gravitate toward music that won't challenge him to enunciate with anything besides affectless staccato. He grew up in the East Bay, but his sound evinces little of the area's influence; it's an anonymous mix of middle-shelf beats, blasts of bass, and keyboard with two settings: summer and sadness. Still, it was charming that he said he took BART to the gig, and he seemed genuinely appreciative while recalling early, poorly attended shows at the nearby New Parish. But short guest appearances by Nef the Pharaoh and Mistah F.A.B. illustrated less his local bona fides and more his relative lack of personality.
Other guests included Yung Pinch, a longhaired auto-crooner from Orange County, on whose song G-Eazy rapped about mandatory first-date sex. G-Eazy called the Bay Area "the home of the most beautiful ladies in the world," but the lingerie-clad torsos projected behind him, like his on-stage fellatio rehearsal, highlighted his work's prop-like treatment of women, who are only ever cast as craving sexual encounters. I just broke up with my female, goes the new record's title-track. On tour, had to do it by email. Even on "Sober," one of his supposedly introspective, cautionary tales, G-Eazy suggests that the tragic consequence of overindulging in alcohol is hooking up with a girl with a "meh face."
The crowd looked like the East Bay: hype-beasts in Cookies gear swagged for the 'gram while dads and teens in dad-hats passed the vape between bouts of doing the dougie. Cal students mobbed for merch. Braids twirled. Squads accosted bartenders. Someone feebly explained to the box office that he was guest-listed by his nickname, never mind the ID. Phones glowed above the heads of general admission like one joint jellyfish brain. I recognized a scalper from Oaks Card Club. And everyone appeared to be having fun. At the end, after a bloodless recitation of his bit part in "No Limit," as credits rolled on screen in a gesture of cinematic hubris, G-Eazy exited side-stage with one more impotent reference to "the best night of your life." The audience walked back out into the rain.
"I'm further exploring my Gemini," G-Eazy told Billboard of The Beautiful & Damned. But he conveys none of astrology's emotional dynamism (and aren't air signs supposed to be adventurous?), just a ceaseless series of stultifying binaries: all-black outfit or all white (and with or without those weird tassels), women who will or won't have sex him (anymore), selfishly inebriated or selfishly sober, angels and demons, and on and on with the numbing egotism he's been rehashing since his clarion 2015 anthem "Me, Myself & I." For all the melodramatic highs and lows, G-Eazy is aggressively middle-of-the-road.