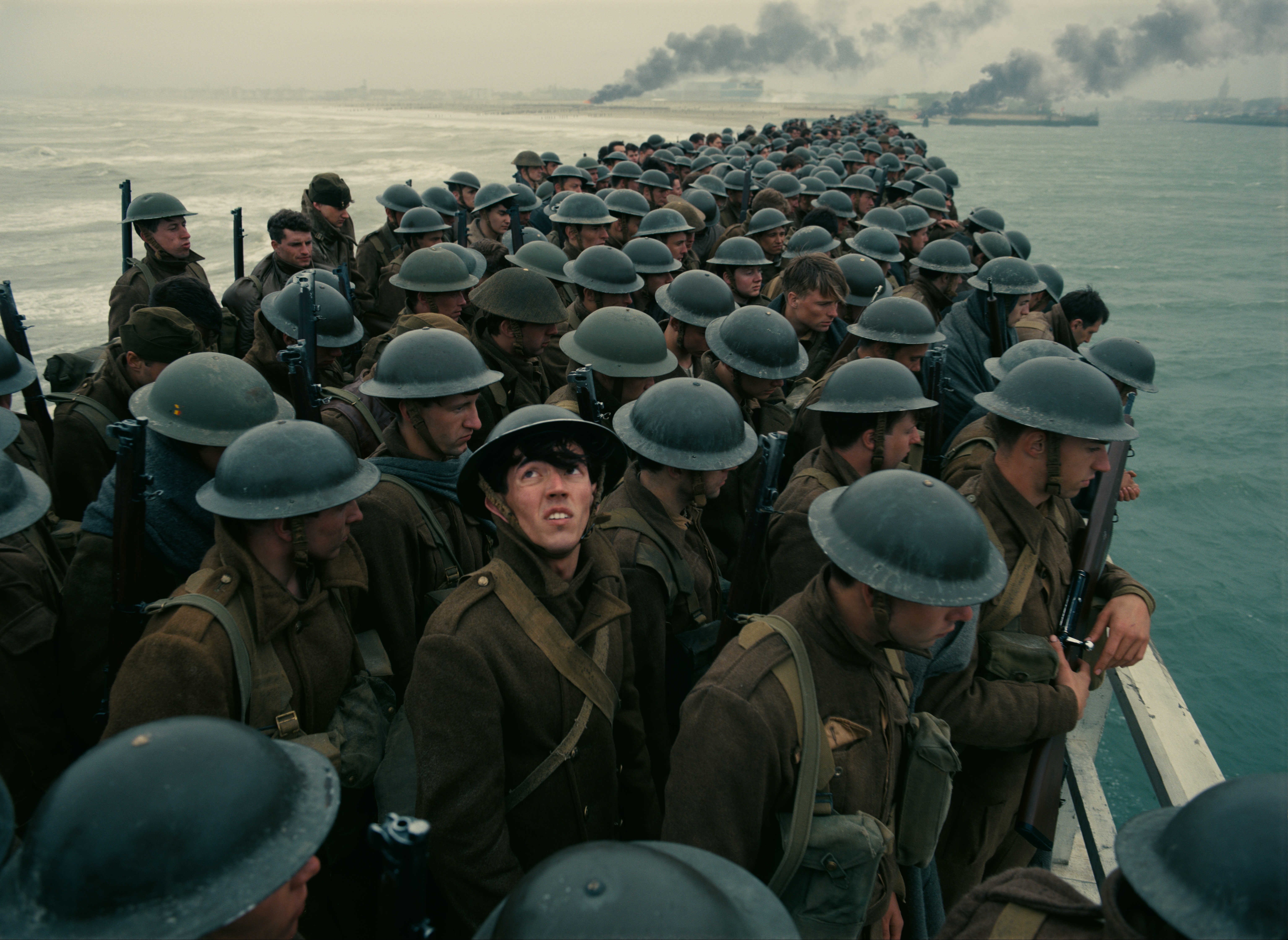 The scene on the pier in
Dunkirk
.
World War II, the biggest news story of the 20th century, continues to attract filmmakers 72 years after it ended. The smallest nooks and crannies of that global conflict have been explored in hopes of deriving meaning from it, as well as to put thrilling action on the screen. The movies come in all shapes, sizes, and points of view, from the broadest epics to the most obscure vignettes. Christopher Nolan's
Dunkirk
, however, is different from the rest.
In the summer of 1940, a year and a half before America entered the war, the Nazi German onslaught into France and Belgium had trapped some 400,000 British and Allied troops on the beach at Dunkerque in northernmost France, 28 nautical miles across the English Channel from the port of Dover. Out in the open, the defeated soldiers and sailors were sitting ducks for dive bombers. In one of the most dramatic naval operations in history, a hastily assembled flotilla of "little ships" from England, both private and military, evacuated more than 300,000 of them. They would live to fight another day, thanks to the courage of ordinary people.
Writer-director Nolan — already a household name as a stager of spectacles (
The Dark Knight
) – throws away the "big picture" approach to the battle and instead recounts the "Miracle of Dunkirk" in three separate-but-connected threads. They're down-to-earth personal experiences, with the barest of introductions, no explanatory narration, and very few big-name actors. We see what they see from their point of view, in a chaotic rush of sound and fury.
The thread labeled "The Mole" shows what happens to a pair of British Army privates named Tommy (Fionn Whitehead) and Gibson (Aneurin Barnard), whose efforts to simply survive run into a series of hair-raising obstacles. In "The Sea," middle-aged English civilian Mr. Dawson (Mark Rylance) takes his two teenage sons in their power boat across the channel, picking up survivors as they go. Meanwhile up in "The Air," RAF pilot Farrier (Tom Hardy) and his patrol fly into desperate dogfights with Stukas and Messerschmitts, badly outnumbered.
The hallmarks of war are death and confusion. Nolan depicts the former without unnecessarily leering at individual casualties. Death can come at any moment, from any angle, hostile or accidental — there are a million ways to die in a war. But the film's startling immediacy comes from its jumble of happenstance and coincidence, arriving at lightning speed to the confused combatants. With major help from cinematographer Hoyte Van Hoytema (Nolan's
Interstellar
;
Tinker Tailor Soldier Spy
) and veteran composer Hans Zimmer (Nolan's
The Dark Knight Rises
),
Dunkirk
plunges us headlong into a maelstrom of actions and reactions, cowardice and heroism, destruction and salvation.
A shell-shocked soldier (Cillian Murphy) can't help causing misery aboard Mr. Dawson's yacht, the
Moonstone
. Tommy joins a group of men hiding in a beached ship, but they soon begin to resemble cornered rats. Dawson can recognize any aircraft engine, British or German, by its sound ("That's a Rolls-Royce Merlin!"). Rescued troops happily munch bread and jam, seconds before their death by drowning. Torpedoed sailors are forcibly prevented from climbing into a rescue boat – it's too full. (Which is worse, being fried in burning oil or drowning?) Royal Navy Commander Bolton (Kenneth Branagh) refuses to go aboard the last rescue boat because there's still work to be done.
All these frantic bits and pieces come together under Nolan's narrative scheme to form a stirring panorama, climaxing at the moment when composer Zimmer's tense score gives way to Edward Elgar's "Nimrod" from his
Enigma Variations
, the go-to music for solemn evocations of British patriotism.
Dunkirk
is a magnificent achievement, a work of utter realism brushed with just enough old-fashioned we're-in-this-together spirit to remind us not only why that war was fought, but how. A complete change of pace from Nolan's previous science-fiction visions, it might well be one of the finest war movies ever made.