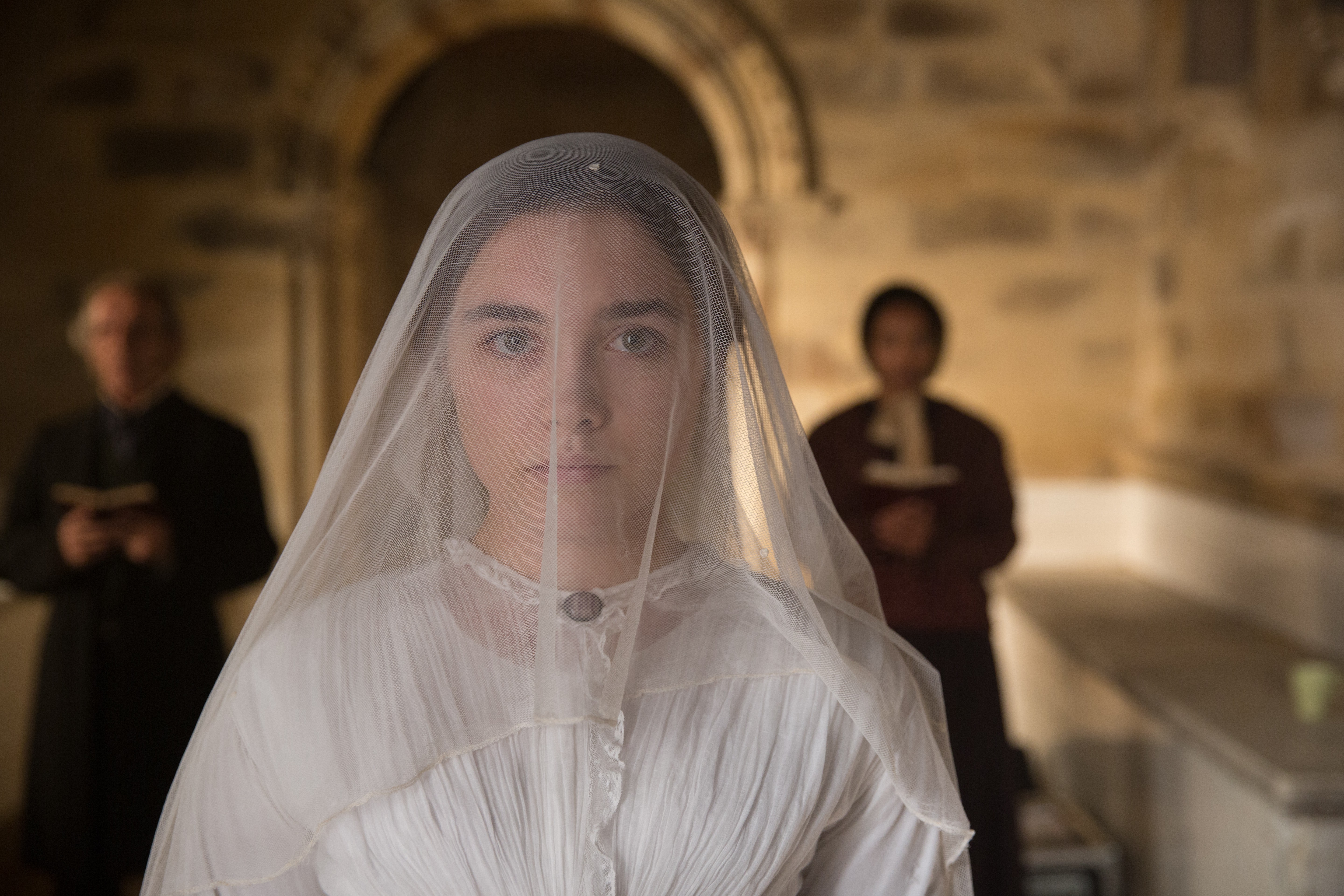 Till death do us part: Florence Pugh in
Lady Macbeth
.
It's been quite a summer for gothic sexual melodramas. No sooner had we digested Sofia Coppola's
The Beguiled
than we're presented with
Lady Macbeth
, a film with the some of the same basic flavors – old dark house, 19th century, repressed desire blossoming into mayhem – but in a rarefied, even more sinister vein, with a lead performance that's equal parts seductive and diabolical.
That performance belongs to 21-year-old actress Florence Pugh in the role of Katherine, the new bride of a loutish man named Alexander Lester (Paul Hilton). No sooner is Katherine installed in the hushed, apprehensive Lester family home in the north of England, circa 1865, than she is thoroughly humiliated, on her wedding night. The relationship descends from there into a soul-destroying routine. The closest her husband comes to consummating their vows is to force Katherine to strip and face the wall, while he masturbates. She is regularly beaten, and forbidden to leave the house. Katherine's submissive maid Anna (Naomi Ackie) witnesses her mistress' distress but can offer no help.
A change comes over the lady. Her expression hardens and she adopts much of the cruelty offered to her by her husband and her father-in-law, a withered old goat named Boris (Christopher Fairbank). Director William Oldroyd, working from a script by writer Alice Birch, seems to be telling us that the combination of Victorian austerity and garden-variety meanness in the household is turning the adolescent Katherine (actress Pugh was nineteen during production) into a cold, hardened avenging angel – aided and abetted by her secret lover, the hired hand Sebastian (Cosmo Jarvis).
The film, Oldroyd's directorial debut, is adapted from
Lady Macbeth of Mtsensk
, an 1865 novella by Russian author Nikolai Leskov. Leskov's narrative, which in common with Oldroyd's pic makes use of poison, a cat, an unwanted child, and a strong whiff of class resentment, was inspired by Shakespeare's "Scottish play" and in turn evidently inspired an opera, a ballet, and another, earlier film, Andrzej Wajda's 1962
Siberian Lady Macbeth
. Such, we presume, is the appeal of the character of a hard-hearted woman.
The Oldroyd-Birch-Pugh version's jumping-off point is the iron-willed resolve of the much-wronged Katherine. Her gripe is only tangentially political, despite the conspicuous casting of Black and mixed-race actors in the key roles of Anna and Sebastian, who are clearly abused but are not slaves (slavery having been abolished in England in 1833). Katherine may indeed feel like a slave in her loveless marriage — Alexander refers to her as his property — but her murderous impulses are not spurred by a desire for power, à la Shakespeare's ambitious villainess. Rather, her violent alternative to family counseling is strictly personal.
In the film's barren setting, Pugh's malevolent Katherine glows with a brilliant but lonely wrath. We know nothing about her except what we can see for ourselves as the indignities of her domestic life. How did she get into this situation in the first place? Did her husband actually buy her? What's the difference between a crime of passion and an act of blind hatred? All these questions dissolve into Katherine's stony gaze as she sits on a sofa in the exact center of her house, silently stewing in her own juices. Her motivations are as primordial as the howling wind. Disturbing as it may be to audiences accustomed to genteel costumed dramas, Pugh's play-acting is an achievement to remember. And this
Lady Macbeth
, a nasty little piece of work, is a must-see.