Congratulations! You made it through the week. Great job. As a reward, the good ol' weekend got you a few treats in the form of wine, music, shopping and film. Here ya go! 
First Friday Shorts Presents Bay Area Youth Media Network
The First Friday Shorts series at
the New Parkway
is getting interactive this month. Organizer Jillian Sandell started the film series in March 2013 and has now worked with thirteen different community organizations on short film programs, drawing about one hundred people to the theater each month. This Friday, she is working with the Bay Area Youth Media Network (BAYMN), a consortium of eight different youth organizations, to showcase a variety of youth-made films, covering topics such as public education and perception of violence in schools. But unlike most film screenings, the audience is invited to participate as well as watch. One of the films will be a preview of an upcoming art project examining the idea of belonging among various communities in the Bay Area. An interview booth will be set up at the theater where attendees will be asked to respond to the question "Where you do belong?" The responses will then be incorporated into the project, which will premiere at BAYMN Fest at the San Francisco Main Library in October. Friday, Aug. 1. 6-8 p.m., free.
TheNewParkway.com  

.
— Zaineb Mohammed


[jump]
Oakland Art & Soul Festival 
Over its fourteen-year history, Oakland Art & Soul Festival, centered around
Frank Ogawa Plaza
, has evolved in terms of its offerings, but it has stayed true to its goal of being a community-focused event. This year, two new community events include Whiskey Rebellion, a showcase of American whiskey distillers and producers, which will be a fundraiser for Oakland Grown, and the festival's first barbecue competition, organized by Bike East Bay advocacy director Dave Campbell. There will be a professional and amateur (backyard) competition during which 37 teams — about a third of which are local — will cook chicken, pork, ribs, brisket, and tri-tip. Other new elements this year include a performance by Oakland-based dance company Bandaloop, who will perform a vertical dance off of the façade of City Hall, a Hot Rod and Vintage Car Show, and a preview performance of the local talent competing in this year's National Poetry Slam, which is taking place in Oakland from August 5-9. YAK Films will also be hosting a Turf & All Styles Dance Battle on Saturday. Disclosure: The Express co-produces Art & Soul. Saturday and Sunday, Aug. 2 and 3. $7-$10, free for children twelve and under.
ArtandSoulOakland.com
— Z. M.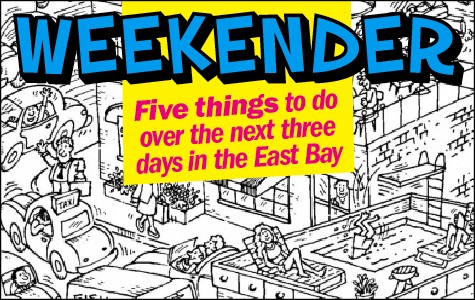 Jack's Night Market
If you think all the First Fridays action happens in Uptown, you've been missing out. About two years ago, organizers at Jack London Square started Jack's Night Market — an outdoor, summertime bazaar — to bring the First Fridays festivities to the waterfront. The last Jack's Night Market of the year is happening this Friday, so if you haven't been yet, this is your chance. The festival usually draws a crowd of about four thousand to Jack London Square, where attendees can watch street performers, check out the mobile pinball machine gallery, shop for arts and crafts, and eat food from Antonik's BBQ, Ñora Spanish Catering, The Melt, and Peter's Kettle Corn. This week's bazaar will also feature a fortune-teller, a medicine man, gypsies, hula hoopers, and a piano bar performer. Friday, Aug. 1, 6-10 p.m. 
— Z. M.



Urban Wine Xperience
If the guiding principle of the East Bay Vintners Alliance is that "one need not live in a vineyard to make fantastic wine," then the ninth annual Urban Wine Xperience is as good a place as any to test that theory out. More than twenty wineries will set up tables on the Ferry Lawn at Jack London Square. Each ticket includes unlimited tastings of three wines per vintner, which means — well, no one should go home thirsty. Local restaurants will also offer small bites designed to complement each of the wines being poured. Tentative food offerings include esquite placero (a roasted-corn street snack) from Nido, black squid-ink paella from Venga Paella, and oysters on the half-shell from AlaMar. Saturday, Aug. 2, 1-5 p.m. $45-$60.
EastBayVinters.com.
— Luke Tsai 


Xiu Xiu
 
Xiu Xiu is the long-running project of the reliable provocateur Jamie Stewart. Reliable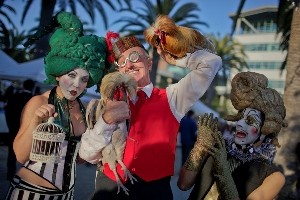 because across a voluble outpouring of releases since the early 2000s, the subject matter of Stewart's songwriting has remained static: personal tragedy, graphic sex, and suicidal ideation. His music and singing are fittingly fraught — harsh feedback and clamorous percussion belie his sniveling whimpers and squeals. On Xiu Xiu's most recent album, Angel Guts: Red Classroom, Stewart's latent industrial influences come to the fore, and he proves to be an adept user of abrasive synth blasts and plodding rhythms. It's an assaultive album, but where Stewart's earlier efforts to abuse listeners could elicit mere annoyance, Angel Guts: Red Classroom is enthralling enough to make them submit. Chicago-based songwriter Haley Fohr (aka Circuit Des Yeux) will open for Xiu Xiu this weekend at
Bottom of the Hill
.
 Last year's remarkable album, Overdue, featured Fohr's husky and expressive vocals with cyclical string arrangements and artful studio mistreatment. Friday, Aug. 1, 8:30 p.m. $12 -$14. 
— Sam Lefebvre


Plus… Get your cheapskate on: This is how much we love you guys: Here are our searchable listings of
every single free event
happening in the East Bay this weekend.
Feed Us: Got any East Bay news, events, video, or miscellany we should know about? Holler at us at
[email protected]