Science
magazine apologized this week to Bay Area Congresswoman Jackie Speier, who had strongly criticized the organization last week for a sexist — and controversial — cover image. 
The cover of the July 11 issue of the magazine featured a group of transgender sex workers, who are also women of color, wearing short, tight dresses, with their heads and faces completely cropped out of the image. The photo ran with a story about HIV/AIDS treatment research in Australia (the headline read "Staying a step ahead of HIV/AIDS").
Last week, Speier sent a letter to the American Association for Advancement in Science AAAS, which was also published on her website, criticizing the magazine's decision to publish the photograph, stressing that the cover plays into the larger issue of sexism in the sciences, which she believes the AAAS has contributed to. AAAS publishes
Science
.
[jump]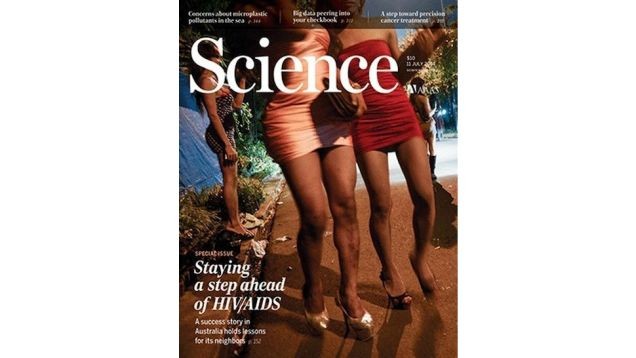 "The use of headless, sexualized women of color on the cover of the most prestigious science publication in the United States sends the message that women and minorities still do not fully belong in the 'boy's club' of sciences," Speier wrote. She also expressed disappointment in Jim Austin, an editor at the magazine, for using "trans panic" as a justification for the cover photo.
Speier also noted the gap in resources between male and female scientists, such as the fact that female scientists receive 37 percent less grant funding. According to a study cited in Speier's letter, 71 percent of women were sexually harassed while conducting field work, and more than 25 percent were sexually assaulted. At the conclusion of her letter, Speier requested that the AAAS reply with a list of steps that the organization would take to combat sexual harassment and inequality in the sciences.
In response, Alan Leshner, CEO and executive publisher of
Science
, apologized this week for the cover image and called it "regrettable." Leshner also stated that that Austin's Twitter responses were "insensitive" and "unauthorized."
Prior to Speier's letter, the magazine also received a slew of criticism via Twitter, particularly from female scientists and professors. Jacquelyn Gill, an ecologist and assistant professor at the University of Maine, tweeted, "When we said we wanted more women in Science this is not what we meant." Astrophysicist Katherine Mack also chimed in with "1) Headless women's bodies on cover: not OK. 2) "Hey but they're trans!": not OK." More tweets were sent by Scientific American blogger Janet Stemwedel and science historian Alice Dreger, among others.
Austin replied to several of these tweets defending the cover, stating that he thought it would be "interesting" to see men's reactions once they found out the women on the cover were transgender after being pulled in by their appearances. One of his later tweets read "Am I the only one who finds moral indignation really boring?"
Editor-in-chief of
Science
Marcia McNutt also issued a statement in which she maintained that the cover was chosen not to offend, but rather to highlight a "forgotten but at-risk group." McNutt also stated that she believed people were offended because they viewed the cover without having context of the actual story, and apologized for "discomfort" caused by the cover.
Correction: The original version of this post erroneously stated that Science magazine had not yet responded to Congresswoman's Speier's letter. The magazine responded earlier this week.