Huzzah, it's (first) Friday! Here are the five best ways for you to spend your time this weekend:
Mirah
Brooklyn-based singer-songwriter Mirah has been making thoughtfully restrained confessional music that straddles the line between folk and pop for more than a decade. On her early work, such as 2000's You Think It's Like This, But Really It's Like This, her voice is light and breathy, accompanied by minimal instrumentation — the total effect is equal parts beautiful and piercing. Since then, she has experimented with more orchestral, brass, and electronic sounds, but lyrically, her music is as direct and affecting as ever. Mirah hasn't released a solo album since 2009, but her 2011 collaborative album with Thao Nguyen (of Thao & the Get Down Stay Down) — which was produced by Merrill Garbus of tUnE-yArDs — was spectacular. She'll perform at 
The New Parish
 on Friday, in advance of the release of her new album,
Changing Light
, which comes out May 13. Friday, March 7. 8 p.m., $12, $15. 
TheNewParish.com
 —
Madeleine Key

Benefest: Subterranean Arthouse's Fifth Anniversary
In December 2008, Nicole Rodriguez and Claire Duplantier were walking down Bancroft Way in Berkeley when they saw an empty storefront. When they peeked through the window, the two artists were instantly flooded with ideas for what the space could be. They walked around the block to brainstorm concepts, and by the time they reached the storefront again, they had decided to open an art and performance space. This week, their interdisciplinary artistic venture 
Subterranean Arthouse
 is celebrating its fifth anniversary.For the party on Saturday celebrations will include musical performances by The Doppler Trio, the Camille Mai Trio, and Dirtwire-Unwired. In addition, Luku Netherthot will perform a Japanese butoh dance, and there will be a silent auction with offerings from local businesses. An exhibit of prints and paintings by Hugh D'Andrade and Daniel Lippincott will also be on display. Saturday, Mar. 8. 6-11 p.m., $20-$100. 
SubterraneanArthouse.org
 —
Zaineb Mohammed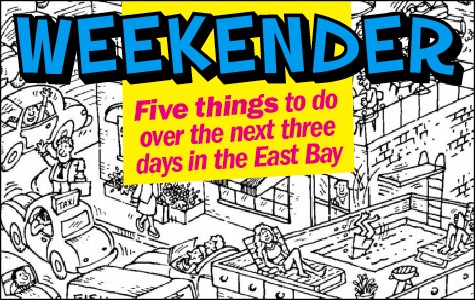 CircoMorph: The Primordial Circus!
A circus show put on by youth may initially conjure images of clowns and silly costumes, but CircoMorph: The Primordial Circus!, the latest production by the Circus Spire Youth Troupe, will challenge those preconceptions. The troupe — which is composed of 25 kids, ranging in age from 11 to 17, who are trained in the pre-professional circus arts — will perform acrobatics, juggling, and "high-level clowning" at the show's premiere on Saturday at the 
Kinetic Arts Center
. The performance will also include aerial acts, such as one in which two kids hang from a single trapeze and another during which seven people will simultaneously perform on two rope ladders. With an emphasis on storytelling through physical theater (think Cirque du Soleil, not Ringling Bros.), the show focuses on the idea that one small change can alter the course of history, so one act will morph into another. Saturdays and Sundays, Mar. 8 – Mar. 30. Sat. 4 p.m. and 8 p.m., Sun. 1 p.m. and 5 p.m.; $20-$50. 
KineticArtsCenter.com
 —
Z.M.

Edible Art Show
Edible East Bay
is a quarterly journal covering the food scene in Alameda and Contra Costa counties. A reception on Sunday at the 
Women's Cancer Resource Center
 marks the opening of the
Edible Art Show
, an exhibition of artists (including Iris Gottlieb, Cristian Guerrero, Wendy Yoshimura, and many more) whose food-themed work has appeared in the journal. Food will be provided by local artisans including Niles Pie, Two Mammas' Vegan Kitchen, Jam On, Brown Dog Mustard Co., and Mollie Rose Baking Company. Sunday, Mar. 9. 1-4 p.m., free. 
EdibleEastBay.com
 —
Anneli Rufus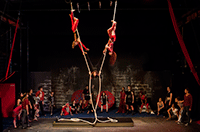 Approaching Zero – At the Frontier of Contemporary Printmaking
One typically thinks of a screen print as a puzzle of distinct, flatly colored shapes. But few of the works in
Approaching Zero – At the Frontier of Contemporary Printmaking
have that texture or aesthetic. The group show, now on view at 
Kala Gallery
, brings together artists from around the world whose compositions push the medium of printmaking to its limits. Included works by Koseki Ono appear simply as color blocks from a distance, but are stunning close-up. By screen-printing tiny dots on a canvas hundreds of times in various colors, he forms a three-dimensional landscape of miniscule rainbow cylinders that form a mesmerizing, multicolored surface. Meanwhile, Miguel A. Aragón uses a unique laser-cut and cardboard technique to create gently burnt renderings that appear to be embossed onto the paper. Appropriating newspaper photos of murders that took place in his hometown of Ciudad Juárez, Mexico, Aragón works to metaphorically manifest their effects on the psyche. Other artists include Stella Ebner, Zarina Hashmi, Walter Jule, and Katsutoshi Yuasa. Through April 5. 
Kala.org
 —
Sarah Burke

Plus… Get your cheapskate on: This is how much we love you guys: Here are our searchable listings of 
every single free event
 happening in the East Bay this weekend.
Feed Us: Got any East Bay news, events, video, or miscellany we should know about? Holler at us at
[email protected]