When Holly Schneider opened an intimate arts space at 3234 Grand Avenue (in the former location of Red Crow Yoga Shala) last September, she didn't foresee hosting nearly as many concerts as she has. Her intention was to create an informal space where artists and community members could experiment, teach, create, collaborate, and, yes, perform. But since 
Studio Grand
 started hosting shows five months ago, more than 120 artists — ranging from jazz vocalists to experimental musicians — have graced its wooden floors, according to Schneider.
Studio Grand is unassuming from the outside, but it receives a lot of foot traffic. For Schneider, accessibility is paramount. She wanted to open an arts space that would benefit and appeal to the entire Grand Lake community, including families and couples walking by after eating dinner who may not have otherwise attended a show. Underground arts spaces are inherently relegated to those who are "in the know" – and that reality is affecting the psychology of artists, she said.
"Artists have said to me, 'Wow, really? We get to play in a space like
this
? It's
classy
! And I'm like, 'What?'"
But hosting shows is never how Studio Grand is going to make its bread and butter, because Schneider is committed to paying artists 70 percent of what she collects at the door and charging what she thinks watching a show is worth (in other words, no less than $10). She's primarily funding Studio Grand by renting out the space to artists and arts groups. A former elementary school arts teacher, Schneider is a lifelong musician and a member of the Bay Area's all-women's bomba ensemble Las Bomberas de la Bahia.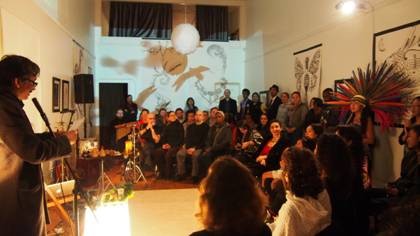 [jump]
"I've been in Oakland since 1999. Although there have been massive changes, there are still so many artists here," she said. "They're luring people here, but they're not driving the economy. There are people who come in who balk at paying $10 for a show with seven performers…. The artists themselves are like, 'Can we charge $5?' And I tell them, 'No, you can't, because you're worth more.'"
Studio Grand also plans to host a poetry series curated by Elizabeth Treadwell of Lark Books every second Saturday of the month. And Schneider has partnered with Random Parts, a new gallery and collective of visual artists on the east side of Lake Merritt, to adorn the studio's large white walls with rotating art exhibits. (When I visited, colorful, abstract mixed-media works by Todd Brown, the owner of Red Poppy Arthouse in San Francisco and a mentor to Schneider, were hanging on the walls.)
Artists can rent out the space (which includes a loft with mirrored walls) for rehearsal, but because Studio Grand shares one of its walls with a restaurant, only dancers and acoustic instruments (no percussion or bass) are permitted during the day. That's also why the shows at Studio Grand are held relatively late – during the week, after 9:30 p.m., and on the weekends, after 10 p.m.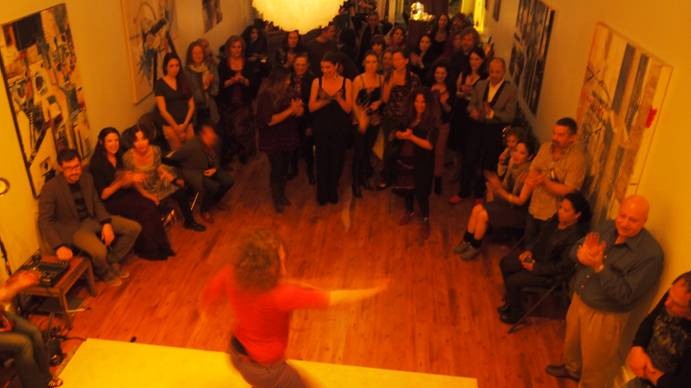 In addition to attracting passersby who might not otherwise come to a show or attend a class, Schneider hopes her programming will also appeal to families. A parent and a resident of the neighborhood herself, she said that there are few family-friendly entertainment options in the area. Studio Grand's "Music Together," an internationally recognized music program for young children and their parents, has been held four mornings per week since it opened. Schneider is also in the process of finalizing plans for a weekly intergenerational jazz jam, which she hopes will attract musicians of all ages. (A children's flamenco class is temporarily on hold.)
Schneider was quick to acknowledge how instrumental volunteers have been in getting Studio Grand off the ground. In addition to performing in Las Bomberas, Schneider is a member of the local experimental music community and has played genres as diverse as punk and classical. Fostering dialogue between what she sees as "increasingly fragmented Oakland communities" is one of her goals.
"I want to bring different music communities together. You go to La Peña for this, you go somewhere else for that, but really, we're all rooted in the same traditions, so why can't we challenge one another and share the same space?"
If the diversity of the concerts at Studio Grand is any indication, she's succeeding.