Michael Parayno, originator of the 
beloved but controversial
 Berkeley venue known as the 
Birdland Jazzista Social Club
, is planning to launch a venture in Oakland, in a commercial area located about three blocks from the MacArthur BART station.
Final plans for the Oakland incarnation of Birdland are still in flux. Parayno, who is enthusiastic about helping to build a new audience for jazz and promoting a sense of community, envisions the 2,700-square-foot venue operating as a multi-use, volunteer-supported space that functions as a cafe and lounge (perhaps outfitted with several rope hammocks for a "napping area"), a social club that offers live music on Friday and Saturday nights for $10 a head, an art gallery and retail space featuring his rustic birdhouses, and a music education program for neighborhood kids. The cafe will keep its drinks on the simple side (don't expect to see a battalion of baristas cranking out lattes) and aims to source its baked goods from locals' home cooking. A Latin jazz series on Sunday afternoons and adult classes in yoga, tango, salsa, and aerobics are additional ideas for the space. Several London cabs and pedicabs will be available to shuttle people back and forth to their cars or the BART station, according to Parayno.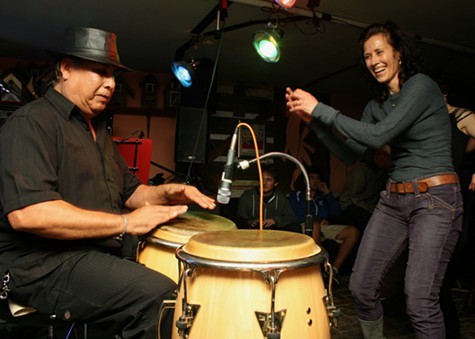 True to the Jazzista Social Club's 
origins as a neighborhood barbecue
 that grew to include live music and dozens of food items from a "
multi culti grill
," Parayno pictures the Oakland space holding a barbecue every Friday and after neighborhood church services. Extolling "the power of social barbecue," Parayno also plans to explore the feasibility of a fundraising effort to pay for free grills for the surrounding community. "I don't know what will happen, but if you give away free barbecue for the next five years, something will happen," he said.
Parayno said he hopes to get the lease signed and building modifications done in time for a soft launch in June and a formal opening in July.
As for the fate of the original Birdland venue, Parayno, who has been fined repeatedly for running the Jazzista events from his garage, said if the City of Berkeley "wants a dialogue, we can do a PG-rated, sanitized house concert version" in the early evenings.