In honor of our pets issue, check out these adorable photos of a toddler napping with his puppy. Once you're done squee-ing, read on for our list of the five best events happening this weekend:
Giraffage
Giraffage, aka San Francisco bedroom producer Charlie Yin, has gained a steady following since he began releasing dreamy sample-based pop music in 2011. Like his contemporaries Ryan Hemsworth and R.L. Grime, Giraffage has a keen ear for incorporating R&B into electronic music: His 2013 mixtape Needs is mellow and sexy, as he alternately speeds up and slows down familiar tracks. On "Close 2 Me," Giraffage samples Cathy Dennis' 1991 song "All Night Long (Touch Me)," transforming a disco hit into a sultry haze (complete with requisite bleeps and bloops, of course). Giraffage performed at last year's Treasure Island Music Festival but otherwise does not often perform locally, so his upcoming show at The New Parish will be a rare treat. 8th Grader, Bobby Peru, and ChadSalty will open the show. Friday, Jan. 31. 9 p.m., $10, $13. TheNewParish.com — Madeleine Key
Magik*Magik Orchestra
Magik*Magik Orchestra collaborates with artists who want to incorporate orchestral elements into their music, be it a single violinist or an entire symphony and choir. This Friday, the "made-to-order orchestra" will celebrate its five-year anniversary with a special show entitled "When We Were Young" at
The Fox Theater
. The thirty-person orchestra will perform alongside some of the most talented bands in the Bay Area, including Nicki Bluhm and the Gramblers, The Dodos, Geographer, Rogue Wave, and Two Gallants, covering some of the bands members' favorite songs from childhood (The Pacific Boychoir will join them for several songs). And if that weren't enough, Michael Morgan, the conductor of the Oakland East Bay Symphony, will also be on hand assisting Minna Choi, the creative force behind Magik*Magik Orchestra. If you love orchestral sounds in pop music, you won't want to miss this show. Friday, Jan. 31. 8 p.m., $29.50-$45.
TheFoxOakland.com
—
M.K.
[jump]
High Water
"These guys sound like no time has passed since Husker Du, The Replacements, and Dinosaur Jr were influential on the alternative-leaning mainstream." That's the accurate assessment by Brooklyn Vegan of San Mateo's High Water, which traffics in Telecaster guitar-driven earnestness and "whiskey-soaked awesomeness" taken straight from the Nineties. Singer Neal Sharma does double duty in the hardcore band Ghostlimb, and one can detect the punk rock aesthetic in some of the driving riffs on High Water's forthcoming, self-titled debut. But these songs are crafted in the traditional sense, with hooky melodies, building dynamics, and prominent lyrics. Sharma's semi-scratchy voice lends yearning and world-weariness to both ballads and upbeat rockers. In an era of increasingly louder, heavier, and more produced music, the band's stripped-down approach feels especially welcome. See High Water this week at 924 Gilman, with Anne, Loma Prieta, and Dangers. Friday, Jan. 31. 7:30 p.m., $10. 924Gilman.org — Kathleen Richards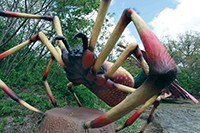 courtesy of Dinosaurs Unearthed
Xtreme Bugs
Often thought of as creepy, crawly creatures that serve no purpose other than grossing people out, insects tend to be underappreciated. However, a new exhibit at the
Lawrence of Hall Science
,
Xtreme Bugs
, highlights the powerful role insects play in our lives through their impact on food production, medicine, and the environment. Viewers can see insects' anatomy from a new angle by checking out the giant, mechanical bug replicas and then can watch some live critters — including an emperor scorpion, a tarantula, and a giant Madagascar hissing cockroach — in action. On Saturday, opening day, entomology researchers will be on hand to explain their work and share startling facts about insects (for example, one out of every three bites of food we eat is the result of bee pollination). In addition to the educational component, participants can race cockroaches through mazes, try on a robotic scorpion tail, and try to follow an ant trail using only their noses. Through September 1. Opening reception on Saturday, Feb. 1. 10 a.m.-5 p.m., $12 fro adults, $9 for students and seniors, $6 for children, and free for members.
LawrenceHallofScience.org
—
Zaineb Mohammed
Martha Graham Dance Company
Cal Performances will bring a century of dance full circle this weekend when it presents the Martha Graham Dance Company, whose namesake performed at the Greek Theatre in 1916 with the pioneering Denishawn Dancers. She went on to eclipse her mentors, and everyone else, with seminal works like "Appalachian Spring" (1944), with its Pulitzer Prize-winning score by Aaron Copland, and "Cave of the Heart" (1946), a retelling of the Medea legend set to music by Samuel Barber. Graham passed away in 1991, but her company carries on and will revive those two works at Zellerbach Hall, along with her final creation, the "Maple Leaf Rag" (1990), with its score by Scott Joplin. The evening may sound nostalgic, but these works are as fresh as ever, and they reveal the origins of today's contemporary dance. Gain insight into Graham's work at a pre-performance talk by Marni Thomas Wood, a former Graham dancer and co-founder of Cal's dance department, on Friday at 6 p.m. in the Durham Studio Theater, across from Dwinelle Annex. Friday and Saturday, Jan. 31-Feb. 1. 8p.m., $30-$92. CalPerformances.org — Claudia Bauer
Plus… Get your cheapskate on: This is how much we love you guys: Here are our searchable listings of every single free event happening in the East Bay this weekend.
Feed Us: Got any East Bay news, events, video, or miscellany we should know about? Holler at us at [email protected]