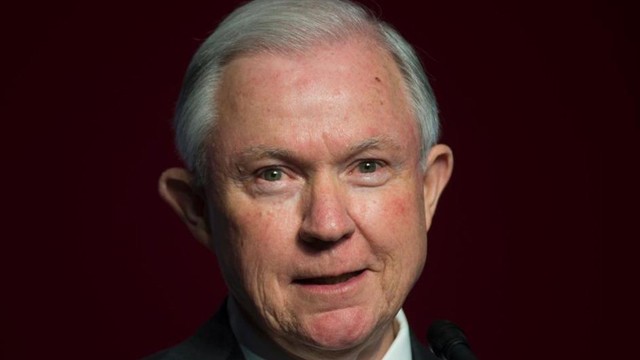 Stories you shouldn't miss for March 7, 2018:
1. The Trump Justice Department
sued the state of California in an attempt to overturn three sanctuary laws
enacted last year, alleging that they unlawfully interfere with federal efforts on immigration, the
San Francisco Chronicle
reports. Legal experts, however, expressed skepticism about the DOJ's lawsuit, noting that previous court decisions have ruled that states are not required under the constitution to enforce federal immigration laws.
2. While announcing the DOJ's lawsuit against California, Attorney General Jeff Sessions also
singled out Oakland Mayor Libby Schaaf
, blasting her decision last month to warn people about impending immigration sweeps and alleging that she put law enforcement officers in danger. In a statement on Tuesday, Schaaf condemned the Trump administration's approach to immigration enforcement. "This administration has tried to portray all immigrants as villains. We know that is a racist lie, and we will shed light on that myth every day."
3. Architect KTGY has submitted a proposal
to build a 267-unit apartment building in Oakland's red-hot Uptown district
, reports Roland Li of the
San Francisco Business Times
$. The project, which includes affordable housing, would be built at 50 Grand Ave.
4. Oakland-based Signature Development Group i
s proposing to construct 100,000 square feet of office and retail at 465 25th St. in Uptown as well
, reports Blanca Torres of the
San Francisco Business Times
$. Signature has built numerous housing and commercial projects in Oakland over the years, including the Hive.
5. The percentage of
carpool decals issued for clean autos in California soared by 35 percent last year
, increasing to 302,453 from 223,651, reports Gary Richards of the
Mercury News
$. But the rapid expansion of green cars in the state is choking HOV lanes.
6. A San Francisco judge ruled that "
California elections officials must notify voters before rejecting their mail-in ballots over concerns that the signature is not authentic
," reports Billy Kobin of the
Sacramento Bee
$. "Current California election law allows officials to toss out vote-by-mail ballots if they suspect the signature on the envelope does not match the signature on file for the voter, without giving the voter a chance to respond."
7. The
stock market plunged this morning in the wake of the resignation of President Trump's top economic advisor, Gary Cohn,
who quit over the White House's plans to launch trade wars against steel and aluminum producing countries, the
Washington Post
$ reports.
8. And porn star Stormy Daniels
sued President Trump
alleging that a 2016 legal settlement concerning their months-long affair 10 years earlier is invalid because he failed to sign it,
The New York Times
$ reports.
$ = news stories that may require payment to read.