Stories you shouldn't miss:
1. A group of Muslim Americans who were picnicking near Lake Chabot were attacked by an angry woman
who hurled racist and religious slurs at them before throwing coffee in the face of one of the picnickers
, the Bay Area News Group$ reports. Part of the attack was captured on video, and in it, the woman attacker screams at the group, "You are very deceived by Satan." The East Bay Regional Park District police are investigating the attack.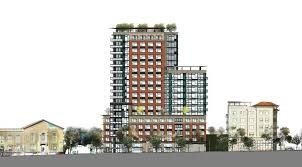 2. The Berkeley City Council
approved an eighteen-story housing tower for the city's downtown late last night
, the Bay Area News Group$ reports. The mixed-use project, known as 211 Harold Way, will include 302 market-rate apartments and about 10,900 square feet of ground-floor commercial space. The developer will pay the city $17 million in community benefits, plus another $6 million in fees to the city's affordable housing fund. The project also will include the refurbishment of the Shattuck Cinemas.
3. The San Francisco Board of Supervisors
gave the final greenlight to the Golden State Warriors' plans to build a new arena on the city's waterfront
, the
Chron
reports. Opponents of the project, however, plan to file suit to block it, contending that it will cause a traffic nightmare for UCSF Medical Center.
[jump] 4. The season's
first major storm is expected to bring heavy rains and high winds
into the Bay Area early tomorrow, along with thunderstorms and perhaps even hail, the
Chron
reports.
5. FEMA officials warn that El Niño storms in California this winter could cause
huge amounts of damage, including widespread flooding and mudslides
, the
Chron
reports.
6. In an attempt to prevent another mass die off of salmon in the Sacramento River, California water officials
plan to keep more water in Shasta Lake next year,
the
SacBee
$ reports. As the
Express
reported last week, Chinook salmon have experienced t
wo mass die offs in a row because water officials have failed to maintain enough cold water in the lake
and have instead shipped it to Central Valley farmers.
7. California members of Congress, including Barbara Lee of Oakland,
are urging state regulators to not penalize homeowners who have installed rooftop solar
, the
LA Times
$ reports. State regulators are considering a request by PG&E to raise prices by up to 20 percent for homeowners with rooftop solar, because the utility maintains that solar users don't pay their fair share for the electrical grid.
8. And federal Judge Thelton Henderson
capped the total criminal penalty that PG&E must pay for the deadly San Bruno pipeline disaster at $562 million
, the
Chron
$ reports. Henderson said that US Supreme Court precedent prevented him from granting a request by prosecutors to seek a fine of up to $1.1 billion against the utility.