Stories you shouldn't miss: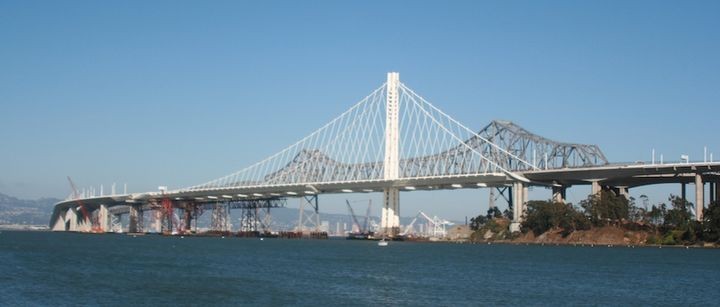 1. Salty bay water, which is highly corrosive,
apparently is seeping into the signature tower
of the new $6.4 billion Bay Bridge, thereby deepening concerns that the high-tension steel rods inside the tower will rust, crack, and then fail during an earthquake, the
Chron
reports. Caltrans had contended that the water accumulating inside the tower was likely from rain, but new tests reveal that the water has a chloride content 50 percent higher than rainwater.
2. Despite the record drought, Californians are acting as if there is no water shortage. In March, state residents u
sed just 3.6 percent less water than the previous year
, raising serious questions as to whether California can meet the new 25 percent water-reduction mandate, the
LA Times
$ reports. State water officials gave final approval to the 25-percent cutback yesterday. Since last summer, Californians have slashed their water use by only 8.6 percent.
[jump]
3. Affordable housing activists
shut down the Oakland City Council meeting last night
in protest of the planned sale of public land near Lake Merritt to a private developer who wants to build a luxury apartment tower, the
Chron
reports. The council canceled last night's meeting and will reschedule the vote on the East 12th Street property.
4. Plans by the Oakland A's to move to the South Bay
suffered another legal blow
when a judge ruled that the City of San Jose violated city law when it agreed to sell land to the A's for a new ballpark, the
Mercury News
$ reports. Judge Joseph Huber ruled that the city was required to take the land sale to voters first.
5. A series of small earthquakes
struck the Concord-Walnut Creek area this morning for the third time in four days
, the Chron reports. The quakes centered along the Concord-Green Valley Fault today and on Monday and Sunday.
6. The drought has
killed at least 12.5 million trees
in the state's national forests, the
LA Times
$ reports, citing a new aerial study from the US Forest Service.
7. And the East Bay Regional Park District is set to a launch a $12 million project to create a
new park that will include a rare camping area along San Francisco Bay
, the Bay Area News Group$ reports. The new park is being created at the old Dumbarton Quarry in Fremont.