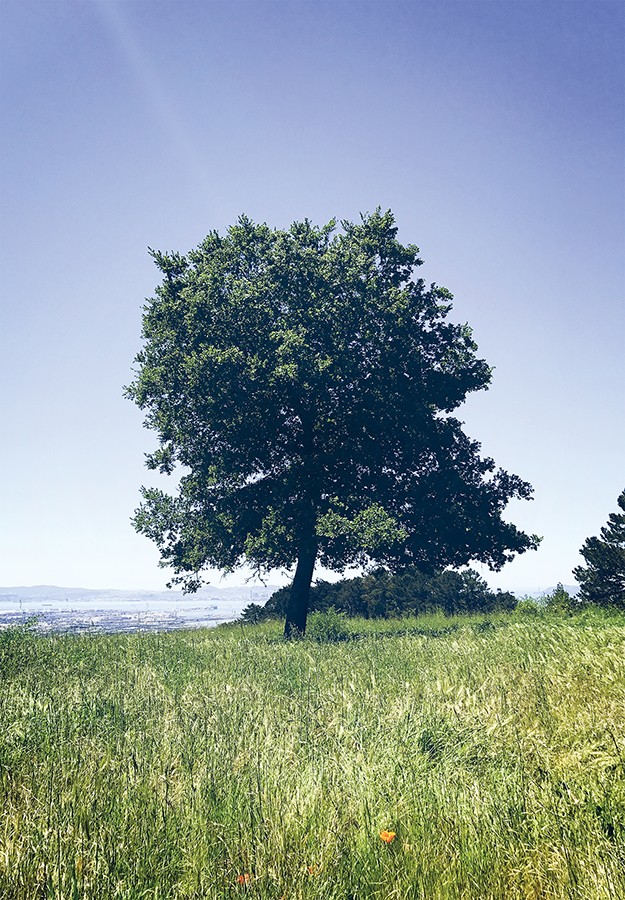 Even before the movement to remove Confederate structures gained momentum in the South, monuments have stirred controversy for what they show — or don't show. They've been used to mark significant moments in history or to declare our ideals, but too often they are imperfect renderings of the past, or worse, distortions of the truth. Whose history and values are portrayed, and whom do they alienate?
In discussing this week's feature story about racist monuments and sites in the East Bay, the editorial staff at the Express pondered the question: What monuments or statues would we rather see?
Various local historical figures and events came up, but nothing emerged as an obvious choice. So, we asked readers on Facebook for their ideas, and their responses included monuments to Julia Morgan, Gertrude Stein, Fred Korematsu, Huey Newton, MC Hammer, Rickey Henderson, and those responsible for the East Bay Regional Park District, among others. All of those people made important contributions in their own way, but how would we narrow it down? What would our criteria be?
The problem with erecting monuments to people is that humans are fundamentally flawed, and to create a monument to a particular figure would mean holding them up to some standard of perfection, and even the most celebrated icons have contradictions and inconsistencies that don't justify hero worship — or at least make it awkward.
Personally, I've encountered few (if any) monuments that gave me pause. But one need only watch the documentary Maya Lin: A Strong Clear Vision to understand that memorials, when done thoughtfully, have enormous potential to transcend boundaries and promote empathy, understanding, and peace.
Perhaps we need to rethink our relationship to monuments. People are not perfect, and neither is history, so it would make sense that our monuments reflect this fact. This is not to say that we should keep monuments that celebrate racism, but there is a way to have monuments that recognize parts of history that were painful and troubling — particularly those times that we have paved over — without "celebrating" them or pretending they were something they were not. It's possible to honor history while not idealizing or washing over the more nuanced, far messier truths. And, more importantly, we can use monuments to inspire meaningful conversation so that we can come together, learn from our mistakes, heal, and move forward.
Three years ago, Betty Reid Soskin, the 95-year-old ranger at the Rosie the Riveter/World War II Home Front National Historical Park in Richmond and one of the most visible African-American park rangers in the country, discovered a piece of long-lost East Bay history — a tragic dormitory fire in 1944 that claimed the lives of eight African-American shipyard workers. In February 2016, Reid Soskin proposed to the Richmond City Council to erect a monument to memorialize not only their deaths, but also the estimated 37,600 men and women who died on US soil while working on the home front during World War II.
"Finally, a chance to have black men honored — not as noted athletes, entertainers, but as the faithful laborers who answered their country's call to service on the Home Front, much as they have done since being freed from slavery by the Emancipation Proclamation," Reid Soskin wrote on her blog.
"This is something that is in some ways a new endeavor for the city of Richmond," explained Christopher Whitmore, director of policy and strategy for Mayor Tom Butt. "This story is so important to our city's history, it's important to our nation's history, and we certainly believe that the city of Richmond is becoming more and more of a hub for the nation's home front history. Our ambition for representing Dormitory O and representing all the men and women who lost their lives working on the home front is to really create a monument that is unique and in some ways incomparable to some of the other displays we have in our city." Whitmore says the sculptor Mario Chiodo will lead the project, which is still in its early stages.
Another effort to remember a painful chapter in history is the monuments to "comfort women" — the hundreds of thousands of women from primarily Korea, China, and the Philippines who were forced into sexual slavery by the Japanese military during World War II. Those opposing the memorials are not unlike Holocaust deniers, hoping to erase this horrific chapter from our collective consciousness. In Glendale, Calif., one such memorial — of a little girl sitting next to an empty chair — resulted in a three-year legal battle by those who claim to be defending "the honor of Japan." In April, the U.S. Supreme Court declined to review the case. Meanwhile, the effort carries on. On Sept. 22, a comfort women memorial will be unveiled in San Francisco's St. Mary's Square Park extension, and organizers expect the Japanese government to protest it.
But if we are truly to remember our forgotten history, perhaps it is most appropriate that we plant trees instead.
Think that's a stretch?
The 2013 book Trees in Paradise by Jared Farmer recounts how California's history was shaped by trees — and three in particular: redwoods, eucalyptus, and citrus. In the years after the Gold Rush, white settlers decimated the natural landscape (including clear-cutting all the old-growth redwoods in the Oakland hills) and remade it by planting non-native species such as eucalyptus and citrus. Trees provided infrastructure, powered the economy, and helped the new residents define their image of themselves. Oakland itself was named after the trees that once thrived here, but that fact is largely forgotten.
A couple years ago, Walter J. Hood decided he wanted to change that. A professor of landscape architecture and environmental planning and urban design at UC Berkeley, he came up with a project to help his students think of ways to become activists beyond protests. At the time, he had been thinking about the history of Oakland and its long-forgotten namesake trees. "Most people don't think about it," he said. Not only are oak trees part of the city's history, but trees are also "a metaphor for life — this notion that we can all be in nature and see each other equally," he said. So, Hood had his students take care of oak saplings. And at the end of the semester, he passed them on to students at Prescott Elementary School in West Oakland, where they are now part of the school's garden. His long-term goal is to disperse them in the community in order to "re-oak" Oakland, particularly in the parts of the city that need trees the most.
Through his work, Hood tries to get people to recognize where they live. "Because when you recognize that, you can act," he said. Trees help root us to a place and to ourselves.
But in Oakland — as in many parts of the world — trees are inequitably distributed. And often, this inequity falls along racial and class lines. Yes, we have vast open spaces in the East Bay hills, but they are overwhelmingly near mostly white, affluent residents, who also tend to use them the most. They also receive the most benefits from them.
Hundreds of studies have been conducted on the health effects of nature. That's why Dr. Nooshin Razani, a pediatrician at UCSF Benioff Children's Hospital Oakland, runs a program (in collaboration with the East Bay Regional Park District) taking her patients and their families on park outings once a month. Razani says the rampant rise in chronic illness — particularly among low-income kids of color — correlates with children spending less time outside. "Disparities in access and use of outdoor areas are similar to the disparities we see in health outcomes," she said. A 2014 report by the Alameda County Public Health Department noted that, for Oakland residents, depending on your race and the ZIP code you live in, there can be as much as a 15-year difference in lifespan.
It is not a stretch to say that poor health outcomes can be tied to a lack of access to trees. Trees have been shown to lower blood pressure and stress levels and help alleviate depression and anxiety. Stress is one of the factors contributing to poor health. And one major source of stress? Racism.
So, could trees help heal us from the effects of racism?
"You could think of nature as improving some of the consequences of racism," said Razani. "Because racism has clear biological and health impacts, it contributes to the stress load — and stress load contributes to cardiovascular disease, asthma, and diabetes. In our work at Children's Hospital Oakland, we are interested in thinking about nature as a tool of resiliency. And resiliency is really thinking about how to cope with stress. So, I think if we are able to ensure that spaces with trees are safe spaces and they are inclusive of all children and their families, then they absolutely have the potential to mitigate the effects of racism."
In almost every culture there is a concept of a mythical tree. "The veneration of great plants is one of our oldest spiritual impulses," Farmer noted in his book. So, in a way, trees are our oldest monuments. Perhaps it's time that we remember that.