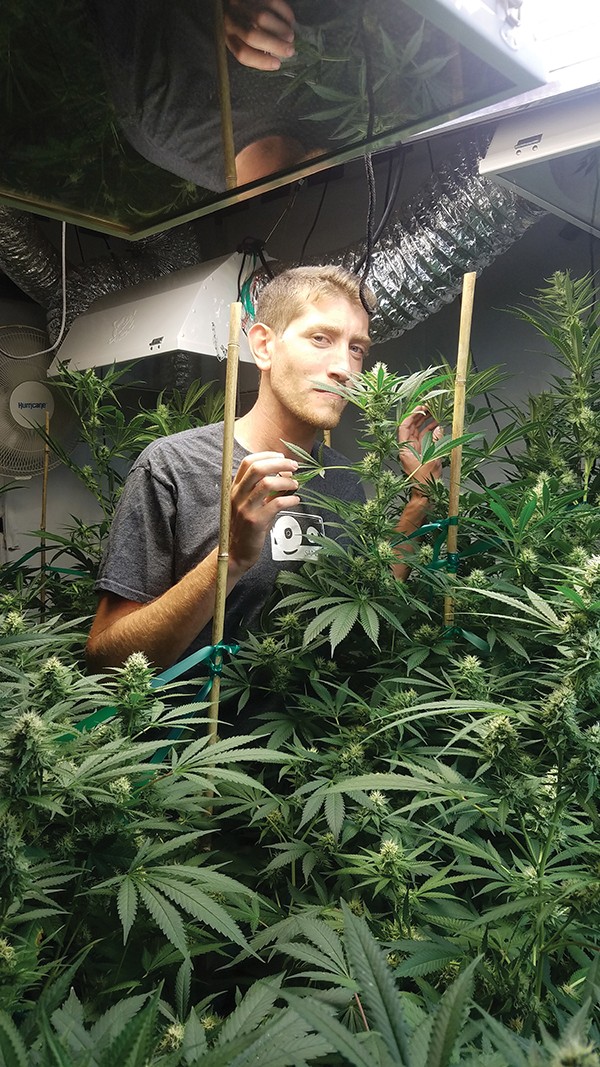 As California's newly legalized cannabis market gears up for its January launch, pot farmers are looking for ways to meet new safety standards for their harvests. And in the rush to employ safe farming practices that result in high-quality yields, one California grower has adapted the farming philosophy of Masanobu Fukuoka, an iconoclastic Japanese farmer who bucked the chemical-based farming practices of the early 20th century, and has been producing top-quality cannabis that requires no pesticides, fungicides, or chemical fertilizers and naturally repels molds and insects.
Joseph Snow, who grows at an undisclosed Bay Area location, is still in the experimental phase but has nonetheless been growing small, indoor crops of cannabis that have been passing laboratory tests with no sign of pesticides and impressively low levels of molds and fungi. Moreover, Snow's grows have been producing average-size yields of highly potent cannabis.
During a chat last week, the 28-year-old Snow folded his 6-foot-5-inch frame into a chair at Au Coquelet Cafe & Restaurant in Berkeley. He was born in New York but was mostly raised and educated in Israel. And when he talks about the principles of growing cannabis, he becomes quite passionate. "I'm not in this for a hippie-dippy notion of growing organic plants," said Snow. "That is the goal, of course, but I'm really in it for the science."
Earlier this month, the California Bureau of Cannabis Control released a nearly 500-page tome of proposed regulations that will set standards for everything from licensing for growers and dispensaries to acceptable noise levels for outdoor growing activities. Under this extensive oversight, each individual cannabis plant will be "tracked and traced" from "seed to sale" with particular attention paid to the presence of contamination levels on plants bound for the marketplace. Using sophisticated testing methods, state-certified laboratories will test cannabis products to ensure they meet minimum levels of pesticides, solvents, fungus, and mold.
This testing took on some urgency recently after Anresco Laboratories conducted tests on all of the cannabis featured at the HempCon Festival held in San Francisco in August. The San Francisco-based laboratory discovered that 80 percent of the cannabis at the festival was contaminated with unhealthy levels of solvents, pesticides, molds, fungus, or various bacteria.
In addition, research data compiled by Integral Ecology Research Center show that Humboldt, Mendocino, and Kern counties have elevated levels of chemicals often used in banned pesticides. Chemicals such as carbofuran, diazinon, and zinc phosphide, all of which are dangerous to human health, have been found in creeks and rivers that feed into sources of drinking water. Perhaps most alarming, earlier this year a California man undergoing cancer treatment at UC Davis died from a lung infection that doctors believe was caused my ingesting marijuana tainted with fungus.
Kyle Borland, a cannabis spokesperson with Anresco Laboratories, said they applied the state of Oregon's official standards when testing the HempCon cannabis. "Admittedly, the man who died had a weak immune system from his cancer treatment, but we took a strict approach to testing the HempCon cannabis, because we want to be assured that medically compromised users will not be at risk," Borland said. "We ran tests on the HempCon cannabis twice, and the vast majority of it would not have been allowed into the Oregon marketplace."
Snow is one of many California growers who is applying reliable methods to grow top-quality cannabis that's safe for the newly legal marketplace. But Snow's methodology is largely unknown in the state. And despite facing a host of doubters, he's had a great deal of success and has a stack of test results from Pure Analytics Laboratory in Santa Rosa that shows he's on the right track. Snow said his techniques can be easily adopted by growers who want to produce cannabis that is essentially organic: free from chemical contaminants. "That's really the goal," Snow said. "Growing outdoors will produce even better and safer product."
Snow based his growing theory on Masanobu's book, One-Straw Revolution, which has inspired a natural-farming philosophy internationally. Masanobu's theories have been successfully applied to growing fruits and vegetables, but they have not been widely applied to cannabis cultivation. "There is very little information about Masanobu's theories in relation to cannabis growth," Snow said. "That's why this method is so revolutionary."
The principles are basic: a good environment in terms of healthy, chemical-free soil is required, good lighting (outdoors is best), moderate temperature control, and lots of worms. "A good combination of red worms and European night crawlers in the mulch seems to work best," said Snow, adding that his mulch is simple as well: rice straw and untreated plant material from previous grows.
"Hard work and careful attention to the plants is mandatory, but if those simple things are provided for the plant, it will naturally produce healthy amounts of resin and terpenes, which effectively protect the plant from mold and fungi," Snow said. "It's the growers who neglect their plants that find themselves in trouble that have to spray their crops with dangerous amounts of chemical herbicides and pesticides."
Snow's methodology sounds very similar to biodynamics, an organic method that dates back to the 1920s. Snow said his theory, which he calls "Natural Farming," is within the rubric of biodynamics, except his practices are greatly simplified. For example, Snow does not compost his soil or use any nutrients as some biodynamic methods call for. And Snow avoids any practices that call for celestial calendars or moon charts, which are common in biodynamics. "I pare down everything to its most simple," Snow said. "I want to remove anything that is unnecessary and still grow top-quality crops."
Reggi Gaudino, vice president of scientific operations at Steep Hill Labs in Berkeley, said good test results for chemicals and mold are not unusual with small grows, but with larger grows, it's much tougher to achieve good outcomes. "Once you scale up, it becomes harder to avoid microbe contamination," Gaudino said.
Snow agreed that larger grows require more work but said it is possible to grow high-quality plants with virtually no pesticides or other chemicals provided the grower does not get greedy and hires the people needed to properly care for the plants and their environment.
"There have been a lot of people who doubt the methodology I'm using, but they produce excellent results, and I'm happy to show it to anyone whose interested," Snow said.
Snow said he is unsure when he will move his farm outdoors, though he's looking forward to growing with sunlight. "It will take longer to harvest, but the best place to grow is the most natural place and that means outside."