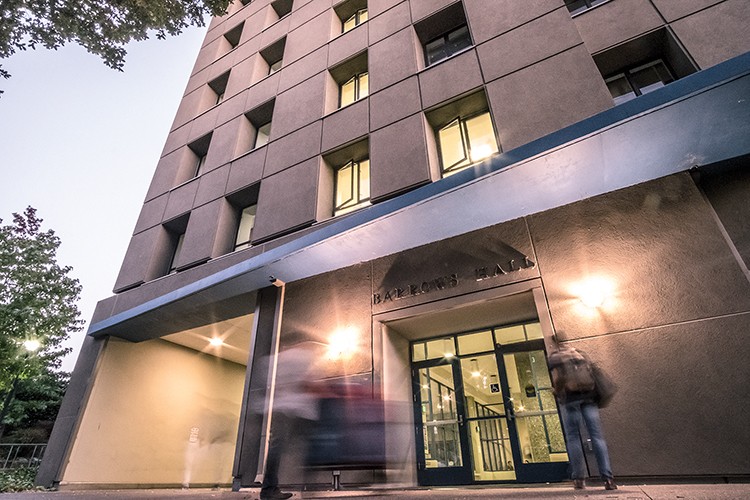 A UC Berkeley ethnic studies building might be the last place you would expect to be named after a colonialist. But due to pressure from student activists, UC Berkeley is reevaluating the name of Barrows Hall, along with the names of many of its other buildings. Barrows is named after ex-university president David Prescott Barrows, who led the school in the early 20th century. The hall currently houses the Asian American and African American studies departments.
But it isn't Barrows' tenure as university president that's drawing accusations of racism and imperialism: It's his writings and work in the Philippines. Barrows was instrumental in setting up education programs on the Pacific island in the early 1900s. These colonial programs were implemented after the Philippine-American War, which was part of the Filipino struggle for independence from foreign rule. An estimated 200,000 Filipinos died in the war. And Cal student activists have scrutinized the colonial education programs of the time, along with Barrows' writings, some of which were racist. "The university president should not be honored in that way, and that building should not be named after him," said Anthony Williams, a former Cal student.
In 2016, Williams and then-UC Berkeley student Bradley Afroilan grabbed the attention of local media by hanging up posters of African-American and Filipino political figures on the walls of Barrows Hall. They also posted a quote from Barrows' writing in big black letters that read, "The White, or European, race is, above all others, the great historical race." The students posted the quote — which came from Barrows' book A History of the Philippines — above a bust of the former UC president.
Under Barrows' administration, indigenous languages in Filipino schools were replaced by English, according to Michael Hawkins, a professor of history at Creighton University who has written extensively about Barrows and the Philippines. That action is considered racist and chauvinist by current standards. But Hawkins said it was viewed as a progressive idea at the time. When Spain controlled the Philippines, it didn't allow Filipinos to learn Spanish, which excluded them from political conversations in their own country. "David Barrows, by advocating English-only, was in some ways transgressing a cardinal rule of empire by allowing, right off the bat, the colonized to participate in the discourse and language of the colonizer," said Hawkins.
But Afroilan and Williams do not see things that way. Not only did Barrows make Filipino students learn English, he also called Filipino people "backwards" and "savages" in his writings, noted Afroilan. "Indigenous Filipinos weren't backwards. It's just that the standard of living was different," said Afroilan, who now lives in Washington, D.C. Afroilan was born in the United States, but his parents are from the Philippines.
Joi Barrios-Leblanc, a lecturer at UC Berkeley who teaches Tagalog and Philippine literature, sees the activism surrounding Barrows Hall as part of a psychological process she calls "decolonization."
"The renaming of Barrows Hall can be considered a part of the rectification of the Philippine-American War and the colonization of the Philippines," said Barrios-Leblanc.
Though Afroilan and Williams are no longer at UC Berkeley, effects of their activism are still being felt on campus. The investigation of Barrows Hall, as well as other building names on campus, is ongoing, according to Dan Mogulof, assistant vice chancellor of public affairs. Mogulof, however, gave no indication of when — or if — any building name changes would take place.
Some students have also pushed to rename Le Conte Hall. It's named after John Le Conte, another former president of the university, who, along with his brother, Joseph Le Conte, were slave holders and helped manufacture munitions for the Confederacy before they moved west.
To date, the campus administration has refused to take sides on the renaming issue. "The campus has a long, rich history and, as with any history, there are multi-faceted considerations to every issue," Mogulof said in an email to the Express. "The campus is looking to our values and principles as a community to help guide us to a decision about our next steps, which will be taken with a vast array of feedback from campus constituents."