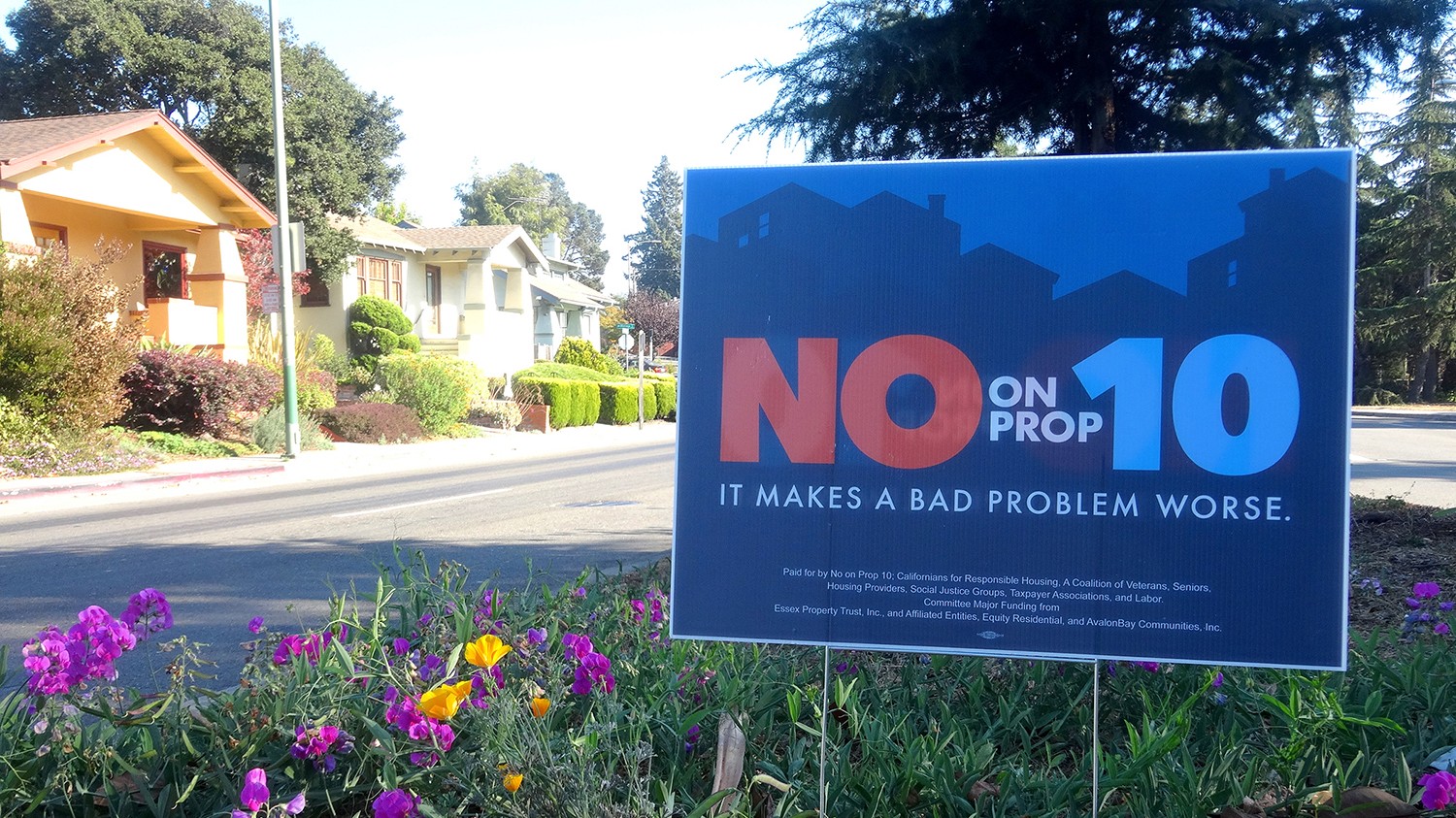 California's landlords have already raised more than $70 million to campaign against Proposition 10, an initiative on the Nov. 6 ballot that would repeal the state Costa-Hawkins Act and thereby restore cities' authority to enact stronger rent control laws. But the stakes aren't equally high for all landlords. Some are contributing much more money against Prop. 10 than others.

In fact, a few Wall Street-backed real estate corporations are the biggest opponents of Prop. 10, campaign finance records show. These same companies also happen to own hundreds of millions of dollars' worth of real estate in Berkeley and Oakland — two cities where strengthened rent control would immediately take effect if Prop. 10 passes.
One example is the Gaia building, just a few blocks from the UC Berkeley campus. Because it was built in the year 2000, the Gaia isn't subject to Berkeley's rent stabilization ordinance, one of the strongest in the state. Only buildings constructed before 1980 are rent controlled in Berkeley because the Costa-Hawkins Act locked in that date as the cutoff for "new construction." (For most of the rest of the state, rent control can't be applied to "new" housing built after 1995; in Oakland, it's 1983.)
In 2007, Equity Residential, one of the largest landlords in the United States, purchased the Gaia. The building is a moneymaker in a very tight real estate market, and Equity can charge as much rent as the market will bear. Right now, that means a one-bedroom apartment in the Gaia goes for $2,161 per month.
But if Prop. 10 passes, along with Berkeley's Measure Q, the Gaia will end up being covered by rent control, starting in 2021. That's because Measure Q would update Berkeley's rent control law to define new construction as anything built in the past 20 years. On the 21st year, the building comes under rent control.
According to Equity Residential, the Gaia is currently worth $33 million. It's part of the company's vast portfolio of housing that includes another seven buildings in Berkeley that contain 414 apartments.
Some of these other Berkeley properties owned by Equity Residential would become immediately subject to rent control if Prop. 10 and Measure Q pass. This includes the 56-unit Berkeleyan on Oxford Street and the Renaissance Villas on University Avenue, both built in 1998. Two-bedroom apartments in each rent for roughly $2,600 right now.
As of last Friday, Equity Residential had already given $3.725 million to the main committee opposing Prop. 10, making the company the third largest contributor.
Equity Residential officials didn't respond to a request for comment for this report, but the company obviously has a big stake in the East Bay's housing market and the current laws that prevent its buildings from being regulated by rent control. In fact, Equity Residential described rent control in its annual report to shareholders as one of the major "risks" that could reduce its profits.
"[R]ent control or rent stabilization laws and other regulatory restrictions may limit our ability to increase rents and pass through new or increased operating costs to our tenants," the company told shareholders in its 2017 annual report. It specifically cited two Bay Area cities, Richmond and Mountain View, which approved rent stabilization laws in 2016 as causes for concern. "Such laws and regulations limit our ability to charge market rents, increase rents, evict tenants or recover increases in our operating expenses and could make it more difficult for us to dispose of properties in certain circumstances," the company's executives explained in the report.
Paola Laverde, vice-chair of Berkeley's Rent Stabilization Board, said the millions of dollars that companies like Equity Residential are spending to defeat Prop. 10 represent a tiny fraction of the profits they've made in cities like Berkeley thanks to Costa-Hawkins. "Right now if you're living in that Gaia building and your lease is up, the law says they can increase your rent by whatever amount," said Laverde. "They don't want that golden-egg-laying goose going on a diet."
The other top contributors to the "No on 10" campaign also own East Bay real estate that would be immediately impacted if Costa-Hawkins were repealed.
Invitation Homes, for example, is one of the newer breed of corporate landlords that owns thousands of single-family homes as rental properties. Many were purchased during the foreclosure crisis at a fraction of their current value, said Carroll Fife, executive director of Oakland's ACCE chapter, a tenants' rights group.
"They bought up a bunch of homes in East Oakland," Fife said. "They're all painted the same color. You know the properties when you see them."
Some ACCE members actually live in properties owned by Invitation Homes, said Fife, and they've become volunteers in the campaign for Prop. 10 after receiving large rent increases.
Invitation Homes, which is owned by the Wall Street private equity firm Blackstone, can increase rents on its portfolio of rental homes by whatever amount it wants because Costa-Hawkins bans rent control on single-family homes. But if Prop. 10 passes, it's possible that many single-family homes in Oakland being rented out right now would suddenly be covered by rent control. That's because the city's rent adjustment ordinance doesn't specifically exempt single-family homes from Oakland's law. Instead, it states that any housing exempted by Costa-Hawkins is also exempted from Oakland's local rent control law.
Invitation Homes and Blackstone have contributed $1.8 million to the main campaign committee opposing Prop. 10, which calls themselves, "Californians for Responsible Housing," and another $5 million to a second committee also Prop. 10 (in all, there seven campaign committees opposing Prop. 10). In response to questions about how Prop. 10 would impact their business, Invitation Homes officials emailed the Express stating that "rent control dampens new housing starts and investment in existing housing," and that "we agree with the experts that Prop 10 is the wrong answer for California's continuing housing shortage." Invitation Homes added that it has invested $2 billion in renovations to the homes it has purchased.
Avalon Bay is another corporate giant that's funding the campaign against Prop. 10. Among its vast holdings are 10,325 apartments in Northern California and 13,330 in Southern California. Some of the company's properties are located in rent control jurisdictions, including "The Avalon" on Addison Street. Built in 2011, The Avalon wouldn't be covered by rent control if Proposition 10 and Measure Q are approved until 2031. But Avalon Bay owns numerous older properties in other cities that have recently considered enacting rent control, and one city, Mountain View, where voters did approve a new ordinance.
"In 2016 in Mountain View, California, the voters passed a referendum that limits rent increases on existing tenants (but not on new move-ins) in communities built before 1995," the company's executives wrote in their most recent annual report. "We have three communities with a total of 946 apartment homes that are subject to the new law."
Avalon Bay has contributed just over $3 million to the main No on 10 committee. When asked how the repeal of Costa-Hawkins and possible new rent control laws might affect their profits, the company referred the Express to Steven Maviglio, a political consultant running the No on 10 campaign.
"You're asking a question that's impossible to answer because Prop. 10 allows rent control (and expansion of rent control) as a blank check to special interest groups in these communities to put whatever form of rent controls on the ballot that they want," Maviglio wrote in an email. "No one knows how many nor what type of controls would be in place, nor the provisions in them, so it's impossible to do the cost analysis you requested."
Other large corporate landlords, like The Irvine Company in Southern California, have also been pumping millions into the California Republican Party, which, in turn, is also campaigning against Prop. 10. The Irvine Company has donated at least $2.7 million to the California GOP this year.
"Frankly I don't understand the amount of money that has been spent by these corporations given that massive windfall profits have been already provided to property owners over the last number of years," said Igor Tregub, a member of Berkeley's rent board who is supporting Prop. 10.
Tregub, who is also running for the Berkeley City Council District 1 seat, explained that companies like Avalon Bay, Equity Residential, and Invitation Homes have been able to make incredible profits in California's real estate because of Costa-Hawkins' ban on vacancy control. "There is a lot of big money at stake it seems, and that's probably the reason so much money has been spent against Prop 10," he said. Vacancy control allows cities to limit landlords' ability to raise rents on vacant units.
To understand the sums of money at stake in the rent control debate, Tregub referred to a 2010 study conducted by the Berkeley Rent Board that found dramatic increases in rental prices throughout the city, even on units covered by the rent control ordinance, following the enactment of Costa-Hawkins' vacancy decontrol provision in 1999. In essence, the sheer number of tenants moving out of rental units in Berkeley each year allowed landlords to periodically bring rents on hundreds of apartments up to the market rate. According to the rent board, there have been an extra $100 million in annual rent increases in the city thanks to Costa-Hawkins' ban on vacancy control.
At the same time, because landlords could charge more in rent, their buildings were now worth much more. This resulted in increased taxes collected by the city on rental property businesses and on transfer taxes when buildings are sold.
Ultimately, Costa Hawkins has been a boon to the real estate industry, including some of the biggest Wall Street-backed companies. Last year, Equity Residential collected $2.7 billion in rents on its properties throughout the United States and earned a profit of $847 million, according to filings with the U.S. Securities and Exchange Commission. Avalon Bay collected $2.1 billion in rents and reported $876 million in profit. And Invitation Homes and several other companies it merged with, which currently own dozens of single-family homes in Oakland and other East Bay cities, collected $156 million in rents.
From Laverde's standpoint, the reason corporate landlords are spending so much to defeat Prop. 10 is obvious. The tens of millions in campaign funds they raised so far amount to a fraction of their yearly profits. "Their expectations are outlandish," Laverde said. "No other industry can say we're supposed to make 10 percent on our investment."