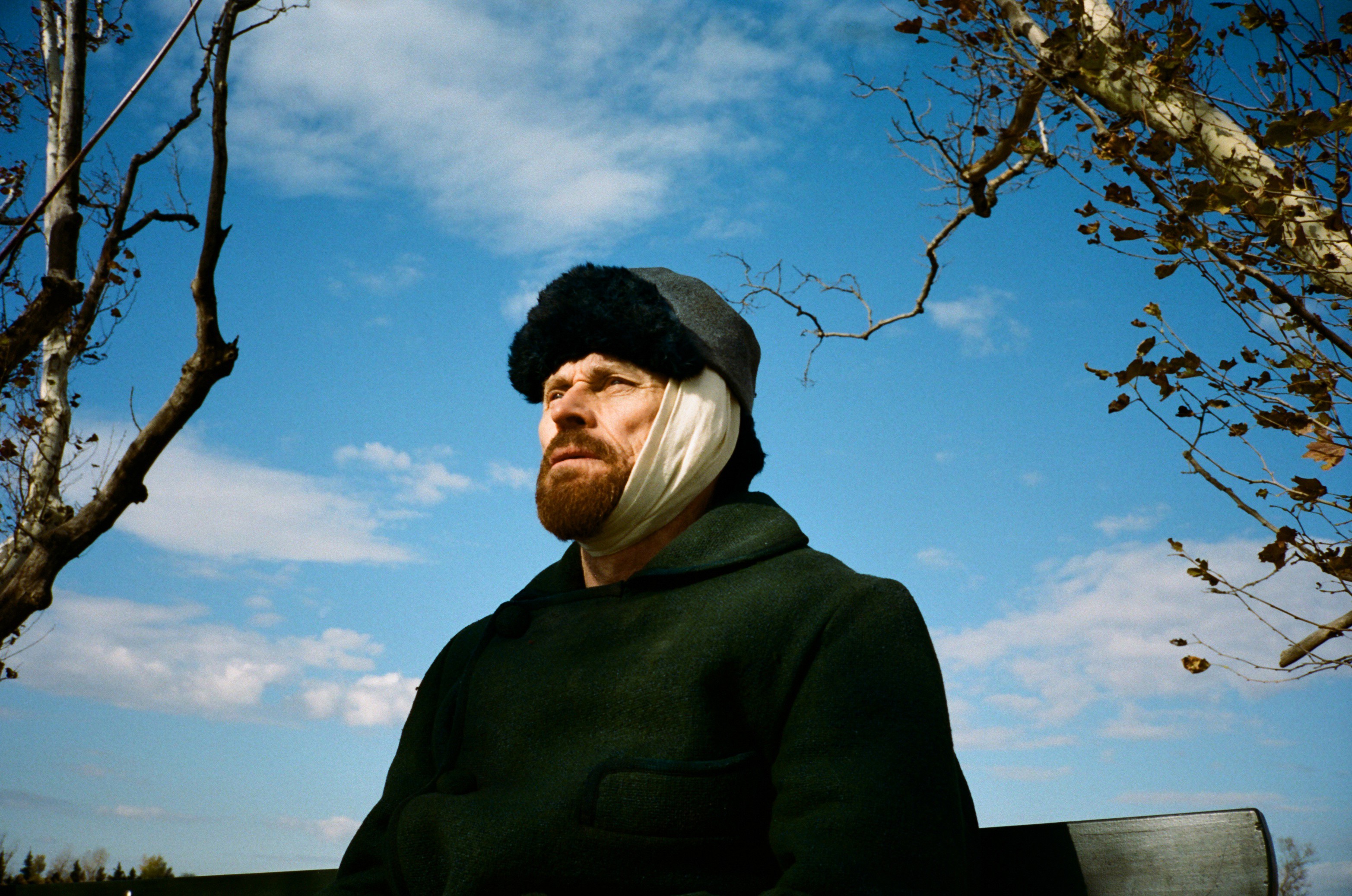 Vincent Van Gogh is one of the movies' all-time most lovable losers. Dozens of narrative films and documentaries over the years have delved into the life and work of the tormented Dutch painter, the ultimate misunderstood artist destined for posthumous glory. And so in that sense Julian Schnabel's
At Eternity's Gate
, starring Willem Dafoe as Van Gogh, has a built-in audience waiting for it.
The wait is well worth it. The Schnabel-Dafoe imagining of Van Gogh — written for the screen by veteran writer Jean-Claude Carrière, Louise Kugelberg, and director Schnabel himself — is a prodigious addition to the Van Gogh filmography, and one of the best films of 2018.
Painter-turned-filmmaker Schnabel (
The Diving Bell and the Butterfly, Before Night Falls, Basquiat
) presents his impressions of Van Gogh as an extended tone poem of sight and sound, reflecting just as much emotional darkness as light. The world terrifies Van Gogh, and so even the daily routines of this newcomer to Arles in the South of France — with its dazzling, miraculous light — are fraught with menace.
But it's a genius' brand of menace, displayed onscreen in wobbly handheld and tilted camera shots, blurred images, and those glorious fields bathed in sunlight (cinematography by Benoît Delhomme), and accompanied by Tatiana Lisovskaya's spare, angular piano and string music. The overlapping sound mix only heightens the already delirious state of the artist's mind. Schnabel wants us to experience Arles as the artist saw it in 1888-89, a garden of grotesquery illuminated by rapturous flashes of earthly beauty at its most organic.
Dafoe may be the ideal screen Van Gogh. Not only does he closely resemble his iconic subject (the poster art is a striking example), but his acting filmography is a wide-ranging portrait gallery of star-crossed outsiders on a quixotic mission, from
Platoon
and
The Last Temptation of Christ
to
Shadow of the Vampire, Antichrist
, and his role as the saintly caretaker of
The Florida Project.
Dafoe's Van Gogh stumbles around Arles in a drunken stupor, with flashback voices and faces crowding into his head, hell-bent on putting to canvas his intense visual impressions of the land, against all odds. Almost all the locals seem to automatically despise him. But he articulates his "madness" for anyone willing to listen. Van Gogh's absinthe-fueled artistic arguments with his friend Paul Gauguin (Oscar Isaac, in a similarly charismatic performance) are the type of dialogues that arts-drunk aesthetes dream of — even though Van Gogh's approach is anything but aesthetic. His overwhelming desire is to capture the essence of nature at its root, and to channel his panic attacks into something productive. "When I paint, I stop thinking" is his formula.
At Eternity's Gate
is a supremely actorly exercise. Alongside the ecstatic roles of Van Gogh and Gauguin, a full cast of characters thrusts the story forward to its bitter end. The artist's true soul mate, the loyal keeper of the flame, is his brother Theo, played with patient solicitude by Rupert Friend. Sloe-eyed Madame Ginoux (Emmanuelle Seigner), proprietor of the cafe above which Van Gogh lives, becomes one of his favorite subjects, as does Dr. Paul Gachet (Mathieu Amalric), who cares for Van Gogh in his last days. And then there's Gaby the flirtatious barmaid (Stella Schnabel, the director's daughter). But the two most compelling supporting characterizations belong to a madman (Niels Arestrup) and a badgering priest (Mads Mikkelsen) — any comparisons to the tormentors of Jesus Christ are probably intended.
Schnabel, of course, has a vested interest in stories about celebrated painters. He seems to take the figure of Van Gogh to the artist's utmost extremes, as a sort of prophet of the madness of modern life. Van Gogh hears voices and sees angels every single day, and it's driving him crazy. His refuge is in describing the near-psychedelic wonders of unrestrained nature, in all its messy, unreliable, ungovernable splendor. At Eternity's Gate — the spot at which Van Gogh often found himself, long before his mysterious death — is not the ultimate word on this iconic creator. But it will do until the next miraculous tribute comes along.
[embed-1]