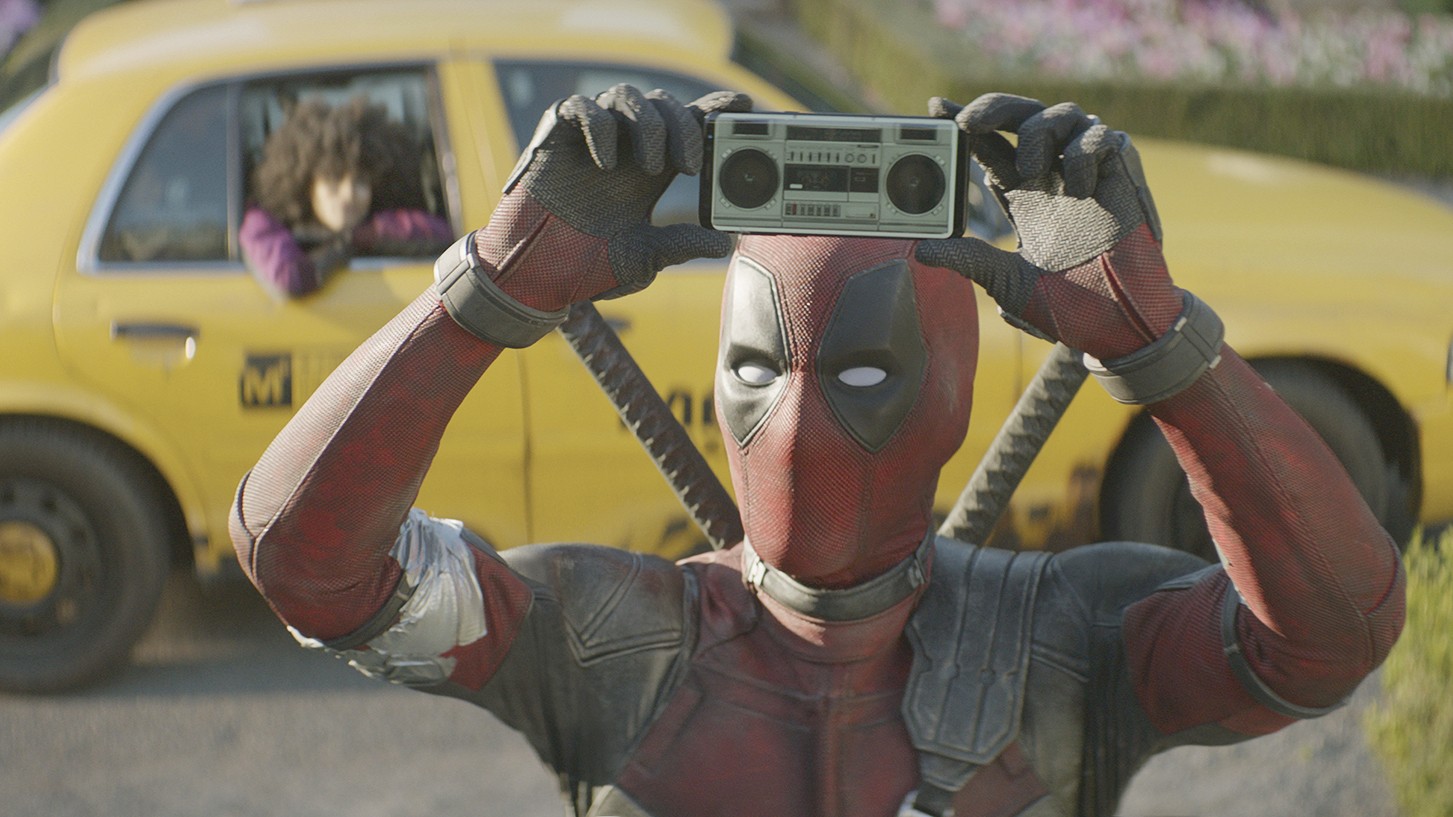 Here comes more snot-nosed nihilism and fangless comic book movie meta-commentary from Marvel's unkillable "merc with a mouth," once again played by Ryan Reynolds as a homicidal rape-joke comedian. With original Deadpool director Tim Miller departed to work on yet another Terminator reboot, stunt coordinator and fledgling director David Leitch (Atomic Blonde) takes the reins for the sequel, but Deadpool 2 doesn't feel any less sloppy, desperate, and stupid for his participation. 
A sidearm to the multi-generational X-Men cinematic universe, the Deadpool films ostensibly satirize their more straight-faced Marvel cousins, but the bipolar mix of smirking humor, senseless violence, and bad special effects in Deadpool 2 feels very familiar and on-brand. The only significant difference between this film and the three-hour turd soup of Avengers: Infinity War is Reynold's incessant fourth-wall-breaking, which makes it easier for him to deliver an endless stream of lazy non-jokes. 
We are less than one minute into Deadpool 2 before our hero delivers the first joke about rape or child molestation, and that pace roughly continues throughout the rest of the film. Disconnected pop culture references once again pass for humor here, as though the mere mention of dubstep, LinkedIn, gluten, Justin Bieber, Sharknado, the McRib, or any other recognizable pop culture buzzword was sufficiently hilarious. The joke is that there's no joke, making this a great film for people who don't "get" jokes.  
No easy target is off limits when Deadpool is around. The opening credits of Deadpool 2 parody — get this! — the James Bond opening credits, only the most widely parodied credits sequence in the history of cinema. Oh, Deadpool, who won't you offend? A song by Enya plays during an action scene. Enya! In a superhero movie. Enya! It's all so irreverent, don't you see? True to its pathetically meta form, the film winks at the camera and makes reference to "lazy writing," which is probably the laziest writing of all. 
Perhaps even more galling than the drooling pop culture references, the lowest-common-denominator shock humor, or the appalling comedic timing of Deadpool 2 is the film's annoying neediness. It wants to revel in idiot-appeasing offensiveness and then get rewarded for its bravery because it shocked us out of our complacency or whatever. Deadpool 2 is the movie equivalent of a sniveling, alt-right incel who wants credit for being racist, misogynist, and homophobic because at least they're "honest" about it.
The plot picks up roughly where the equally awful 2016 origin story left off, with the red-suited mercenary returning home safe after a world tour of slaughtering bad guys. However, the violence follows Deadpool to his doorstep, and a tragic accident sends him spiraling into depression, unable to go on but unable to die. We also meet the mysterious Cable, a time-traveling cyborg played by Josh Brolin. "Thanos," says Deadpool, because that's the easiest, laziest non-joke anyone could possibly make. 
Cable blames troubled mutant teen Russell (Julian Dennison, recycling most of his character from Hunt for the Wilderpeople) for creating a bleak future world, but Deadpool believes that he can save the boy. The softball commentary on moldy superhero movies in Deadpool 2 is bad enough, but the film really gets unbearable when it turns into one of the moldy superhero movies that it's supposedly skewering. It certainly doesn't help that the action scenes in Deadpool 2 are clunky across the board, or that the film's jelly-like CGI Juggernaut is an appallingly ugly creation. 
Finally, after spending two hours delivering a nonstop string of one-liners about pedophilia, Deadpool learns that the 14-year-old Russell was in fact molested by the creeps running his orphanage. That this sobering revelation gets intercut with shots of Deadpool literally sodomizing Juggernaut to death is typical of the film's sad, simpering, so-called naughtiness. 

[embed-1]