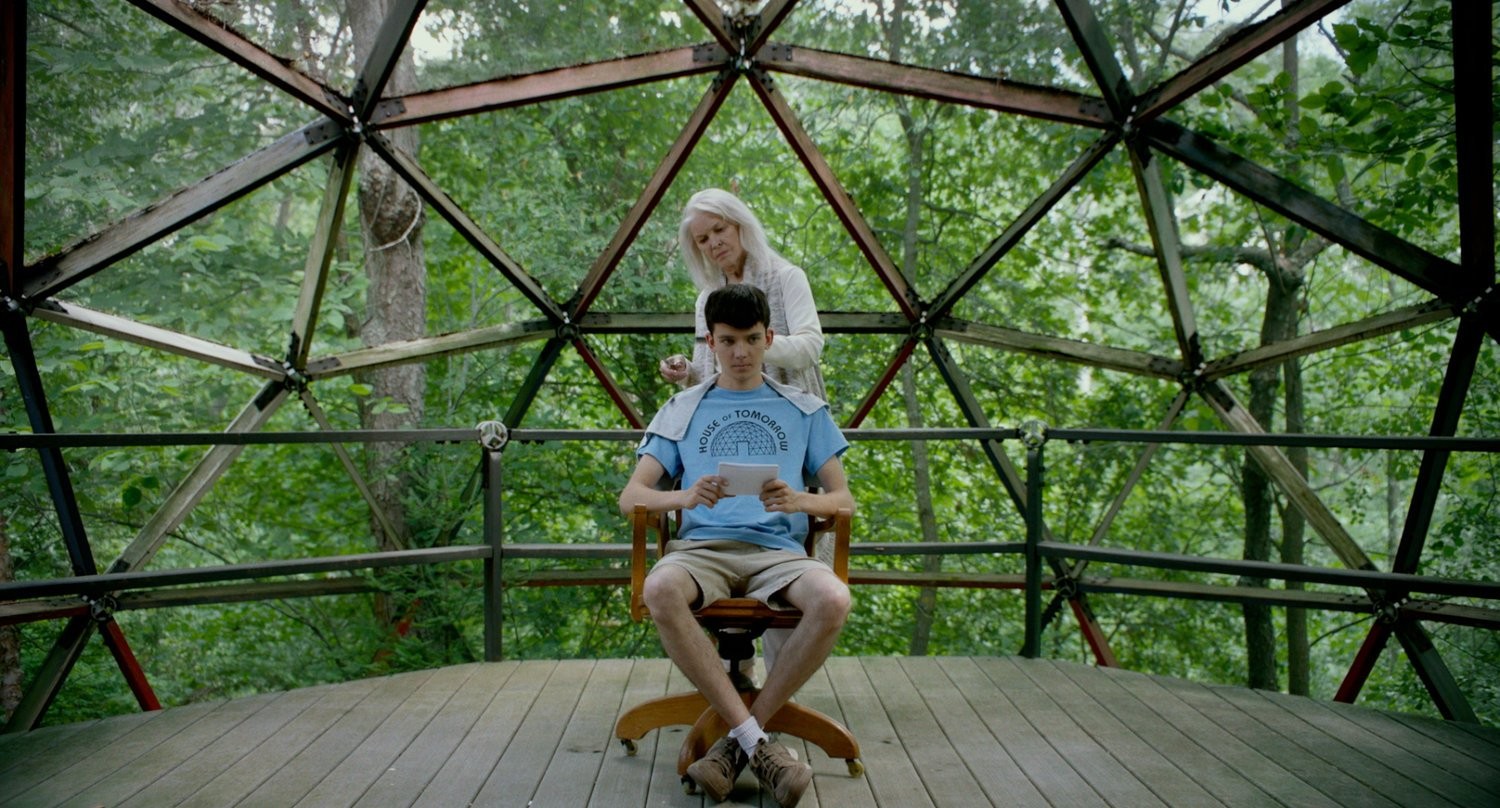 After the bottom-scraping bombast of Deadpool 2, a sensitive, low-stakes indie drama like The House of Tomorrow might seem unusually fresh and soothing, like a tonic intended to reinvigorate your love of cinema. Put in its proper context, though, first-time writer-director Peter Livolsi's story of punk rock meeting R. Buckminster Fuller in small-town Minnesota feels like just another hopelessly musty and dreadfully quirk-heavy, Sundance-style mope-fest.
Asa Butterfield stars as Sebastian Prendergast (quirky name), a gawky teenager who lives in a Fuller-designed geodesic dome (quirky house) with his grandmother Josephine, a former "prize pupil" of Fuller's (quirky backstory) who forcibly shelters her grandson from the outside world. For anyone concerned that The House of Tomorrow still isn't relentlessly quirky enough, rest assured that no one in this film goes two seconds without reading palms or putting on a tuxedo T-shirt.
The great Ellen Burstyn plays Josephine, who suffers a stroke while guiding a Lutheran youth group led by sad dad Alan (Nick Offerman, who like Burstyn is credited as one of the film's producers) through the home. A wide-eyed innocent experiencing the outside world for the first time in his life, Sebastian tries to bond with Alan's prickly and punk-obsessed son Jared (Alex Wolff), who remains weakened from a recent heart transplant. 
Jared introduces Sebastian to punk in the form of the Germs, and the two outsiders form a rock band, using Fuller's principles as a guiding force. Sebastian begins rebelling against Josephine's grandiose dictate to change the world, while also nursing a crush on Jared's sister Meredith (Maude Apatow).   
Adapting a novel by Peter Bognanni, Livolsi attaches his one intriguing hook — the collision between punk rock and R. Buckminster Fuller — to a cluster-quirk of hoary storytelling tropes, clunky foreshadowing, insipid symbolism (their house of the future is really a house of the past, you see), and one-dimensional characters.
Of course, that doesn't stop Livolsi from doling out the eye-rolling life lessons, the most pointed being that trashing your grandmother's historically relevant home fixes everything somehow.  It's hard to experience the phoniness of The House of Tomorrow and not think about Lukas Moodysson's electrifying 2014 import We Are the Best!, a movie about young punks that brought energy and authenticity to the party rather than drowsy depression.

[embed-1]